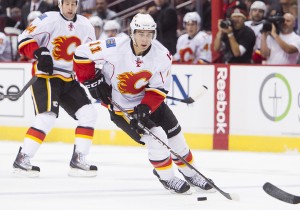 When the Calgary Flames traded away Jarome Iginla and Jay Bouwmeester prior to the NHL's trade deadline, it likely operated as a white flag to the rest of the league and its fans: the re-build was underway. Two weeks later, it's unclear if anybody anticipated that the team's youth movement would get underway so quickly or have the level of short-term success that it has. Combined with some injuries to veterans, the departures of Iginla and Bouwmeester have given the chance for as many as six or seven young players to get into the line-up.
"It's great," said Flames coach Bob Hartley on the atmosphere in the locker room. "It's loose. The boys are having fun. There's lots of smiles and we're pushing. For myself and my partners, it's a great investment. We're showing the hockey world that we're playing to win despite the fact that we have lots of youngsters coming in. And we want to change the culture in here. We want to bring in some younger players but at the same time, the expectations will be the same. We're demanding a lot from those guys. The veterans are doing a great job carrying those young players all around. It has been a fun few past games."
With Curtis Glencross dealing with an illness and Alex Tanguay, Matt Stajan and Brian McGrattan absent with injuries, the Flames dressed six players under the age of 25 for Saturday night's visit to Edmonton. To the shock of some, Calgary's kids went out and beat the Oilers 4-1, effectively ending Edmonton's playoff hopes. One of the two regular youngsters on the Flames roster (along with T.J. Brodie), forward Mikael Backlund has been one of the club's most dynamic players this season and has four points in the last six games. He noted that it's always fun for the Flames to beat Edmonton.
"It was a great game," shared Backlund. Everybody worked hard, it was a good team effort. It's nice to see, it's always a bit rival. Edmonton and Vancouver are our big rivals and now that we're a younger team, Edmonton, we always want to do better than them and we don't want to let them get into playoffs."
Flames rookie Max Reinhart, playing in his fourth NHL game, scored his first career goal against the Oilers. He praised the veterans in the Calgary locker room for helping integrate the recent call-ups into the team so quickly.
"I didn't really know anyone, other than the guys that were in Abbotsford with me," said Reinhart. "But everyone's been so helpful, kind of getting the young guys comfortable. That's a big thing for me, myself, if I feel comfortable around the guys I usually play a bit better. Everyone's been able to adjust pretty well because the older guys have made it pretty easy on us."
Reinhart also noted that Calgary's coaching staff, led by Hartley, have tried to take the pressure off the youngsters. With the playoffs definitively out of reach, the focus in Calgary has turned to teaching and preparing players for the rigors of being everyday NHLers.
"They've done a good job of letting us know that mistakes are going to happen. I don't feel too much pressure that if I make one mistake I'm going to be sitting on the bench. I think they've been very understanding with the young guys so far. They're showing us lots of video, teaching us lots. It's been pretty enjoyable since I've been up here," shared Reinhart.
With the AHL's Abbotsford Heat ending their season with a weekend trip to Oklahoma City this weekend, the Flames locker room will likely soon welcome even more youth. Rather than being an aberration or a temporary measure, as it was last season during injury-mandated recalls, the youth movement currently underway in Calgary is now definitely part of the organization's long-term plan, as evidenced by the NHL debut of NCAA signee Ben Hanowski – part of the package acquired from Pittsburgh for Jarome Iginla.
Time will tell whether the success the youthful Flames have experienced of late is due to the no-pressure atmosphere or a sign that the team's kids are better than many have anticipated.