Lots of fans, myself included, were skeptical when Phil Housley decided to put Jason Pominville on the Sabres' top line, midway through the team's Western Conference road trip last week. In the three games since the switch, the 35-year-old has been sensational, posting six points while serving as a catalyst for linemates Jack Eichel and Jeff Skinner.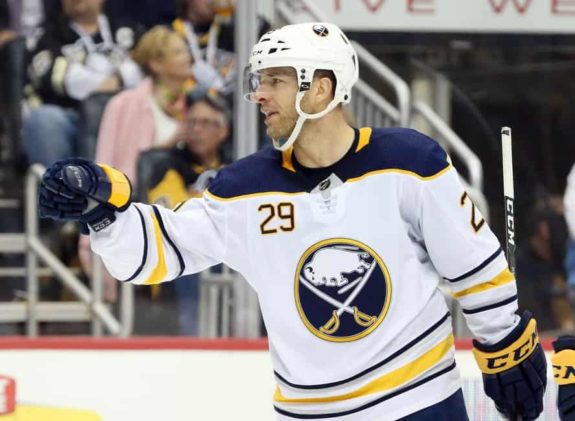 Last night in a 4-3 regulation victory over the Montreal Canadiens, he was the team's top player, scoring twice. The Sabres are currently on a three-game winning streak, and with each passing day, Housley looks more and more brilliant in how he's assembled his lineup as of late. While the Buffalo faithful have certainly enjoyed the veteran winger's resurgence, but given his age, it remains to be seen just how long he can keep up his current pace.
Pominville's Hot Start Last Season
After a somewhat streaky 2017-18 campaign, fans tend to forget just how quickly Pominville came out of the gate last season, where he started the year beside Eichel on the first line. In the team's first seven games, the elder-statesman posted six points. In the following eight games however, he appeared on the score sheet just one time, leading to a pseudo-demotion down the lineup. At that point, he started to look his age, gradually struggling more and more to keep up with his younger counterparts.
Regardless, he was able to finish the year with 34 points, dressing in all 82 games. Not bad for a guy who was seen as a cap dump after being acquired that summer as part of a deal that brought Marco Scandella to Buffalo. In fact, as Scandella continues to struggle on the blue line, Pominville is quickly looking like the most valuable piece in that trade.
Despite a finish to the 2017-18 season that most fans would rather forget, Pominville actually closed out the year on a high note, registering 11 points in the final nine games. For those keeping score at home, that's 18 points in his last 20 games going back to last season. Not too shabby.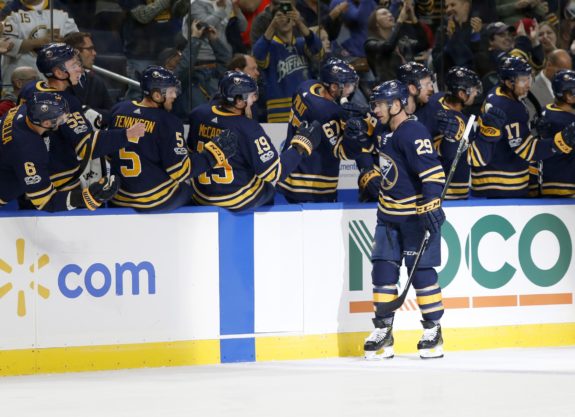 Given the Sabres overall lack of both depth and talent last season, that level of production is actually quite impressive. Though he was inconsistent as an offensive producer, his statistical output was outstanding considering the variety of different linemates he had while spending time on all four forward lines.
Related: Time for Sabres to Scratch Scandella?
A Steady, Heady Presence
It is entirely possible that there will come a time this season where history repeats itself, and Pominville starts to slow down. No matter his age, one thing that isn't going away is his on-ice vision. On a Buffalo team that has had its fair share of ill-advised decisions with and without the puck, he's always provided a steady, intelligent veteran presence no matter who he skates with.
As anyone who has consistently watched this team over the past few years can attest, Eichel has rarely benefited from linemates who can keep up with him, not just physically, but mentally as well. How many times have we seen him create something magical, only for his teammates to look completely unprepared when he puts the puck on their stick in a high-danger area?
That's what separates Pominville from some of the younger players on the roster who, on paper, appear to a better fit on Eichel's right side. He is always alert and consistently puts himself in the right position on the ice, which not only helps offensively but defensively as well. That level of versatility and intelligence is part of the reason he served as the Sabres' captain from 2011 to 2013 before signing with the Wild.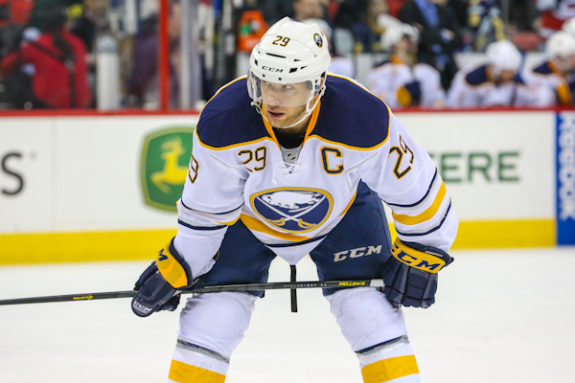 Looking at his Corsi stats through the first 10 games of the season, it confirms just how valuable Pominville continues to be at both ends of the ice. With an all-situation relative Corsi of 6.75-percent to this point, he and his linemates have been excellent at both generating and suppressing shots. That mark actually only places him seventh among Sabres forwards, a testament to how much the team has improved in that regard this season.
Related: Sabres West Coast Swing Shows Signs of Success
The Skinner Effect
Here's where we identify the most significant difference between Pominville's situation last season, versus now. Aside from his brief stint on the first line to start the 2017-18 season where Evander Kane skated with him on the left side, Pominville spent very little time with a highly-skilled winger opposite him.
That's where Skinner comes in. Since their shared promotion to the first line just six days ago, Eichel's new wingmen have found immediate chemistry. Against Montreal, they were able to team up on two of the Sabres' three game-tying goals while their franchise centerman was actually left off of the score sheet.
Skinner ▶️ Pommer 🚨 pic.twitter.com/kSmaRYNvjq

— Buffalo Sabres (@BuffaloSabres) October 26, 2018
Eichel and Skinner could actually be the most talented linemates that Pominville has played with throughout his entire career. As three players who are all equally talented from an awareness standpoint, their instantaneous rapport shouldn't come as a surprise. It's the one thing that could keep Pominville on the top line for the rest of the year, despite his age. The trio's ability to see the game and react at an elite level is something the Sabres top line has been missing since the Chris Drury and Daniel Briere era.
If they can remain in sync, it's not out of the realm of possibility for Pominville to post his best offensive numbers since the 2013-14 season with Minnesota where he registered 60 points. Time will tell, but for now, let's all enjoy the fact that the 14-year veteran appears to have some fuel left in the tank.
Corsi Stats Courtesy of Corsica.Hockey
A passionate supporter and lifelong fan of the Buffalo Sabres. Former Admin and Staff Writer at buffalohockeycentral.com.