Sometimes it seems odd to fathom that legendary goalie Shannon Szabados and recent USA Olympic gold medalist Nicole Hensley are each playing in their first professional seasons. The Buffalo Beauts netminders are quite conceivably the best goaltending tandem in all of women's hockey.
Through the team's first two regular season games of the 2018-19 NWHL season, both Szabados and Hensley each had one start and neither allowed a goal. Szabados is 32 years old, has won two Olympic gold medals and one silver, and has played parts of four seasons in the men's pro leagues, but is only now beginning her women's professional hockey career. The 24-year-old Hensley went straight from four years of NCAA hockey with Lindenwood University to the USA's Women's National Team, but is still quite easily an NWHL rookie.
Getting to Know DiTondo
No, the only Buffalo Beauts goalie with prior NWHL experience is the netminder we know the least about. On Jun. 21, 2018, Buffalo announced that they had re-signed goaltender Julia DiTondo, a native of nearby Kenmore, New York. After giving an impressive enough performance at the Beauts June 2017 Free Agent Camp, DiTondo earned the tertiary goaltending duties for 2017-18 season behind Buffalo's returning goalies Amanda Leveille and Kelsey Neumann. Now she is the only returning goalie – and one of just 11 total players – from last season's squad to have re-signed with the team. The surprising part is that despite dressing for multiple games this past season, DiTondo has yet to see ice time in either a regular season or playoff game for Buffalo.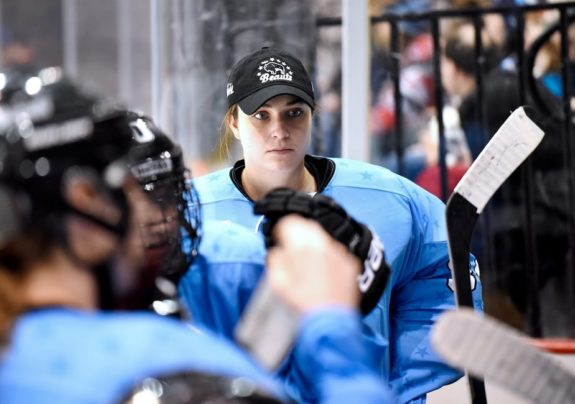 While Szabados and Hensley are household names already for women's hockey fans – and continue to become so in Buffalo – it would be remiss to overlook the Beauts third netminder. DiTondo brings her own experiences, personality and character to the Beauts locker room. She is just as much a contributor to the team as anyone else. Additionally, DiTondo and her two goalie partners increase each other's overall development as professionals and feed off of one another.
THW met up with DiTondo one-on-one two days before the Beauts face the Whitecaps in Minnesota. We learned more about the goalie whom many know very little about. Rest assured that you will like her a great deal.
A Native Western New Yorker
Kenmore, New York provides some of the most charismatic and sincere fans of Buffalo sports. With population of over 15,000 and previously named "One of the Top 10 Great Neighborhoods" in the United States, it comprises a great deal of heart and soul for the local teams – its Sabres, its Bills, its colleges and high schools, and of course its Buffalo Beauts.
DiTondo embodies those sentiments to a T. She is very proud of her Western New York roots and considers it an honor to not only play for her hometown team, but to be part of an organization that includes her other favorite sports teams.
"It's awesome," DiTondo stated. "I grew up watching the Sabres, and watching Ryan Miller and Marty Biron. It's really cool being in the same city that has a professional team now for women. It's just awesome being a part of PSE (Pegula Sports & Entertainment) because I'm a huge Bills fan – it's crazy considering that I'm in the same organization. I love it."
Making the Jump to the Professional Game
DiTondo played her NCAA college hockey career at Mercyhurst University. She played for the Lakers from the 2012-13 season through 2014-15. As fate would have it, DiTondo actually faced Hensley once during a Feb. 20, 2015 game between Mercyhurst and Hensley's Lindenwood Lions. Now the two are goaltending partners along with Szabados. By further happenstance, Beauts teammate and Isobel Cup champion Emily Janiga also played in that same game.
Life has a way of working out in rather wondrous ways. We never truly know what sort of impact teammates and coworkers may have on us and our futures. Janiga was actually the person who encouraged DiTondo to attend the 2017 Free Agent Camp and try out for the Beauts. This came during a time when DiTondo had stepped away from hockey, but ultimately it is what led her to being a professional hockey player for going on two straight seasons.
Another hometown pro! It's all about the #Buffalove for Julia DiTondo! pic.twitter.com/uJJ2SOQu1h

— Buffalo Beauts (@BuffaloBeauts) June 21, 2018
"It was kind of an interesting path to the Beauts," DiTondo explained. "I left hockey for a year, and it wasn't totally on my radar, but then the opportunity came. Emily Janiga was like, 'Hey, you should maybe try out'. She was on the team that year, and then I kind of started thinking about it. I was going to school at U.B. (The State University at Buffalo) so it just kind of became the perfect fit, the perfect opportunity. It was awesome once I tried out."
DiTondo finished her NCAA career having played in 13 games across three seasons. In that stretch she assembled rather superb numbers of a .937% save percentage and a 1.33 goals-against average to go with her record of 5-2-0. Mercyhurst has been a gem mine when it comes to finding Beauts players. In addition to DiTondo and Janiga, current and former Beauts players who were once Lakers include Katherine Donohue, Taylor Accursi, and Shelby (Bram) Bailen.
Building off the Success From Last Year
While many followers of the NWHL feel that there is a drastic difference between the 2017-18 Beauts and this year's squad, DiTondo doesn't really see it that way. Rather, she distinctly believes that the 2018-19 Beauts are a continuation from last season's success. While it may be a continuation, DiTondo recognizes that Buffalo has made some profound additions.
"I think we're just building off the success that we had last year," she explained. "Everything, even including the locker room, since the Pegulas bought us has been awesome. I think we're just slowly building towards that with who we acquired, and really focusing on success."
To go along with Hensley and Szabados, the Beauts also added USA Olympian forward Dani Cameranesi and brought back hometown Olympic defender and original Beaut Emily Pfalzer. Buffalo also managed to grabbed hold of proven NWHL stars Blake Bolden and Kelly Babstock, and bring both of them aboard.
WELCOME BACK!

Jacquie Greco, Jordan Juron and Julia DiTondo are returning for another year of Beauts hockey! https://t.co/NnPFH2imEq pic.twitter.com/DmF3AhX9zh

— Buffalo Beauts (@BuffaloBeauts) June 21, 2018
For DiTondo's part, she knows that there is plenty she can do to help the Beauts further themselves in 2018-19, especially if they are to recapture the Isobel Cup. The only way that the team can continue from where it left off is for returning players like DiTondo to promote cohesiveness among the players themselves so that they meld into a unit that functions solely as one.
Asked what personal goals she has set for herself this season, DiTondo was all-in with a mentality about the team first and foremost.
"Really just being the best team player that I can be," she shared. "Pushing my teammates. That's what I focus on in every practice. Just helping gel the team."
Pushing Others and Learning From Them Too
Other than original Beauts netminder Brianne McLaughlin, no other goalie in the team's history has had more goalie partners than DiTondo. In fact, both goalies have each had a total of four counterparts in their time as Beauts. DiTondo's goalie partners in her rookie season were Kelsey Neumann and current Whitecaps goalie Amanda Leveille. This season she has the two Olympians. Having had four different goalie partners is something DiTondo feels has been highly beneficial to her own growth.
"It's cool because you get to see all their different personalities and see what works for them," DiTondo said. "This year is just crazy that my name is even considered in a sentence with Szabs and Hensley –  it's awesome. I get to watch them in practice, and wow – they're so good – 'I can learn how to do that', or 'oh, she did this play – I should do that', so it's been awesome."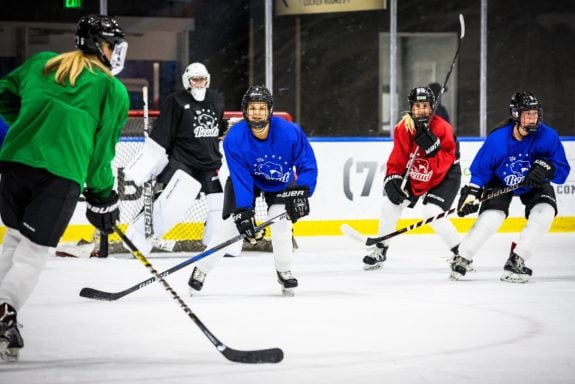 In terms of her own characteristics, DiTondo has some unique thoughts on what her strong points are. Once again she has a way of putting the team first and doing her part to be a sound performer in net.
"I have a short memory," DiTondo expressed, "so if I let in a bad goal I'm just going to forget about it and move on. I think I'm also really good at getting under some of the players skin and kind of pushing them to be better," she further grinned. "If they don't score on me, I'm like – 'Hey, why didn't you score?' Just getting our shooters to be on top of their game."
Not necessarily a response you would expect from a player we did not previously know much about, but this is who DiTondo is. In many ways, she is an embodiment of what Western New York has long prided itself on. No matter her lot in life, she is focused on bettering the team as a whole and bettering everyone around her.
The Official Puppy of the Buffalo Beauts
Before Julia DiTondo bid us adieu for the evening, she left us with one final interesting tidbit. Those who follow the Beauts closely on social media may have noticed that they had a furry friend that accompanied them during a portion of the team's photo shoots. We now know who the official owner is of that lovely little companion.
Feeling 😔 because there's no #Beauts hockey this weekend?

We feel ya, but LOOK AT THAT PUPPY! pic.twitter.com/ln4jirfR16

— Buffalo Beauts (@BuffaloBeauts) October 20, 2018
"I just got a puppy!" DiTondo said enthusiastically when asked to share a fun fact about herself. "My puppy was the one that was in the picture. It's a golden retriever named Oliver."
We are sure that Oliver would agree with us when we say that DiTondo is an integral member of this Beauts hockey club. Teammates make a difference in so many different ways and various roles. It is especially nice to see how one of Buffalo's own is such a unique and vital cog for the hometown team. We are glad you are here, Julia DiTondo.
General Manager of the Buffalo Beauts (NWHL). Hockey history writer "The Hockey Writers". Credentialed media for the NHL Combine and 2018 IIHF World Junior Championships in Buffalo, NY, USA. Born and raised in Buffalo, NY. Lifelong hockey fan for over 40 years. Proponent of the women's game.