We're hitting the home stretch. The regular season is almost here and hockey will enrich all of our lives once more.
So far in the off-season, we've had questions asked about the Sabres from top to bottom, speculated on just what would happen with Cody Hodgson and his contract, and everything in between.
But with so little time left until the puck drops on the regular season, what do the Sabres look like for 2013/14? Yours truly is here with a comprehensive look. We'll start today with the forwards, tomorrow with the defensemen, and Friday with goaltenders.
Reminder: we're breaking down the forwards by top six and bottom six, with ratings of 1-5 for both units as well as a rating for the forwards overall. Let's get to it.
The Top Six
There is very little in the way of a consistent opinion as to just what will constitute the top six for the Sabres. Let's start with the certainties: Thomas Vanek will be the top line left winger, Hodgson will be his center, and Drew Stafford will slot somewhere on the top two lines. That much we know.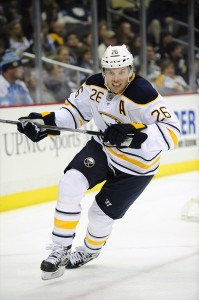 Vanek is back for what could be his final season depending on how things play out. He's in the final season of his seven year, $50M deal and is coming off arguably his best season to date even though it came in a 48 game season. He started out like a house of fire over the first dozen or so games, scoring at a clip of two points per game. The weight of being the Sabres lone offensive threat for a good chunk of the season caught up to him and he finished with 20 goals and 41 points in 38 games – just the second time in his career he's produced at a point-per-game rate.
He's publicly stated that he thinks the Sabres are headed in the right direction after the draft and that all the kids in the system could make the team's rebuild far shorter but it remains to be seen if that's enough to keep him around. Until we hear something definite, it'll be a nervous time for every Sabres fan when the trade deadline rolls around.
Until then, he'll remain as the team's best scoring option and lone proven producer. It will be interesting to see how Vanek does without former running mate Jason Pominville on his line, but he's a guy who's never scored fewer than 25 goals in any full season so you kind of have to give him the benefit of the doubt.
Next to him, the 23-year-old Hodgson will look to build on his strong half season. His 34-point season last year was enough to convince the Sabres they'd found their #1 center for the long-term, locking him up with a six year, $25.5M contract.
With Hodgson, you can see the offensive talent right away: he's a talented puck handler, heads up playmaker, and he can make things happen when things break down around the net. The team gave him that money because it believes in the offensive player he will eventually become.
His biggest issue right now is his defensive game. "Atrocious" would not be an understatement in the least. He's a liability in his own zone, holding the puck too long or just making bad decisions with it. He needs to clean that up to something slightly above "liability" to be truly valuable.
Hodgson also struggles in the faceoff dot (46.8% last year) but, as stated with his defensive game, that's not what the Sabres signed him for. Still, he needs to improve there as well to be truly effect. It can only stand to make him a better overall player.
Stafford will likely slot into the second line right wing role as he has in recent years. Sadly, I'm not sure if that's because he's the best option or if he's simply there by default. What I'm getting at is that the depth on the right wing is atrocious.
Now, I've never been Drew's biggest supporter. If I'm not cursing under my breath at him, he's had a decent night. But the fact of the matter is that he's been a guy who's effort has come into question by more than a few in this fan base and he needs to step up with the youngsters coming in. He's rumor to be a leader in the locker room, but he needs to show his worth on the ice.
When he plays hard and makes smart decisions like going to the net instead of firing weak outside shots, Stafford is a very good second line winger. He has the skill to be effective at the cycle, his drives are dangerous when he attempts them, and he's likely to find the back of the net 20 times or so almost regardless of his play. It's frustrating because he can be so much more and he just seems to not care about getting there.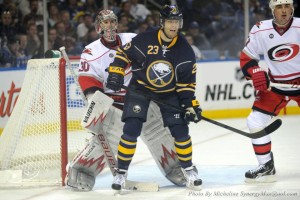 Past those three, we're into educated guess territory. Most depth charts have Steve Ott and Ville Leino, some have Tyler Ennis and Marcus Foligno. If I had to venture a guess, we'll see something similar to last year.
Ennis is too skilled to relegate to third line center status with guys like Kevin Porter and Luke Adam (if the latter sticks). He'll likely end up on the right side with Vanek and Hodgson, two guys who can match his skill. Ennis is more of a playmaker as it is and feeding the puck to a natural goal scorer like Vanek seems to be the most logical fit.
Of course, maybe we were all wrong about Ennis and he should be on the third line. Given how he played last season, I think he gets a shot with the big boys for an extended run especially given the lack of quality depth at winger.
Second line center duties, almost by default, will likely fall on Ott. If that's not an indication of the lack of talent up front, I don't know what is. With all due respect to Ott, he's a fine third line center. He's someone who hits everything, can chip in a little offense, win some faceoffs, and just generally do his job. But asking him to be more of a producer is asking for trouble.
He'll likely have Stafford on his right and big Marcus Foligno on his left. Foligno had a hot start to his Sabres career at the end of the 2011/12 season when he, Ennis, and Stafford were lighting it up. He followed that up by crashing to Earth last year with just five goals (he had six in his 14 game debut the year before) and 18 points in 47 games.
Foligno is still just 22-years-old and the caveat about power forwards taking longer to develop applies but there are serious question marks about Foligno's skating ability and general talent level. He's a big body with a little bit of a scoring touch, so he'll be given the opportunities, but this will likely be his last shot at it as he's a restricted free agent after the year.
The top line for Buffalo has the makings of a very good line if Hodgson and Ennis can continue to develop. Vanek is the proven commodity and will likely be around the 25-goal, 60-point mark just based on his history but the talented Hodgson could make this line truly dangerous.
After that, it's a lot of question marks and holes being filled almost by default.
Rating: 3
The Bottom Six
Unlike the top half of the forwards, there's a little more certainty in the bottom half. Leino, who had an abysmal first season after signing his fat free agent deal, missed most of last year due to injury but looked much improved in his short stint back with the team.
His biggest issue in year one with the Sabres was his indecisiveness. He thrived in Detroit when controlling the puck and feeding his linemates. In Buffalo, he never seemed as though he knew what he wanted to do with the puck, holding it too long before taking a hit, and/or turning it over. In the handful of games he saw last year, Leino looked like he was making quicker decisions and putting himself in the right place.
If he can find his pre-Buffalo form, Leino could find himself on the second line but until then, he'll likely provide a strong third line wing presence. He can play center as well, but with the glut of youngsters down the middle, he'll likely need to fill in on the wing.
From there, it's a log jam of options from a year ago. Brian Flynn turned into everyone's favorite Sabre last year with his hustle and effort. He was rewarded with six goals and 11 points in his 26 game stay with the team and should likely find a spot on the fourth line again.
There are a couple of fresh-faced wild cards to consider. Mikhail Grigorenko, the object of massive hype for the Buffalo fan base last year, will undoubtedly make the team because of his skill and the need for talent on this roster. But it might be the time to remember that he's just 19-years-old and some patience will likely be required.
Grigorenko struggled last year with his skating (which is reportedly better), looked physically overmatched when battling for contested pucks, and reached in far too often instead of asserting himself. Expect that again this year, just hopefully in smaller doses. He'll come along eventually…hopefully.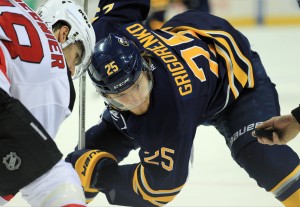 Also battling for time will be pest Patrick Kaleta, Kevin Porter, big John Scott, and perhaps rookies Zegmus Girgensons and Joel Armia.
Scott will likely see limited action due to his limited role with the Sabres (IE beat people to a pulp and look scary otherwise) so he's not really a candidate for regular time. Kaleta is the ideal fourth-line pest with his non-stop motor and love of hitting anything that moves but with his lack of size, his style of play tends to catch up to him. There's also the dumb decision factor that often gets him in trouble.
Porter found success, albeit limited, last year playing with Flynn and basically busting their butts for every little inch. If the rookies can't stick, they'll likely get that chance again.
The true wildcards here are rookies Zegmus Girgensons and Joel Armia. Not much has been said about Armia, a power forward still developing, but now would be the time for him to step up with the lack of depth on the wing. I would imagine he'll end up in Rochester given the lack of information we have about him and where he stands.
Girgensons, on the other hand, has received rave reviews and could stick with the big club. He's a big boy with a strong two-way game; something the Sabres seem to be coveting in their prospects these days. He'll likely get a brief stint to start the season to see where he's at; if he can't cut it, it'll be back to Rochester.
While there is a bit of uncertainty with the bottom six, there seems to be a bevy of quality options that could turn out to be much more should the rookies emerge.
Rating: 4
The Verdict
While the Sabres lack top-end quality in their top six, they do have depth. This is going to be a high energy, high effort team that will depend on positioning and smarts more than an abundance of skill.
If one of the rookies can emerge and become a quality option, this goes up. If Stafford, Leino, and/or Foligno can rebound, this goes up. There are a ton of questions for the Sabres right now and it'll be interesting to see how this group shakes out.
Rating: 3.5
Ryan is a lead writer for The Hockey Writers as well as editor for Mile High Sticking and co-owner of The Farm Club. Follow him on Twitter to discuss all things puck, Bills football, or his hatred of all things Philly.