Drew Stafford and I haven't always been on the best of terms.
I don't mean that in the sense that we don't get along; he has no idea who the hell I am and likely never will. Which is fine. I mean it in the sense that – to put it lightly – I've never really liked him during his time with the Sabres.
Just a little disclaimer: I don't know a lot about Drew off the ice. I hear he's a pretty cool guy and that's all fine and well. I don't wish him ill will, I don't hope his marriage crumbles or he faces any personal hardships, and I'm certainly not going to tweet at him to tell him he sucks. My issues with Drew have been strictly based on his on-ice performance.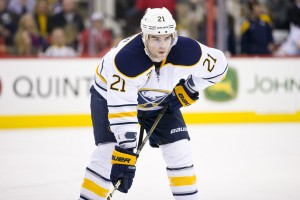 See, Drew Stafford, to me and many others, has never lived up to the status of being the 13th overall pick (not that the 2004 Draft was all that great; the guys selected later in the first round are mostly bad to okay, with Travis Zajac, Cory Schneider, and Mike Green being the most notable names).
Stafford showed a lot of promise during his rookie year, picking up 27 points in 41 games. He would see slight improvements over the next two years, finally hitting 20 goals and 45 points in 2008/09.  After regressing the next year, Drew had his big breakout year in 2010/11 – a contract year. In 62 games, he scored 31 times and finished with 52 points.
He was definitely better once the New Year rolled around. He missed a chunk of time early but managed 15 points in 22 games.  From January 1st to the end of the year? 21 goals, 16 assists in 40 games. Far and away his best effort and it netted him a brand-new four year/$16 million deal. Perfect timing.
Despite picking up 20 goals and 50 points the next year, the cracks started to show for Stafford. His effort looked lackadaisical for the most part; a power forward who wouldn't go into the corners to dig out pucks and win battles, wouldn't drive to the net to create havoc, and generally just didn't look like he cared all that much.
Without looking at the numbers in-depth that year, you'd think he had a pretty decent season.  But let's take a deeper look at things, starting with the team's record as a whole:
Before February '12: 20-24-5
From February 1 to end of year: 18-8-5
The Sabres were on an absolute tear the last two and a half months of the season and nearly made the playoffs despite having no business being anywhere close to the bubble. As for Stafford himself?
Stafford before February '12: 8 goals, 15 assists, 23 points in 49 games
Stafford from February 1 to end of year: 12 goals, 15 assists, 27 points in 31 games
Like the team, Stafford turned it on down the stretch, topping his production through the first 49 games he played in with 18 games to spare. And that's the thing with Drew: why isn't the effort there all the time?
Last year was abysmal, not just from a team standpoint but for Stafford as well. Six goals and 18 points over 46 games isn't what you're supposed to get when you're paying $4 million/year.
He didn't score his first goal until game #14 and never really found his groove, going several games between points and not really slapping together any semblance of consistency until the final five games, where he picked up points in four of them.
Maybe that's just how Stafford is, though – start slow and pick up steam towards the end. Maybe he just didn't get the opportunity to get through his slump because the season was cut in half. And maybe he was just suffering from his worst shooting-percentage of his career (he was at 5% last year; for his career, he's 12.1%).
Whatever the reasons for his poor performance over the last year (and really, last year and a half given the first half of his 2011/12 season), it's obvious that Drew Stafford takes awhile to get going if he gets going at all, unless he's in a contract year then he's obviously motivated.
The Sabres need to decide if they want that on their team – someone who is essentially good for MAYBE a .50 PPG over the first half of the season who could turn it on late, if that matters to the team's fortunes or not.
With all respect to Drew Stafford: paying $4M for a half-year player isn't what winning teams do.
Follow me on Twitter: @RWTFC
A long-time (and long-suffering) Buffalo sports fan. Sometimes optimistic, always weary. I write other stuff for a lot of other people.