Prospect camp has ended and Flyers fans have seen some of their best young talent first-hand.  In terms of development, many key players have shown great strides over the past few seasons, further showing that Paul Holmgren is better on draft day than most people give him credit.  Many are pining for this upcoming season to start, but some may not realize there may be some fresh new blood on this Flyers team.  Figured this would be a good mailbag to take questions on prospects and the offseason.
@Kyle_Phillippi 3 parter 1. How many contracts out of 50 are Flyers up to? 2. Does Gagne come back? 3. Does Mez get dealt by trade deadline?

— Soapbox (@MC_Philly) July 20, 2013
1. According to capgeek.com, the Flyers currently sit at 48 contracts out of a possible 50.  Players like Gagne (UFA), Manning (RFA), and Wellwood (RFA) have yet to be re-signed.
2. I think the ship has sailed on Gagne.  He's been great to the team and the city of Philadelphia for so long, but he's a shell of his former self.  He could still be a contributor on the 3rd line, but there are other players I'd rather have on the 3rd line.  Vinny Prospal or Dan Cleary are both UFA's that would be a perfect fit on a line with Couturier and Read.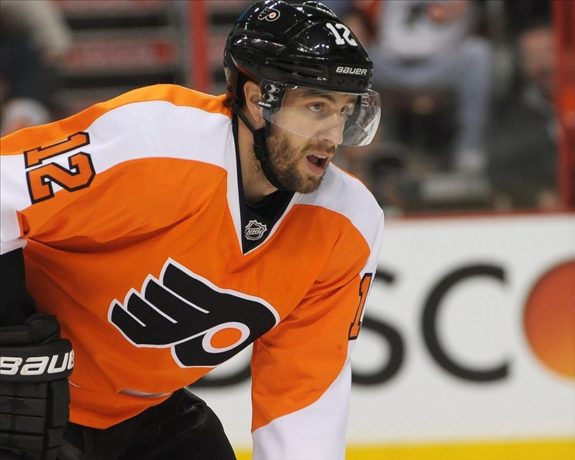 3. I still have hope that Meszaros gets traded before the season actually starts.  Even though he had a rough go last season with injuries, he still holds value and could be traded for a decently high pick or quality prospect.  Furthermore, that's a $4M contract that would be taken off the books – something the Flyers could use in regards to their current cap situation.
However, if he isn't traded by the start of the season, he could be used as trade bait at the deadline.
@ShawnTHW @Kyle_Phillippi What are the chances of Straka and/or Raffl making the team?

— Tommy P (@Alltime82) July 20, 2013
My gut reaction is that Straka is much closer to playing in the NHL than Raffl.  Both are intriguing prospects at this stage in their careers, but Straka had a very productive season with the Baie-Comeau Drakkar.  While Raffl's numbers were impressive, he did play in what is considered the 2nd tier league (Allsvenskan).  Both Straka and Raffl probably won't start the season on the Flyers, but will be call-ups if players go down to injury – which is inevitable when you're talking about the Philadelphia Flyers.
I've liked Straka's game ever since he was drafted in the 2nd round by the Columbus Blue Jackets in 2010.  He had a great rookie season for the Rimouski Oceanic, but his point production tapered off.  When he was traded to the Drakkar, it was as if a switch had been turned on and his scoring prowess and offensive instincts had been revamped.  In terms of staying power, I think Straka will be the better of the two down the road and will be fighting for a starting spot next season.
@ShawnTHW Who do you see as closest to the NHL right now, Cousins, Ghost or Straka? #FlyersMailbag

— Flyers Prospects (@FlyerProspects) July 23, 2013
Great question because these players are right on the cusp of breaking into "The Show".  I think Shayne Gostisbehere is the furthest away.  That's not to say he couldn't fight for a spot on the Flyers, but the Flyers mentality with him is not to rush him in and ruin a potentially great prospect (ie. Nino Niederreiter).  Union College is doing very well, many thanks to the contributions of Gostisbehere.  So expect him to stay at Union one, if not two more years before he makes the transition to the NHL.
That leaves Straka and Cousins.  I spoke of Straka in the last question, but Cousins seems like the player who can step in, if need be.  Reason being, the top six spots are taken and Straka won't end up being your prototypical bottom six player.  Cousins is a pest and thrives doing the dirty work.  With a vacancy on the 3rd line, Cousins might get a serious look come training camp.
@ShawnTHW Re: Mailbag. What is Anthony Stolarz's ETA/progress looking like?

— Anatoliy Metter (@ToliMetterTHW) July 25, 2013
Stolarz is difficult to judge.  As many hockey fans know, goalies take the longest to develop and their career trajectory is always up in the air.  It was good on Stolarz to move from the University of Nebraska-Omaha to the London Knights.  He did have his struggles when he first stepped into the OHL, but as the season progressed he continually got better and better.  He became the starter and helped the Knights move to within a game of the Memorial Cup Championship.
He is likely 2 years away before he sees any time in the AHL and then the NHL, but he should have most of the kinks worked out in his game.  For such a large player, he is quick and takes up a lot of space in net.  The Knights have a great team every year and should boost his confidence next season.  A team like the Flyers, who have had countless goalie woes, it's refreshing to see someone like Stolarz developing into a potential premier goalie the team can rely once he gets his chance.  He still has a lot to work on, but the signs point to a very productive career once he puts everything together.
We will be doing more Flyers mailbags in the offseason and during the regular season.  If you have a question you'd like to be featured in a Flyers mailbag, send them via Twitter to @ShawnTHW or @Kyle_Phillippi.
The NHL regular season schedule was released on Friday. Check out our partners at TiqIQ for the best deals on Philadelphia Flyers tickets for all 2013-14 games.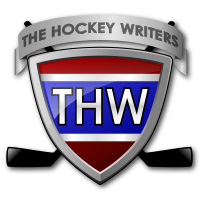 The archives of THW contain over 40,000 posts on all things hockey. We aim to share with you some of the gems we've published over the years.