Eight Sharks players were representing their countries the last time the Winter Olympics came around.  This year, seven invites have been sent to Sharks at Olympic Camps for Sochi 2014.  Douglas Murray and Evgeni Nabokov were Sharks at the time of the 2010 Olympics when they both were invited.  This year, the national teams of Canada, the United States, Finland, and the Czech Republic have named Sharks players to their preliminary rosters.
Sharks at Olympic Camps, Who?  Where?
Team Canada
Joe Thornton: Played in '06 and '10 Olympics; 5 total points

Logan Couture: No prior international experience
Dan Boyle: Played in '10, on roster for '06; 6 points (highest of D-men) in '10
Marc-Eduoard Vlasic: No prior Olympic experience
Team USA
Joe Pavelski: Played in '10 Olympics; 3 assists, 68% faceoff percentage
Team Finland
Antti Niemi: No prior Olympic experience
Team Czech Republic
Martin Havlat: Played in '02 and '10 Olympics; 6 total points
Who Got Snubbed?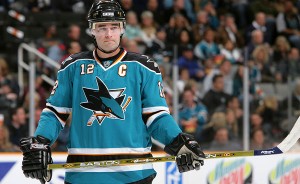 It is more than shocking that the Sharks' forward was not invited.  Out of the Sharks at Olympic camps, Marleau was one of the most expected.  International play takes place on a much larger rink than that of the NHL.  Therefore, strong skaters are very valuable in Olympic tournaments.  So, it follows that Patty would represent his native land.  He won gold in 2010 with Team Canada and scored five points in the seven games he featured in.
It can be argued that Marleau deserves a spot over guys like Chris Kunitz and Jeff Carter, but it can also be said that Patty might hit his streaky ways at the wrong time for Team Canada.  His two-way play is worth the tryout at the least.
Who Will Actually Make the Squad?
Team Canada
There is a real good chance that three of four invitees earn the right to play.  And if Marleau has a hot hand in the NHL, the Canada brass may change their mind.  Otherwise, Joe Thornton, Dan Boyle, and Logan Couture should make the squad.
Thornton should secure a spot on his experience alone.  Executive director, Steve Yzerman said that "big-game experience will work in a player's favour."  But he still has the ability to make big plays and feather great passes to shooters.  He forechecks well and has one of the highest hockey IQs in the game.
Dan Boyle is one of few scoring defensemen on the roster and also boasts experience.  He was the top scoring defender in 2010 and his ability on the power play will make him valuable.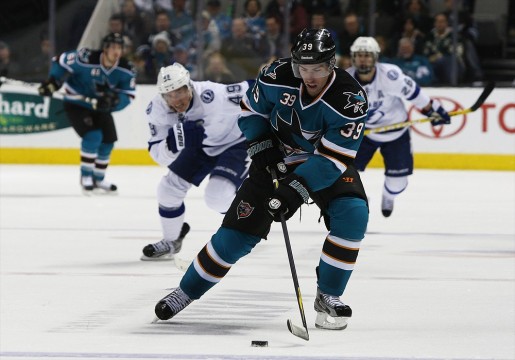 Logan Couture is not a lock, but he deserves the nod.  Couture represents the future in San Jose and similarly in Canada.  Couture's quick shot and speed will make him a deadly weapon.  He can more than hold his own against the rest of the skaters invited to camp.  Major success in the regular season in the NHL will supplant his application to play for gold.
Marc-Eduoard Vlasic is a solid defender, but with a bevy a much more talented defenders in camp, Vlasic will be hard-pressed to make the roster.  He is one of the Sharks at Olympic Camps that will get passed over.
Team Czech Republic
In San Jose, Martin Havlat has not won a lot of fans.  Multiple articles were produced of how he had played his last game in San Jose prior to his surgery.  His cap and lack of production have hurt San Jose more than anything.  But in the Czech Republic, forwards are at a premium.  My Czech is a little rusty, but an article revels Havlat joins players that were top line stars a few years back like Patrik Elias, but do not quite have the pop nowadays.  Havlat could rediscover his shot and provide talent.  Of course, the Sharks would hate for the injury bug to bite him while in Russia.
Team USA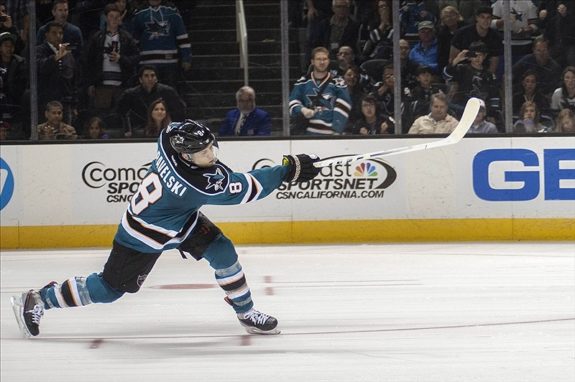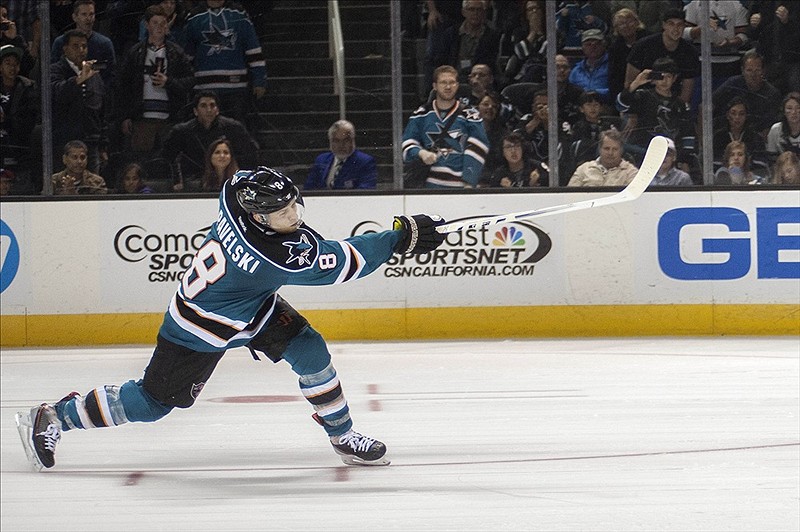 Joe Pavelski is a lock for the United States.  He was an integral part of the US roster in 2010 and looks like he can do it again.  He was nicknamed "Swiss Army Knife" by Brian Burke.  Pavelski won the faceoff against Canada and held the puck in on a clearance attempt to set up the play that eventually tied it with 24 seconds to go.  That play alone is a fine audition for Pavelski.
Joe hopes to score more for the United States in this go with the international squad.  His hard work will be extremely useful in the Olympics.  Plays are often less structured and broken plays like the one above can end up in the back of the net.  Pavelski thrives off of those plays and the USA will benefit greatly from it.
Team Finland
Antti Niemi has a stacked list to top if he wants to start in Sochi.  The Sharks keeper goes to Olympic camp in Finland facing goalies like Pekka Rinne and the runner-up Bruins' Tuukka Rask.  Finland has won medals in three of the last four Olympics.  Goaltending could be claimed as a reason why.  Nemo is likely to beat out Kari Lehtonen for the third and final spot.  However, his lack of international experience may hurt his chances when pitted against veteran Niklas Backstrom.  He was a Vezina candidate after all and recognition from the NHL has to count for something.  Whether he gets any time on ice will remain to be seen.
Kenneth is a graduate of the University of San Francisco in Politics and Chemistry. But his passion in life has always been hockey. He has played since he was four and even coached a few teams. Kenneth writes for the San Jose Sharks at thehockeywriters.com