A contrast in style.  A flashy, flowing, elite scorer, who had his own little rendezvous with the KHL, joins the New Jersey Devils.  Except it's not Ilya Kovalchuk.  Instead, hello and welcome to Jaromir Jagr!  No the Devils and their fans won't get to see Kovalchuk end his career in New Jersey but they'll get a good idea of what it would've looked like, in the 41-year-old Jagr.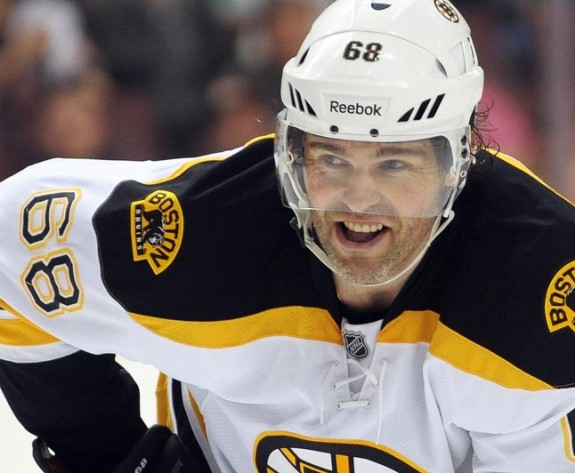 Jagr, along with his 681 career goals, is the best player of his era, popular with fans and should sell plenty of tickets and jerseys.  That famous 68 will also be worn, joining other prominent players such as Stephane Richer (44), Alexander Mogilny (89) and Doug Gilmour (93), as other prominent players to join the Devils and keep said high numbers.
All of this in a vacuum is fun and intriguing and scintillating but what does it really make for when the rubber meets the face-off dot?  Well for a player like Jagr, who wants to play, there's plenty of minutes available for him to swoop up with the Devils.  Plus New Jersey gets a player who is still a strong and sizable force, a player with a strong work ethic and a Stanley Cup pedigree.  What Jagr also adds is respect and credibility.
The NHL regular season schedule was released on Friday. Check out our partners at TiqIQ for the best deals on New Jersey Devils tickets for all 2013-14 games.
One might make the case that given that description and a 20-to-25 goal campaign, that Jagr is replacing really David Clarkson.
I for one do not believe it is a question of durability with Jagr.  The last time Jagr failed to play 70 games in a non-lockout season was in 2001-02, when he played 69 contests for the Washington Capitals.  What is of larger concern is what Jagr is able to consistently on offense, over a full season.
Between the Dallas Stars and Boston Bruins in 2013, Jagr averaged 18:20 in total ice-time, potting 16 goals and 19 assists.  If you're wondering, Kovalchuk led the league at 24:44 and Clarkson averaged 17:36.  So while it is a bit concerning that Jagr hasn't hit the 30-goal plateau since 2006-07, one has to figure that he'll help lift and setup younger players on the squad.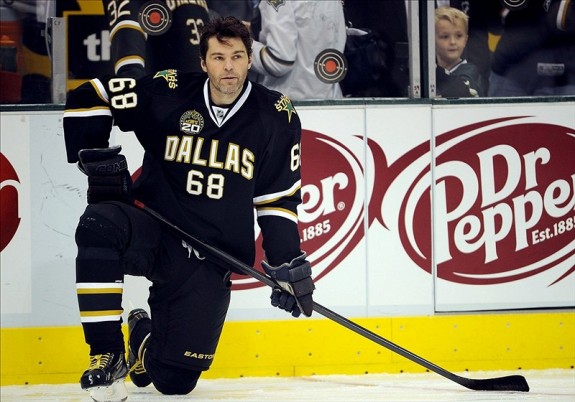 As for his contract, Jagr will get a base of $2 million and is slated to earn a $250,000 bonus for every five games played from 10-to-45, which rounds out to potentially a little over $4 million.
It is a quintessential short-term move and a move that could well pay off come April, May and possibly June.  After all, Jagr does have 202 playoff games and 199 playoff points under his belt.  Although much like his new Hall of Fame teammate and fellow 41-year-old Martin Brodeur, it's a matter of holding up for long enough at a high level to get there.
Michael Gwizdala covers the New York Islanders for The Hockey Writers. Michael is also an Associate Producer at WNYT NewsChannel 13. Additionally, Michael was once a Media Relations intern for the AHL Albany River Rats. Michael is a graduate of The College of Saint Rose in Albany, NY.