In May of 2012, I wrote a draft prospect profile on Kelowna Rockets forward Carter Rigby. Although some were high on him, including Cody Nickolet and Dan Sallows, it was questionable whether or not he would hear his name called on draft day.
Unfortunately for the Penticton, BC native, he didn't.
[Not being drafted in your first year of eligibility is not the end of the world, as Chris Wassel wrote recently.]
If I write a prospect profile on a player, there's a good chance I'll loosely follow that player's development into the future. Rigby is no exception, despite being one of just two prospects I've written about to go undrafted.
So the 2012-2013 WHL season got underway that fall, and through 34 games Rigby put up decent numbers, scoring 12-8-20 in that time with a +18 rating (a big swing from last year's -14). He was inconsistent though, which I'll address in a moment.
A Standout Stat
During those 34 games, Rigby compiled one of the strangest stats I've ever seen. He picked up 12 goals in 34 games, but he only actually scored goals in six games.
More precisely, Rigby had three one-goal games … and three three-goal games.
A total of 12 goals, with three hat tricks.
Two of them were in back-to-back games.
[For a look at the best undrafted NHL goalies, check out Toli Metter's recent top 10]
Last season's top two scorers in the WHL—Brendan Leipsic and Nicolas Petan, from Portland—scored 49 and 46 goals, and between the two of them had a total of three hat tricks.
I'm not saying hat tricks = stardom or greatness. Anyone, literally any player, on the right night, can pick up a hat trick. Take AHL defenseman Brennan Evans. In 2010-11, Evans played 66 games for the Peoria Rivermen and scored just three goals all season—all of them in a single game.
One hat trick is a fluke. Two, not so much. Three, it's hard to know what to do with that.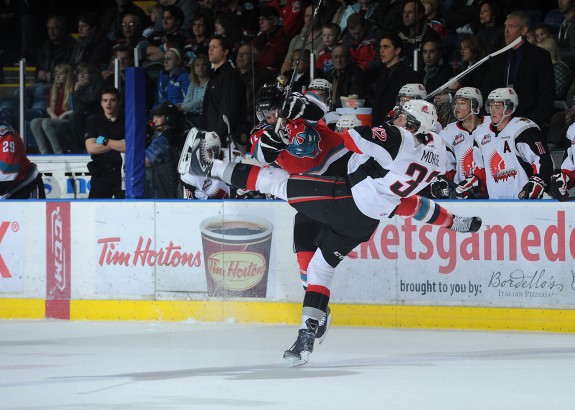 The Weight on His Shoulders
There were a pair of reasons to explain some of his inconsistency. The first occurred on 12 OCt 2012 just 15 seconds into a game against Spokane, when Carter Rigby threw down against Carter Proft.
Kelowna play-by-play announcer Regan Bartel says "no damage done" but he couldn't have known that Rigby suffered a shoulder injury. He injured his other shoulder in Kootenay crashing into the net and knocking it off its pegs. In addition to a shortened season, the result has been two off-season shoulder surgeries, one per shoulder.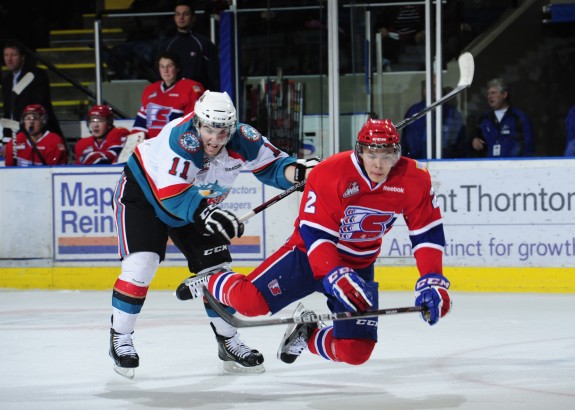 The Report
The Rockets acquired Rigby from the Prince George Cougars in September of 2011. During the 2010-11 season, Rigby went from Junior B to Junior A to Major Junior. While in Junior B with the Osoyoos Coyotes, he played the Kelowna Chiefs five times, lighting them up for 5-8-13 points. Kelowna Rockets fans had no idea what Carter Rigby brought to the table when he came over from Prince George, but Rockets GM Bruce Hamilton clearly did.
More than anyone else, Rigby gets compared with former Rocket and current Dallas Star Jamie Benn. At about 6'1″ and 214 lbs, Rigby is close in size to Benn (6'2″ 205), and coach Ryan Huska, himself partly responsible for the comparisons, says that like Benn, Rigby is a big body with a great shot who doesn't mind going to the dirty corners to get things done.  
The biggest knock against him, cited by scouts, by Huska, and by Rigby himself, and the most likely aspect that prevented him from being drafted in 2012 has to do with the thing that scouts look at first: skating. 
He's not a pretty skater. Fortunately it's a skill you can improve, and by most accounts from his first to second year, Rigby did just that, and he continues to work on it. 
Another reason given for why he wasn't drafted was because in his first draft year he didn't have the kind of season that made you stand up and take notice. This I find slightly harder to accept since he came to Kelowna expected to pot more punches than goals, and yet managed 21-15-36 in 65 games and was at times a one-man wrecking crew.
Taking Notice
Contrary to popular perception, Rigby still has two years of Junior eligibility remaining, not one. Whether he plays them both or not remains to be seen, since I'm told that NHL teams are beginning to make serious inquiries about him.
He already plays a pro game, chiefly by keeping things simple. A big, confident dude who plays fearlessly and can't be intimidated, he's got good hockey sense and he's an exceptional member of a dying breed– players who can deliver clean, thundering open-ice hits. A vocal leader with a great shot, don't be surprised if Rigby turns pro at the end of next season after being offered an NHL contract. He's just the kind of undrafted player teams like the Dallas Stars (Brenden Dillon, Matt Fraser, Antoine Roussel, Ryan Garbutt) have been finding lately, players who somehow fell through the cracks. [This is not to imply the Stars are scouting him, I have no team-specific information; I'm just using them as an example.]
For this to happen he'll need to come back strong from his two surgeries and put together a full and productive season in 2013-14. While easier said than done, his table is set: he's got all the tools you'd want in a forward and he'll be playing on a very talented Kelowna squad.
As you might expect, in the CHL there is a certain status associated with having been drafted, but in reaching the level of pro hockey it's the ends that matter, not the means.
Here's a clip collection featuring Rigby. Check out a couple of epic shifts, one that starts around the 1:16 mark and the other, at the 7:32 mark.
Some Links: