An interesting aspect of the 2013 NHL Draft is the overagers. These are the players that are at that last year of draft eligibility typically, may have reentered the draft, or got passed over a time or two. Now will any of the overagers find success in the NHL? It would seem the odds are against them but hey, one never really knows.
By the way, in parenthesis, we have the player's age just for a bit of emphasis. We also used a slightly different cutoff (closer to the draft). Please keep that in mind.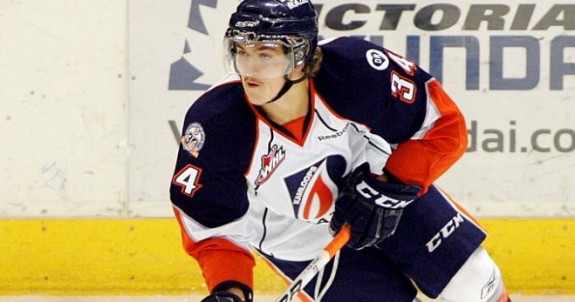 The 2013 NHL Draft Overagers
Anaheim — Miro Aaltonen (20)

Boston — None

Buffalo — Eric Locke (19)

Calgary — Tim Harrison (19), John Gilmour (20)

Carolina — None

Chicago — None

Colorado — Ben Storm (19)

Columbus — None

Dallas — None

Detroit — Mattias Janmark-Nylen (20)

Edmonton — Anton Slepyshev (19), Evan Campbell (20)

Florida — Chris Clappeton (19), Josh Brown (19), Mackenzie Weegar (19)

Los Angeles — Patrik Bartosak (20), Zach Leslie (19), Johnny Brodzinski (20)

Minnesota — Kurtis Gabriel (20)

Montreal — Connor Crisp (19), Sven Andrighetto (20)

Nashville — Felix Girard (19), Wade Murphy (19)

New Jersey — Myles Bell (19)

NY Islanders — Alan Quine (20), Stephon Williams (20)

NY Rangers — Mackezie Skapski (19)*

Ottawa — Quentin Shore (19)

Philadelphia — Tyrell Goulbourne (19)

Phoenix — None

Pittsburgh — None

San Jose — None

St. Louis — Zach Pochiro (19)

Tampa Bay — Henri Ikonen (19)

Toronto — Antoine Bibeau (19)

Vancouver — None

Washington — None

Winnipeg — JC Lipon (20), Tucker Poolman (20), Brenden Kichton (21)
Yes that is all thirty teams. You may ask why on Earth did we do this? Hey that's a good question. By my count, that is 31 overagers drafted or a little under 15% of the draftees. That would be 14.7% to be precise. There is only one question to ask. Do any of these guys have an honest shot of NHL success from the 2013 NHL Draft class?
The overagers best chances for success?
JC Lipon (Winnipeg) —  The forward just could not be ignored for this year's draft after an 89 point regular season campaign and a 23 point playoff soiree. He finally put it together as we would like to say and development wise he may be a bit further along than most expect.
Connor Crisp (Montreal) — Crisp is an interesting case because his numbers are not that eye popping but he has that "it" thing going for him. It cannot be explained. It just is. Montreal eyed him hard and took the forward 71st overall for a reason. The Erie Otters were not that good. Let's see what happens with a bit more talent around Crisp.
Henri Ikonen (Tampa Bay) — The Finnish talent was a slow and steady riser with his production the last couple seasons. His 51 point year with Kingston in 61 games turned some heads and he is one of our four to keep an eye on for this big reason. Simply, he can play and do things that cannot be taught.
Anton Slepyshev (Edmonton) — It is sometimes hard to establish talent when one keeps playing for three and four teams a year. At least it feels that way with Slepyshev. However, his ability makes him very intriguing. Add in Edmonton's top six and there may be someone to keep an eye on up there.
---
The 2013 NHL Draft really did produce quite a smorgasbord of overagers who may be able to produce at an NHL level. Maybe they fail but there is just that little hunch that all four of these players have a better chance of being hits than most would like you to believe. Stay tuned because this is only the beginning of the story. Which overager do you think has the best chance for success?