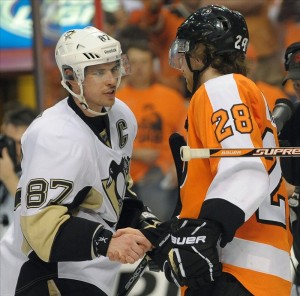 After a disappointing 48-game season, the Philadelphia Flyers are eager to get back out on the ice and move forward from what wound up being a season to forget. While it won't speed up the offseason, the NHL released the 2013-14 regular season schedule, giving the Flyers players, personnel and fans something to look forward to.
As always when it comes to unveiling of schedules, there are certain teams and players that stick out. For Philadelphia, any game against Sidney Crosby and the Pittsburgh Penguins will receive a big circle around the date, just as games against the New Jersey Devils and New York Rangers will. As for other non-division games to look forward to, every Flyer fan is anxious to get a shot at the Los Angeles Kings, or as Philadelphians refer to them, "Flyers West."
So which games stand out the most among the Flyers 2013-14 regular season schedule?
The Pittsburgh Series — Oct. 17 (H)/Nov. 13 (A)/Mar. 15 (H)/Mar. 16 (A)/Apr. 12 (A)
Let's be honest, the Philadelphia-Pittsburgh series has become, arguably, the best rivalry in the NHL. Whenever these teams go head-to-head, there will be nothing short of intensity and passion on that ice. Whether it's Claude Giroux battling Sidney Crosby, Sean Couturier going pound-for-pound with Evgeni Malkin or Wayne Simmonds giving it to Kris Letang, there's always something to watch when these two take the same ice.
After a down year for the Flyers, their front office, coaching staff and players expect to be back in contention this season, which means they'll likely be jockeying with Pittsburgh and New York for the division lead. This means every game with the Penguins is a must-win, not only to satisfy their hatred for one another but to gain a boost of confidence moving forward.
Philadelphia will get to show off their new offensive toy in Vinny Lecavalier to Pittsburgh on October 17. In his career, he has registered 45 points (27 G, 18 A) in 52 games against his new team's inner-state rival.
Los Angeles Kings (Flyers West) – Feb. 1 (A)/Mar. 24 (H)
Mike Richards. Jeff Carter. Dan Carcillo. Justin Williams.
The Kings are notorious for acquiring ex-Flyers, once touting Simon Gagne and even Ron Hextall in management before they both moved back to Philadelphia, conveniently. These two teams haven't met since Richards and Carter hoisted the Cup and you know Philly fans have been awaiting the day they can "welcome" these guys back to the city they first suited up for. The Wells Fargo Center will be a hopping place when No. 10 and No. 77 first step onto the ice they once called home on March 24.
Additionally, both Wayne Simmonds and Brayden Schenn will get the opportunity to show the Los Angeles front office just how well they have developed since being shipped out of town to land the former Flyer captain.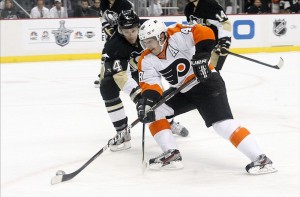 Montreal Canadians – Oct. 5 (A)/Dec. 12 (H)/Jan. 8 (H)
In year's past, seeing Montreal on the schedule wasn't anything to get excited about. Many fans would simply say, "Oh, that will be a tough game for Flyers," and move on. Now, though, the Canadians have a new offensive asset in former Philadelphia forward Danny Briere.
Despite going out on a sour note after failing to produce in the 48-game season, Briere  became a fan favorite in the city after a tremendous six-year stay in Philly. His first year in the orange and black was nothing short of a success as he netted 31 goals and 41 assists; he went on to score 124 goals in the regular season with the Flyers but will always be remembered for his playoff dominance. In his career, he has recorded 109 points in the playoffs with 72 of them coming as a member of the Flyers.
No one will ever forget his timely playoff goals or his astonishing 30-point performance in the 2009-10 playoff run that fell just shy of the city's first Stanley Cup in recent memory.
Columbus Blue Jackets – Dec. 19 (H)/Dec. 21 (A)/Jan. 23 (A)/Apr. 3 (H)
This one hurts. Seeing Sergei Bobrovsky go off one year after leaving Philadelphia and win a Vezina Trophy in his stint as a full-time starter was a kick in the gut for Flyers fans. While there will never be full acceptance of the fact that he really wasn't given a chance in the orange and black (perhaps mismanagement by the Flyers led to that), you can book on the Flyers wanting to put a few past their former goaltender to ease, albeit very minor, the pain of what could have been.
The Blue Jackets also will be entering their first season in the Eastern Conference and in the newly formed Metropolitan Division, so that will only add to the importance of these games as Philadelphia could very well be competing with Columbus for a playoff spot after both teams finished on the outside looking in.
Detroit Red Wings – Oct. 12 (A)/Dec. 4 (A)/Jan. 28 (H)
Hockey Town meets Broad Street. For the first time these two storied organizations will be in the same league and will be going toe-for-toe for a playoff spot… hopefully. The Red Wings have one of the most talented rosters in the NHL, featuring Pavel Datsyuk, Henrik Zetterberg and Jimmy Howard among others. A near-lock for the playoffs every season, Detroit will only add to the strength that already resides in the East. But Detroit is a team that likes to play their style, similar to how Pittsburgh is, and we all know how Philadelphia's pesky attack knocks the Penguins off their game. So it will be intriguing to see if the Flyers can construct a similar counter to neutralize Detroit's offense.
Speaking of the Red Wings' offense, they made a few upgrades this offseason by acquiring Daniel Alfredsson and Stephen Weiss. Those two acquisitions will help give Detroit even more depth and form one of the best lines from first to fourth. In 55 career games against the orange and black, Alfie has totaled 47 points (16 G, 31 assists).
A journalism student at Rowan University, Kyle is a Big Ten Reporter for Scout.com (owned by Fox Sports) and spent the 2013 season interning with the Philadelphia Flyers.