Shortly before the NHL Draft, Avalanche beat writer, Adrian Dater, had a conversation with Colorado Avalanche head coach Patrick Roy. In this conversation, Roy "flat out told" Dater who was going to be on his top three lines for the upcoming season. This was just another example of the stunning straightforwardness that we have been seeing from the new regime in the Avalanche front office.
Now, I know that we're still in July, so a lot of things can change before the season gets started. That being said, there is no real reason to expect that Roy will change these lines up before they have ever had a chance to play together, so there is still room for reaction and analysis to what is said. The lines are very interesting.
Line 1: Ryan O'Reilly (LW) – Matt Duchene (C) – P.A. Parenteau (RW)
There is a lot that can be said about this line, so we'll just begin with the obvious. There was no doubt that Matt Duchene and P.A. Parenteau were going to stick on the same line together after flourishing the way they did together last year. Duchene and Parenteau tied for the team lead in scoring with 43 points while playing the entire season on the top line. To split these two up would be nothing short of craziness.
Ryan O'Reilly moves over to left wing on the top line, a position that O'Reilly has yet to play at the NHL level. This is one move that is a bit of a head-scratcher as O'Reilly is Colorado's best two-way center. I'm not really sure why you take the best two-way center on the team and move him to the left wing on the top scoring line. At the same time, the addition of O'Reilly makes this top line one that is not only incredibly skilled, but also one that has an incredible work ethic. All three of these guys can forecheck, skate, play solid defense when needed and, most importantly, score. If this line really starts to click, it could be very scary for opposing teams.
Another thing to consider with this line is how creative the team could be with the face-off situations. O'Reilly and Duchene are both solid on the draw and could both be relied on to take draws in the areas where they are strongest without having to worry too much about being kicked out. This line lends itself to a lot of creativity.
Line 2: Gabriel Landeskog (LW) – Paul Stastny (C) – Alex Tanguay (RW)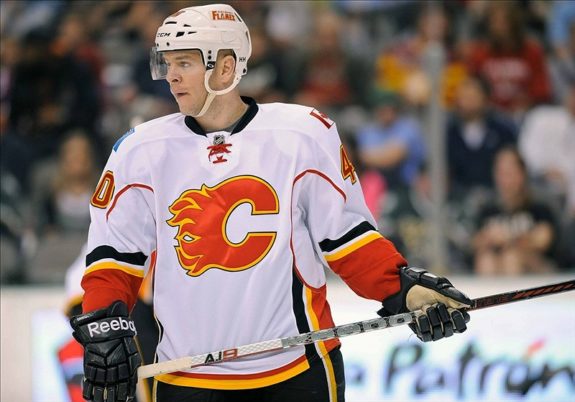 I am not so certain about this line for a couple of reasons. First, I'm concerned that having Tanguay and Stastny on the same line could be troublesome as both players are pass first guys. One of them is going to have to do more shooting, and both of them have had that very criticism of their games throughout their careers.
Second, I would rather have had Tanguay playing in his natural position on the top line, having O'Reilly center the second line and have Paul Stastny move over to a wing position. Stastny started his career on Joe Sakic's left wing, so a move back to where he started his NHL career probably wouldn't have been too much of an issue.
Looking positively, there is a lot of skill on this line that could result in a lot of scoring for Gabriel Landeskog. Stastny and Tanguay both have incredible vision and great hands. Tanguay has a bit more finesse and ability with the puck, which can often result in opponents watching him when he has the puck and losing other people. If Stastny starts to shoot more, this could become a very potent second line. I'll be very interested to see what the power play units look like.
Line 3 – Jamie McGinn (LW) – Nathan MacKinnon (C) – Steve Downie (RW)
Keep in mind, Roy revealed this before the draft ever happened, so this shows you exactly how much Roy already thinks of this kid and this is a pretty good line for him to start on. This line is one that will play to MacKinnon's strengths and also won't put too many expectations on his back. Yes, he was the top pick but let's not forget that he's still going to be an 18 year old kid playing amongst men.
This line won't go up against the other team's top line for defensive purposes, nor will he be seeing the opponent's top defenders. This is a line that will be expected to forecheck, cycle, provide some energy and provide some offense. Not to mention, he's playing between two guys that don't have a problem being physical, so he'll be able to focus on his game. If there's one thing I wish they had on this line it would be a stronger passer. McGinn can pass, don't get me wrong, but it's not like he's a pure set-up guy. Downie is there to annoy people, plain and simple. He does have a scoring upside as well, but he's not going to be a guy who is expected to wow you with points.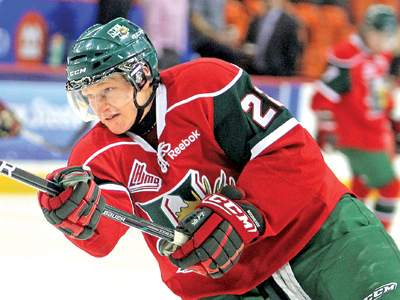 These are some intriguing lines that sport a lot of speed and a lot of talent. If there's a real gripe with them it's that they may lack a little bit of size. Still, all of that fire power and a new coach could result in a lot of offensive fireworks for the Avalanche this season. Things can, and probably will, change as the year progresses, but this definitely provides Avalanche fans with something to look forward to.
I'm a Denver native who has been a fan of the Avalanche since they came to town and a fan of the game before that. I started writing my own blog a couple years ago before moving to Bleacher Report and becoming a Featured Columnist there. You can also find me the Burgundy Brigade Podcast