Carter Rigby THW Close-Up:
Date of birth: 20 February 1994
Place of birth: Penticton, BC
Ht: 6'0″ Wt: 210
Shoots: Left
Position: Left Wing
NHL Entry Draft Eligibility: 1st time eligible 2012
*Click Here for "Notes Up Front" and the "Legend" for various topics covered below in the "Live Updated" THW's NHL 2012 Entry Draft Guide – The Next Ones home page.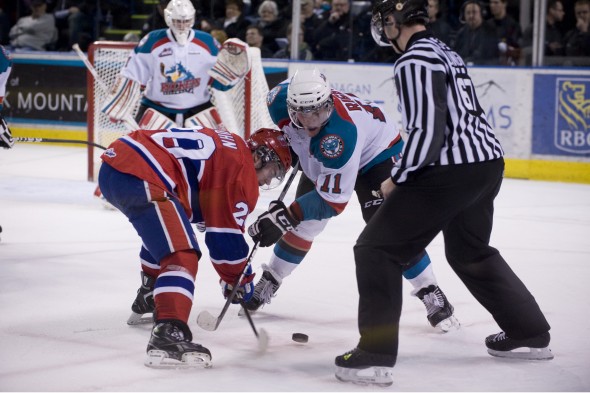 Did the reader miss Kelowna Rockets rookie forward Carter Rigby's tale of the tape? It's worth revisiting.
Six foot …Pfff.
210 lbs?! In the words of Darren Pang, Holy Jumpin'. He outweighs much of his rookie class by 20-30 lbs.
No surprise then that internet searches for Rigby inevitably bring you fight highlights over almost everything else, and this is fair enough since he came to Kelowna expected to fight, and his fight card shows that he's afraid to throw down with absolutely no one regardless of the height or reach advantage they might have on him.
Yet in the Rockets' 2011-2012 home opener the largely unknown Rigby came out firing with both barrels, scoring a pair of goals (including the game-winner), adding an assist, and scrapping with Vancouver's Scott Cooke, a trifecta good enough for a Gordie Howe hat-trick and one that cost him 17 PIM (instigating minor, fighting major, and a misconduct). It was a home debut for the ages, yet for all the flotsam and jetsam he caused out of the gate, he would go silent the rest of October. From then on, however, he was pretty consistent and would finish 15th in scoring among all WHL rookies, picking up 21-15-36 in 65 games.
That first home game was the first of eight multi-point games on the season. Not bad for a guy most had pegged as a goon with better-than-average hands when he was traded to Kelowna from the Prince George Cougars.
An analysis of his 21 goals includes nine on the power play, one shorty, and three game-winners. He also scored four goals that (for the moment) tied the game, and one go-ahead goal. However, he also scored fives times at the tail end of games decided by at least three goals (four Kelowna blow-outs and one loss)–in other words, when it didn't matter.
Among his teammates, Rigby's nine PPG were good for third, but the sore thumb among his stat pack is without question the -14 rating. While it was no worse than that of team captain Colton Sissons, there is room for improvement.
Although on the raw side, he brings a sweet set of tools to the table and he has some scouts scratching their heads, unsure what to make of him. Other scouts are far less uncertain about the kid's potential:
Scout's Honor: 
"Rigby is a solid two-way forward that is built like a tank. He throws his weight around, isn't afraid to rough it up and also can score.  Is a very strong skater for a guy listed at 210 pounds.  I have seen him play the point on the PP and he is also a solid player in his own zone.  I like him as a 4th round choice, but I am not sure how he's valued elsewhere." Cody Nickolet, WHL From Above.
"He has a swagger about his game that scouts have to love and combines size, hands, and a pro calibre shot with a ton of character, toughness, and hockey smarts. When he is on his game, he is an imposing force on the ice, working hard along the wall, creating space for his linemates, utilizing his shot, and he won't shy away from dropping the gloves when needed. The 18-year-old is mature beyond his years when it comes to the game of hockey, and simply knows what he has to do to be effective … [I]f he isn't a sleeper pick come draft time, he will come back to haunt the teams that pass on him."Dan Sallows, Future Considerations.
"Versatile wing who plays chippy. He has a decent shot, kills penalties, and projects as a power wing. Has been a good offensive player at every level. He will have to work at keeping his feet moving and less gliding, and becoming a consistent full game player with little time off." Bill Placzek, Draftsite.com.
"From the shooting aspect, I see Jamie [Benn]. Jamie could shoot a puck just like Carter can. In Carter's situation, he needs to understand that there's a lot more he could do and part of that is getting himself into better shape." Kelowna coach Ryan Huska.
Statistics:

Bio/Interview(s)/Link(s):
ETA = 5 yrs
Risk-Reward Analysis:
Risk = 5/5   Reward = 5/5. Drafting him this year is high risk/high reward considering that even deep into the draft pool there are many safer players with higher profiles. But it could be a case of 'Get him now in the later rounds, or watch him go early next year.'
NHL Potential:
Top 6 forward. Don't look for Rigby's name among the ISS top 50, or even among NHL Central Scouting's 210 North American skaters. Only in the last couple months has he started to appear on scouting lists. There's a good chance he won't hear his name at the draft. He might also hear it early, or very late. What Rigby lacks in various areas of the game, he can improve upon; otherwise he more than makes up for shortcomings in confidence. Throw in his size and his scoring touch, and he's the sleeper pick that in a few years is ripping up NHL ice and has the hindsight-20/20 people asking, 'How did all those idiots overlook him?'
Strengths:
*See "THW Close-Up" section above.
Size. Likes to play the body; already has some idea how to make the most of his frame.
Hands. Under-appreciated puck handler and highly capable puncher.
Shot. Hard wrist shot with good release.
Hockey sense. Better than average; has a nose for the back of the net and can find the open spaces.
Confidence. As impossible to teach as hockey sense and almost as valuable, and he's got it.
Flaws/Aspects He Needs To Work On:
Speed. Power forwards need to skate like freight trains. He has the size and tenacity to persecute opposing D on the forecheck.
Conditioning. Noted by his coach, he's got to get into better shape.
Skating. Already a good skater, he's shown an ability to dazzle–should be doing it more often.
Fantasy Hockey Potential:
Offensive = 7/10
NHL Player(s) Comparison:
Rigby has said he models his game on Jarome Iginla.
Coach Huska sees Jamie Benn.
Cody Nickolet sees Ryan Malone.
Video(s):
A good video profile of Carter Rigby produced by Shaw Community TV following his Kelowna debut.
THW's The Next Ones prospect profile template design architect: Chris Ralph
Ross Bonander is a freelance health writer and book editor. He is the editor of 13 quotation collections– six of them hockey-related, including his most recent, Modern Hockey Quotations. His homepage is RossBonander.com.