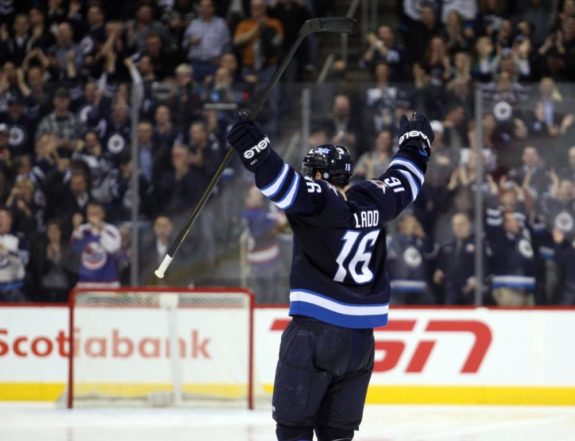 With under a week to go in the 2013-2014 NHL preseason, the Winnipeg Jets are nearly down to their opening night roster after making their most recent rounds of preseason cuts and reassignments on Monday and Tuesday.
The  most recent reassignments included: Carl Klingberg, Jerome Sampson, Adam Lowry, Ivan Telegin, Andrew Gordon, and Eric O'Dell on forward, Ben Chariot, Julian Melchiori, and Joshua Morrissey on defence and goaltender Michael Hutchinson. None of these move are shocking and the Jets are now down to 15 forwards, 8 defenceman and 3 goaltenders.
The National Hockey League's roster rules stipulate that a team's opening night roster must have no less than 20 players and no more than 23. With 27 currently on the team roster (not including Hutchinson, who is still listed on the team roster) as of Monday afternoon this means Winnipeg has 4-7 players left to either cut or send down to their American Hockey League affiliate the St. John's IceCaps or their ECHL affiliate, the Colorado Eagles.
Now that the Jets are down to their final cuts, the 2013-2014 roster is starting to take a more solid mold.
Offence
1. Ladd-Little-Wheeler
The Jets first offensive line should once again lead the charge as the Ladd, Little, Wheeler combination is one of the most solidfied in all of hockey. The trio has played together more often than not since Wheeler was acquired in December 2010 by the then Atlanta Thrashers. The threesome have combined for 279 points in the two full seasons they've spent with each other in Winnipeg. If this line is getting points night in and night out, Winnipeg will have a very successful third season in Manitoba.
2. Kane-Jokinen-Frolik
Winnipeg's second line in previous seasons has been able to give much support when the Ladd,Little, Wheeler trio gets shut down on a particular night. Outside of Evander Kane, there has been little consistent offensive production on a nightly basis. Jokinen is a grizzly veteran, but has said he still has plenty left in the tank at age 34. Frolik is in the prime of his career and may be the spark Kane is looking for to support him on the right side. This trio was the team's starting forwards against Edmonton Monday night and combined for 16 of Winnipeg's 29 shots on goal. The Jets could also go with an even younger Mark Schiefele in place of Jokinen, but that remains to be seen as the Jets first pick in 2011 may return to Barrie for his final season of junior hockey.
3. Setoguchi-Schiefele-Halischuk
The third threesome up front for the Jets brings even more question marks. Will Schiefele stay past four regular season games? Setoguchi and Halischuk bring more playoff experience to the Jets bottom six forwards. Setoguchi can provide a scoring touch similar to that of a Nik Antropov and Halischuk isn't afraid to mix it up in the corner and has a knack for getting to the net. Similar to the second line, this line will need to provide offence when the first line goes cold.
4. Tangradi-Slater-Thorburn
The Jets know what to expect from their grinders.  This trio isn't as skilled as the Jets other forwards, but they work harder than probably anyone on the rink on a given night. If Slater and Thorburn can stay healthy, the fourth line will be a valued assest to Winnipeg this season giving the scoring lines more time to rest and drawing the occasional penalty to set up the power play. The trio is capable of find the back of the net as Thorburn did with the Jets lone goal on Monday.
5. Peluso-Wright
If the Jets carry 14 forwards, look for Peluso or Wright to jump in on the third and fourth lines when one of the bottom six is injured, or scratched.
Defence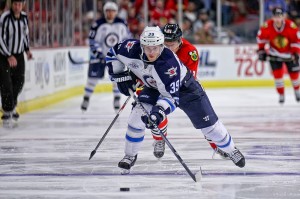 1. Enstrom-Byfuglien
This duo has been together since Byfuglien arrived in Atlanta following his 2010 Stanley Cup victory with the Blackhawks. As long as both avoid the injury bug, they should be a solid one-two punch at the blue line for Winnipeg. Byfuglien has been in the top five in team scoring in each of his seasons with the franchise and is likely to do the same again in 2013-2014.
2. Clitsome-Bogosian
Bogosian was resigned to a multi-year extension and will want to prove himself worthy of the contract. Like the second forward line, the tandem started the contest in Edmonton on Monday evening and should see their fair share of minutes behind Enstrom and Byfuglien. Clitsome also led all Jets defenseman in plus/minus rating at +10 last season.
3.Stuart-Trouba/Postma
Stuart's as physical as any defenseman in the league and can be a veteran mentor for his younger linemate whether it's Jacob Trouba or Paul Postma. If it's Trouba, the former Michigan standout will give an offensive boost to the Jets blue line as shown by his performance for Team USA at the 2012 World Junior Championships. Postma saw action in 34 games last season and tallied four goals and five assists. Postma is more likely to make the final roster, but Trouba left three years of NCAA eligibilty with the Wolverines on the table when he signed his entry level contract late last season. Trouba didn't see any game action in the final week of last season, but has been solid this preseason seeing action in four preseason games and earning three assists in the stat column.
Goaltender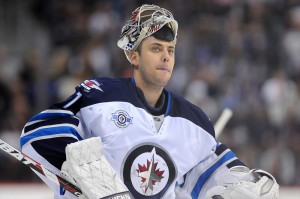 Between offence, defence and goaltending, the order between the pipes is the most solidified.
1. Pavelec
Pavelec has been solid his first two years in Winnipeg. His 2,552 minutes and 43 seconds of playing time last season was third most amongst NHL goalies during the 48 game sprint, or in Pavelec's case, 44 game marathon last season. If the Kladno, Czech Republic native remains solid and gets more help from the five guys in front of him in the form of a cut down on shots he faces each evening, the Jets should find more success overall.
2. Montoya
Likely Pavelec's primary backup. If the Jets are successful in their quest to make the playoffs this season, Montoya will have to see more than the seven games he saw action in last season.
3. Pasquale- Assuming Pasquale doesn't beat out Montoya for the backup job, which isn't likely as Montoya has a one-way contract and would likely leave the organization if this were to happen. The Jets could carry three netminders, but probably won't. If Pavelec or Montoya should go down at any point during the season, Pasquale is next in line as he will likely be the starter in St. John's.
The Jets still have a few cuts to go before they drop the puck in the Edmonton on Tuesday and it remains to be seen if Trouba, Schiefele and other potential rookies make the final squad out of training camp.
I've been a sports fan since before I can remember and although different from many of my southern peers, hockey has always been first (at least since 1999).
I am a junior at the University of Georgia majoring in digital and broadcast journalism and political science. In addition to The Hockey Writers and Sunbelt Hockey Journal, I have written for UGA's student newspaper, The Red and Black and wrote for my high school paper, Grayson High School's the Green & Gold. I was also a stringer for the Macon Telegraph during the 2012 college football season. I am now a student assistant with Georgia Sports Communications. Outside of school and writing, I play on Georgia's club hockey team, the UGA Ice Dogs in Division III of the American Collegiate Hockey Association.