2013-14 American Hockey League Season Previews
CHARLOTTE CHECKERS
Coaching Staff: Jeff Daniels, head coach; Geordie Kinnear, assistant coach
Affiliates: Carolina Hurricanes (NHL), Florida Everblades (ECHL)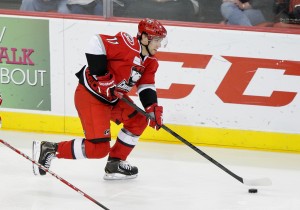 2012-2013 RECAP
Record: 42-26-4-4 (92 points)
Conference finish: 4th overall
Calder Cup Playoffs: Lost in Quarterfinals 3-2 to Oklahoma City Barons
THE OFF-SEASON
Roster Departures
Justin Krueger (D), Tim Wallace (F), Marc-Andre Gragnani (D), Jerome Samson (RW), Matt Beca (F), Justin Soryal (LW), Luke Pither (C), Rob Madore (G), Andreas Nodl (RW), Matthew Pistilli (RW)
Roster Additions
Victor Rask (C), Brendan Woods (C), Danny Biega (D), Austin Levi (D), Mark Flood (D), Keegan Lowe (D), Aaron Palushaj (RW)
2013-2014 SEASON PREVIEW
Going into their fourth year of existence, the Charlotte Checkers will play 2013-13 in their fourth different division. Though four of the five members remain the same, gone to the realm of inexistence are the Houston Aeros. Replacing them in the AHL's new West Division are the Abbotsford Heat–nearly 3,000 miles away. With so many teams concentrated in the northeast, both Abbotsford and Charlotte are essentially on islands, being lumped together in a sort of "left-overs" division. Luckily, the two teams have mitigated the milage, linking together multiple games in one trip. Charlotte makes their only journey to the pacific northwest Feburary 4 and 5 while Abbotsford visits Raleigh for a pair of games the following weekend.
Despite the realignment, the news is not all bad. Though Abbotsford is listed as a divisional opponent, the Checkers will actually play twice as many games against the Eastern Conference's Norfolk Admirals–their closest possible opponent–as the Heat.
Forwards
With the Carolina Hurricanes electing to sign so many players to two-way deals in the hopes of finding one or two who stick, some tremendous talent should trickle down to Charlotte.
Much to his disappointment, Zach Boychuk has already begun his 5th training camp for the Hurricanes' AHL affiliate. After a tumultuous 2012-13 saw him play for three different NHL clubs and two separate stints in Charlotte, it appears he'll begin this year as a Checker. Boychuk has proven himself to be an exceptional AHL scorer–152 points in 173 games–but can't seem to make the jump to the next level. With so much competition in Carolina, Boychuk may find the road back in 2013-14 tougher than ever.
Regardless, his role in Charlotte will likely seem him get ample minutes and opportunity to make a case for himself.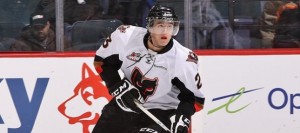 Joining Boychuk in Charlotte is Victor Rask, another WHL alumni. Rask had impressed in every 'Canes camp he had been to, but was among the first cuts this year. Generally regarded as one of the top forward prospects in the system, all eyes will be on him in his first full professional season. Rask is a natural center–one of the currently few on the team. Whether he debuts on the first line remains to be seen, but Rask will be a big part of how the Checkers' season goes.
Perhaps the most intriguing player might be Brendan Woods. Woods was a force in the Hurricanes' training camp, hitting everything that moved and fighting Matt Corrente. He even caught the eyes of coach Kirk Muller.
"Hey, camp's started. There are a lot of guys ready to go," Muller said. "If I'm a player, I worked hard all summer, I trained in the gym all summer and I knew there was a job open right now, you've got to go out and show it."
The nastiness that Woods brings might be in short supply on the roster after the departures of Justin Soryal and Tim Wallace. But Nicolas Blanchard has returned, and the two could pair up to make a physically exhausting line to play against.
The 'Canes are still holding on to some players who will inevitably see some time in Charlotte. Between Chris Terry, Nathan Gerbe, Zac Dalpe, Brett Sutter, Jeremy Welsh and Riley Nash, there isn't room for everyone in Carolina.
Defense
"Fresh faces" is the theme of the 2012-13 Checkers' defense. Austin Levi, Keegan Lowe and Danny Biega have combined to play just a single AHL game in their career, but the Hurricanes' have high hopes for all three to one day patrol their blue-line.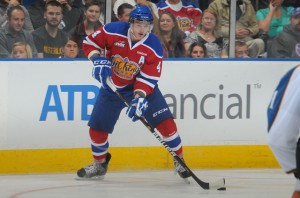 Each brings something different to the table. Levi projects as an intimidating physical defenseman. At 6'4" he's the biggest blue-liner on the team. Lowe scored 15 goals for the Edmonton Oil Kings a year ago, but has recently begun to round out the defensive side to his game. Biega, possibly the best of the bunch, excels at exiting the zone, making smart passes, compensating for his lack of size.
Though the entire trio might not make the AHL this year–some may start in the ECHL's Florida Everblades–they could all see time in Charlotte.
Not everyone is a newcomer, however. Rasmus Rissanen is back for his third year in Charlotte, as well as Michal Jordan, who brings some NHL experience with him. And, for now, the Hurricanes have nine defenders still in camp. The smooth-skating Ryan Murphy, positionally-sound Brett Bellemore and tough-as-nails Matt Corrente could all be candidates come to Charlotte. Carolina can't hog all the defensemen in their system.
There's still a lot of work to be done on the backend. Though the Checkers' defense was one of the better ones in the AHL during last year's regular season–just 202 goals against–it was what ultimately led to their downfall in the Calder Cup playoffs.
Goaltenders
As for most of Charlotte's existence, the team will feature a goaltending duo of Justin Peters and Mike Murphy. At this stage of their career, neither had hoped to be in this end of the state, but neither has been able make the leap to Raleigh permanently.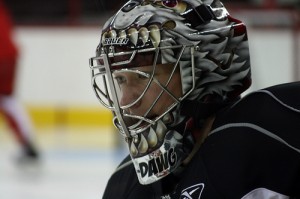 Due to injuries, Peters played 19 games in the NHL in 2012-13, but finished with a very shaky 3.46 GAA and .891 save percentage. That's been par for the course for Peters, his career numbers not much different. An above-average to good AHL goaltender, but he can't quite seem to put it together at the next level.
Murphy's story isn't much better. After an ill-fated decision to leave for the KHL lasted just seven games, the organization decided to bring him back in the spring, despite his choice words on his initial exit. He only appeared in one game, but still managed to parlay that into a deal in 2013-14.
With both on one year deals, time is running out for and impact to be made. Training camp should be a fierce battle between the two, and that can only be good news for the Checkers.
Potential Call-Up Impact
Over the years, injuries have been a common theme for the Hurricanes, and there's no reason to believe 2013-14 will be any different. Hockey is a rough sport, and injuries happen. Ryan Murphy and Brett Bellemore, should either not make the 'Canes to begin with, would be among the first call-ups on the defensive side of things. Zach Boychuk has always been afforded multiple looks during the season, but this year, he has a host of other names to compete with.
And don't count out Victor Rask making his NHL debut at some point–especially if the season goes awry. The 'Canes have always been rewarding to players who are highly regarded, and Rask might be their best prospect in Charlotte.
2013-2014 PREDICTION
There is no reason to believe that the Checkers will regress in the new year. The team may be more talented than ever, and it's a make or break year for many players. General manager Jim Rutherford ensured that during the offseason when, seemingly, the only contracts he handed out were one-year two-way ones. When it looked like the Checkers were going to take the next step in 2012-13, their season ended in two disappointing blow-outs. This year, the second round should be within reach.