Between sophomore slumps, chemistry issues and nagging injuries, any NHL-er can have a down year.  Eventually, true scorers find ways to break through and return to normal form.  Gretzky only scored 71 goals in '82-'83. This career shortcoming didn't stop him from cranking out 87 goals the next season. OK, poor example.  The lockout shortened season presented a difficult task for players and coaching staffs alike. Some players like Carl Söderberg have even cited bad luck as a factor. Regardless of the excuse reason behind the struggle, here are my top 5 players who will rebound nicely in 2013-14.
Marian Gaborik, Columbus Bluejackets
This 3 time 40 goal scorer had arguably the least productive year of his career. Gabby began his tenure with the Rangers averaging over 21:00 minutes of ice time per game. By the end of last season, he saw those numbers diminish to a mere 18:05 per.
His slump had much to do with his style of play not gelling with Tortorella's scheme, as well as an abysmal year for his one-time line mate Brad Richards. Gaborik only managed 9 goals and 10 assists in his 36 games for NYR, as well as a -8 rating.
After his trade to Columbus, Gaborik posted 8 points in his final 12 games including 2 assists on the power play. Playing alongside Brandon Dubinsky and up-start rookie Boone Jenner, Gabby should make a full recovery.  He could be a steal in the 7th or 8th round of your draft. Many of the other managers in your league may not be ready to trust Gaborik again after he finished 117th in scoring, but don't mistake last year as a trend.
Milan Lucic, Boston Bruins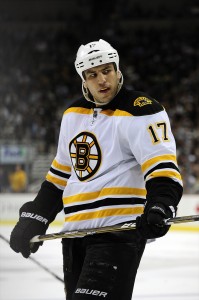 The man simply known as "Looch" on Causeway St. disappointed Boston's faithful last season. Lucic's cardiovascular shape, or lack thereof, left Boston media buzzing after the first few informal skates of 2013. Milan finally appeared to be hitting his stride toward the end of the season and into the Stanley Cup Finals.
After posting his first career 30 goal season in 2011 (with 5 empty netters) it appeared that Milan had found his niche as a top rate power forward. Last season, Lucic mustered up only 7 goals, shooting at only an 8.9% shooting percentage. This shooting percentage comes as a shock for a player who regularly scores at a rate in the 17% range. In my last article I explained how shooting percentage is often a luck based statistic.
However, a look at Lucic's play suggests otherwise. In previous seasons, Lucic used his size and speed to both net drive and park himself for high percentage looks in the slot. This season, Lucic struggled to get to crease as frequently until he rediscovered his game during the playoffs.
With new line-mate Jarome Iginla and a power-play unit that has been firing on all cylinders in the preseason, Lucic is prepared for a career year. There is no doubt that Milan Lucic will be conditioned and healthy for the 2013-14 puck drop.
T.J. Oshie, St. Louis Blues
In 2011, the St. Louis Blues won their first playoff series since 2002. This Blues bunch has a strong young nucleus led by the break-through of T.J. Oshie.  After tying for the team lead in scoring with Captain David Backes that season, Oshie's train derailed in 2013.
Following a disappointing start to the season, he sustained an ankle injury that kept him off the ice from mid- March up until the playoffs. Oshie rushed back two weeks after ankle surgery (because he's a hockey player) only to see his squad fall to the L.A. Kings 4-2 in the Western Conference Quarterfinals. Much like the St. Louis Blues as a team, Oshie is a young talent that will have success again next year.
The chemistry he's found with Backes and Steen over the past few seasons will flourish this year as long as the trio can stay healthy. The veteran additions of Derek Roy and Brendan Morrow will provide more leadership to this young locker room. Come next April, T.J. Oshie will carry the confidence of his first ever 60 point season into the playoffs.
Scott Hartnell, Philadelphia Flyers
If this list weren't capped at 5, the majority of the Philadelphia Flyers team might have a spot at cracking it. Amidst buy outs, injuries and a goaltending disaster, there was not much to be happy about in the city of brotherly love.
Hartnell began the season with a broken foot and subsequent surgery. He missed 16 games in the 2013 campaign and was not his usual self when he returned.  No one expected Scott Hartnell to back up finishing 26th in the NHL in scoring with only 11 points in 32 games.
Similar to Oshie, health played a large role in Hartnell's struggle. Rehabilitating an injury was next to impossible during the compressed schedule season. Hartnell's scoring rate dropped from a career best .82 points per game to an abysmal .34.
None of this, however, should deter you from drafting Hartnell again this year. Claude Giroux and Jakub Voracek  both scored at around a 1.0 points per game clip despite the turmoil with the rest of the team.  Joining a line with those two young studs should make Hartnell's bounce back year one for the books. Hartnell can serve as a great sleeper pick in most drafts and could find himself in the 30-30 range again in 2013-14.
Ryan Nugent-Hopkins, Edmonton Oilers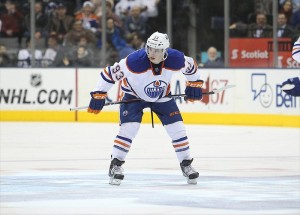 Despite playing 20 fewer games than Gabriel Landeskog, Ryan Nugent-Hopkins tied the Avalanche's young captain for rookie scoring in 2012 with 52 points. The 20 games RNH missed were due to a nagging shoulder injury that plagued him all throughout last year's 24 point frustration of a season.
Nugent-Hopkins went under the knife on April 23 with the hopes of permanently repairing the shoulder that has cost him 28 out of his first 130 scheduled NHL games. Although his current timetable for return is November 1st, Ryan Nugent-Hopkins will still be worth a later round selection in an average-depth league.
A November 1st return, which is admittedly "pessimistic" according to Oilers GM Craig MacTavish, will still provide enough time for Nugent-Hopkins to match and improve upon his rookie scoring numbers. Similar to the Blues, the Oilers are like a wholesale store for young talent. Taylor Hall will continue to compile points coming off of a career year, and Nugent-Hopkins will realize his pro potential alongside with fellow young gun Jordan Eberle.
Honorable Mentions: Ryan Miller (BUF), Pekka Rinne (NSH), Daniel Briere (MTL).
Kevin Roche is a lead writer for fantasy hockey with THW. He is a passionate hockey fan and pond hockey enthusiast who attends Clemson University in South Carolina. Kevin will graduate with an engineering degree in 2014, but he will continue to do what he loves after graduation: write about hockey.