Per an NHL.com article from early 2011, former Rangers GM Neil Smith is credited with creating one of the first fantasy hockey leagues in 1981. The once offline and seemingly archaic game gained massive popularity in the dot com era.
Today, Yahoo! Sports alone hosts around 550,000 fantasy hockey leagues. Smith's inaugural fantasy league known as the Off Ice Hockey League only followed goal statistics. Since then, fantasy leagues everywhere have adopted (relatively) standard scoring categories: goals, assists, plus-minus, power-play goals, shots on goal, penalty minutes, wins, save percentage, shutouts, and goals against average.
Fantasy hockey has come a long way since its conception in a Madison Square Garden press box 32 years ago. However, it is time that the fantasy hockey community takes a giant leap for man-kind.  The internet has graced the sports community with a multitude of resources to explore advanced statistics. Hockey is no exception. With an abundance of new numbers to crunch, why haven't more fantasy hockey leagues upgraded to more contemporary measures of player value? Don't worry, I'll wait.
Hockey fans, this is a call to arms. It's time to ditch some of the stone-age stats and encourage the use of modern ways to assess the skill sets of current NHL talents. Here are 3 courses of action that every competitive fantasy hockey web site should take to revolutionize its leagues.
Include the Corsi Score
For readers whom are new to advanced statistics, a Corsi score is an average of shots directed towards the opposing team's net minus the shots directed at a team's own net per game at even strength. Corsi numbers are usually player specific. In theory, a player with a high Corsi creates positive offensive plays while limiting an opponent's tries at goal.
Like all statistics, the Corsi is not perfect. A weak dump-in shot and a breakaway goal are valued the same. However, this stat does eliminate a good bit of luck that can often be associated with the usual plus-minus rating for goals. A late line change can result in a +1 or -1 rating for a player who had no impact on the play. In a game that normally only sees 4 or 5 goals per game, this phantom goal could have an unnecessarily ugly or undeservedly positive effect on a player's stat line. Since shots are much more frequent game events, players aren't as penalized or rewarded for plays they aren't really a part of. Corsi is not the perfect replacement for plus minus, but analyzing the two stats side by side adds a much needed realism to any fantasy league.
Do Away with Wins
As Herman Edwards famously said "You play. To Win. The game." You hit the nail on the head, Herm. The NHL is all about winning. NHL teams generally succeed by playing as one fluid unit; as cliche as it sounds, you win and lose as a team. If that is so, why do most fantasy hockey leagues attribute wins to one player? Before I get my head taken off by 1,000 Bauer Total One goalie sticks, let me explain.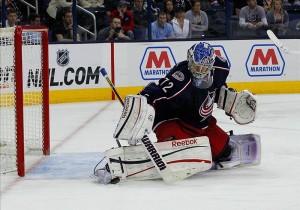 Tenders are obviously an integral part of every fantasy team and real hockey team. However, evaluating them by wins is often not indicative of their level of play.
Sergei Bobrovsky is the reigning Vezina trophy winner for good reason. He amassed a .932 save percentage while appearing in 38 of Columbus' 48 games last season. He matched his sizzling 2.00 goals against average with only 21 wins. Judging only by wins, Bobrovsky is barely a top ten goalie with names like Holtby, Nabokov and Fleury ahead of him. If wins were a useful gauge of goal-tending prowess, the consensus top goalie in the NHL last year would be ranked firmly behind tenders who surrendered over half a goal per game more than he did. Please fantasy players, leave wins off of the goalie report card this season.
Use PDO to Assemble Pre-Draft Rankings
It often is better to be lucky than good. Every year, one manager in your fantasy league jumps out and grabs the first free agent player to hit 5 goals in his first five games. The rest of the managers subsequently laugh as this player usually fizzles out. But what happens when a player has a lucky season? How can you tell when a player's break-out season is a flash in the pan or a sign of greatness to come? Fear not, PDO is here.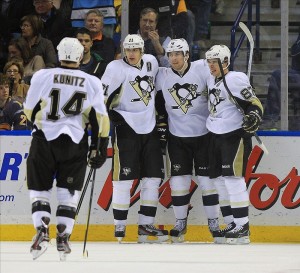 PDO is a stat that takes the sums of a team's "On-ice shooting percentage" and "On-ice save percentage."  When this stat is applied to a specific player, PDO can give you a general idea of who was on the ice for all of a team's "good luck" over the course of the season. For example, Chris Kunitz had a PDO of 1072 last season, a combination of a 132 on-ice shooting percentage (out of 1000) and an on-ice save percentage of 942 (out of 1000). Any player with a PDO score well above 1000 is said to have played in "good luck."
Like all analytic statistics, PDO should be taken with a grain of salt. Am I saying that Chris Kunitz had a rabbit's foot in his locker all year? Of course not. Am I saying that it is an oversight to expect him to put up nearly 1.1 points per game again next year? Precisely.  PDO is a useful stat to for deciding where scoring trends may or may not exist in hockey. Before drafting a payer, figure out whether he was getting all of the bounces last year or if he is due for some puck luck.
16 different franchises have hoisted Lord Stanley since the invention of fantasy hockey. 32 years is an eternity in any sport. Now is the time to compound upon the already firm foundation that is fantasy hockey with some next level data. As my personal friend David Bowie once said, it's time to "turn and face the strain." Fantasy hockey ch-ch-changes are coming.
.
Kevin Roche is a lead writer for fantasy hockey with THW. He is a passionate hockey fan and pond hockey enthusiast who attends Clemson University in South Carolina. Kevin will graduate with an engineering degree in 2014, but he will continue to do what he loves after graduation: write about hockey.