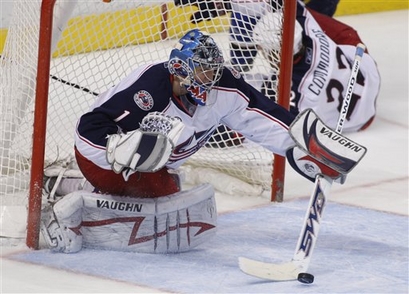 Every so often on the fantasy hockey arm here at The Hockey Writers, we are going to take a look back. It could be anything from prospect lists to fantasy projections. Today, the spotlight is on Darryl Houston Smith's Top 100 Prospects Guide from 2008. There are nice summaries on the first 50 and then the rest are listed via a club breakdown. This is an excellent snapshot from five years ago.
The first parts of this series will focus on portions of the top 50 with the actual, original table from Darryl. Darryl also has a fantasy hockey e-book that measures the art from an old school point of view. This will be coming out very soon. In the meantime, let's tease this prospect list, shall we? Oh by the way, a special stick tap to RotoWire.
Fantasy Hockey RotoWire Retro
This is just the first ten……
| | | | |
| --- | --- | --- | --- |
| Rank | Prior Rank | Player | Impressions |
| 1 | 38 | Steve Mason (G, Columbus Blue Jackets) | Top rookie goalie in NHL has been sensational for Columbus this season. His GAA of 1.81 leads all NHL netminders. Mason also leads the NHL in SV% and Shutouts. In 2007-08 he had a very solid year both internationally and in the OHL. Mason is starting to earn a reputation as a big time goalie and has been outstanding as a 20-year-old. Not as flashy as some but Mason is the kind of player that just grows on you. |
| 2 | 2 | Patrick Berglund (C, St. Louis Blues) | Second among NHL rookies in scoring with 25 points and a plus-12 in 34 games played. Big, smart and creative center in the mold of Mats Sundin. The gritty Berglund had a great series at the WJC for Sweden in 2007-08 and had a big year overall having scored 57 points in only 48 combined games for Västerås (Allsvenskan) and Sweden's U-20 team. Has made a smooth transfer to North American style hockey. |
| 3 | 20 | Blake Wheeler (RW, Boston Bruins) | Fourth among NHL rookies in scoring with 24 points and a spectacular plus-22 in 39games played. Able to play both on wing and at center. Wheeler is big, physical and can move the puck well. Led the Minnesota Gophers in scoring with 35 points in 44 games. Expected impact in 2009 was huge and the big winger has not disappointed. |
| 4 | NR | Drew Doughty (D, Los Angeles Kings) | Leads all NHL rookie defensemen with 23:42 minutes played per game. Smart and alert, he has learned from his mistakes and has shown improved defensive skills from month to month. His offensive skills are also developing at a rapid pace for a 19-year-old in his first NHL season. A top-flight defenseman in the making. |
| 5 | NR | Cody Hodgson (C, Vancouver Canucks) | Named to Canada's 2008-09 WJC Team. He was one of the final cuts coming out of the Canucks' training camp this season. Despite this minor setback, Hodgson has blossomed into a very mature and poised on-ice presence. In 23 games this season, he has scored 20 goals and 22 assists. Those 42 points have him currently in 12th place overall in OHL scoring. His leadership has helped his team, the Brampton Battalions, hold onto first place in their division for much of the season. |
| 6 | 6 | James van Riemsdyk (LW, Philadelphia Flyers) | Named to USA's 2008-09 WJC Team. Van Riemsdyk is a classic Flyer: big, skilled and physical with just a touch of a mean streak. In 2007-08, University of New Hampshire qualified for the NCAA tourney and van Riemsdyk was a big reason why. He finished 16th in scoring in the Hockey East as a freshman, averaging 1.03 points per game. This season he leads all of Hockey East in scoring with 1.53 points per game. He felt he had some unfinished business at the college level and elected to remain in school an additional season. Expect the big winger to be in Flyers black and orange at the end of his current college season. |
| 7 | 4 | Jakub Voracek (RW, Columbus Blue Jackets) | Unlimited potential. Made Columbus roster with a strong training camp. Solid two-way player with a knack for scoring the big goal. Currently, 12th among NHL rookies in scoring despite a measly 12:01 TOI/G. Look for his minutes to increase as the season develops. Voracek is a future first-line right winger. He finished fourth in the QMJHL scoring race with 101 points in only 53 games in 2007-08 and was named as second-team QMJHL All-Star. |
| 8 | NR | Luke Schenn (D, Toronto Maple Leafs) | Averaging over 20 minutes per game as rookie for Toronto Maple Leafs. Very physical. Big and mobile. A defenseman's defenseman. Compares to a young Serge Savard. |
| 9 | 26 | Bobby Ryan (RW, Anaheim Ducks) | Seventh among NHL rookies in scoring with 21 points and a plus-11 in only 22 games played. Last season, in only 48 games at Portland Ryan had 21 goals and 28 assists and was named to the 2007-08 AHL All-Rookie team. |
| 10 | 8 | Derick Brassard (C, Columbus Blue Jackets) | Brassard was a disappointment in his 17-game trial with Columbus last season. Despite his considerable playmaking ability Brassard was only able to produce two points before being sent back to Syracuse (AHL) in February of 2008. This season things looked much more promising as Brassard was third among NHL rookies in scoring with 25 points and a plus-12 in 31 games played this season. Looked like a strong contender for the Calder until late December when Brassard dislocated his shoulder, needed surgery and is now out for the remainder of season. |
Quick Analysis
There is a saying in the business that evaluating talent is a never ending job. Truer words could never be spoken. Steve Mason started out with so much promise, even won the Calder. Now he is with Philadelphia. Drew Doughty, all he did was help Los Angeles win a Stanley Cup. Bobby Ryan may average right around a point a game in Ottawa this year. If you look up and down the first ten, there seems to be a heavy influence of Toronto and Philadelphia. What does that mean? I have no clue.
At the five year mark, can you call any of these top ten a bust? Technically, Mason could be called one but there were red flags. Patrick Berglund has not been exactly a success but has been effective. I believe he is better served as being on the wing. Blake Wheeler has been a nice offensive producer for Winnipeg since he was traded from Boston. Cody Hodgson is expected to enjoy a breakout year in Buffalo after some growing pains in Vancouver.
Luke Schenn has been pretty good but does not provide much in the offensive department. There are questions about his discipline at times. The jury still seems to be out with quite a few players in this top ten. What may surprise people is that there are some big names outside the ten mentioned above. Scary, isn't it?
Stay tuned because on part two, we take a deeper look back at numbers 11-20. My question is this. Do you consider anyone in this first part a bust? Thanks again for reading.