Finally, some good new to report for the Sabres organization.
The Buffalo Sabres signed defenseman Will Borgen, their 2015 fourth-round pick, to a three-year entry-level contract (ELC). He will report to Rochester on an amateur tryout offer, giving them a boost for their Calder Cup playoff push. Borgen's ELC will kick in for the 2018-19 season. The deal pays Borgen $742,500 in 2018-19, followed by the entry-level max of $925,000 for 2019-20 and 2020-21.
We've signed defenseman Will Borgen of @scsuhuskies_mh to a 3-year entry-level contract.

Borgen will sign an ATO and report to @AmerksHockey. The entry-level contract will begin starting with the 2018-19 season. pic.twitter.com/GxbsblxcNG

— Buffalo Sabres (@BuffaloSabres) March 25, 2018
Borgen, now 21 years old, was drafted with the 92nd overall pick in the NHL Entry Draft. He's played three years for St. Cloud State University. In 106 games, he scored five goals and 36 assists. This year, he had 15 points in 36 games. The Huskies were top seeds entering the NCAA tournament, but fell 4-1 to Air Force in an eye-opening upset in the first-round regional at Sioux Falls, S.D.
"I just personally feel like I'm ready to make the next step in my hockey career," said Borgen. "I had a great opportunity in St. Cloud. They developed me to this point to help me move on. I learned a lot. St. Cloud developed me. My coaches helped me a lot. They brought me in straight in from high school. I wouldn't have gotten to play world juniors or go to the Olympics without them." – Will Borgen
Botterill Not Taking Any Chances
Sabres general manager Jason Botterill was in attendance for the Huskies' loss and he didn't waste any time signing Borgen. Botterill is as happy signing Borgen as Borgen is to start his professional career.
"It's always been a dream of mine," said Borgen. "I signed this morning. It's been a lot to do. I've been on the phone all day and packing."
Borgen is a reliable, stay-at-home defenseman. He takes care of his own end and is a strong puck-moving outlet passer. At 6-foot-2, 188 pounds, he has good size to build on and while he's not a generational talent, he is a solid player with a plenty of upside. Exactly the type of player the Sabres organization needs to have in the pipeline.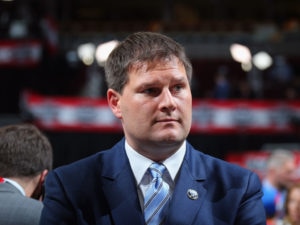 There's a chance he could be in the Amerks lineup as early as Wednesday night against Utica. He'll be a great asset in for the Amerks playoff run–the first one they've been in since 2014. The Amerks have not won a first-round series since 2005.
"Once I got to high school I just wanted to get to college and the NHL has been a dream since I got drafted," he said excitedly. "I just got to get stronger and work on all aspects of my game to be honest. How I've been playing right now has gotten me this far. I'm just focusing on going to Rochester and hopefully playing well there."
Borgen should also provide a big boost for the Amerks, who clinched a playoff berth Saturday. While it's certainly not the NHL, experiencing high-pressure games in the AHL will only help Borgen's long-term development. With a scarce cupboard of defensive prospects, this is a big win for Botterill.
Outside of College Play
Borgen is from Moorhead, Minnesota. Moorhead hockey coach Jon Ammerman has high praise for Borgen, "He competes so hard. With practice, with how hard he competed, you knew there was a chance [he'd go pro]. Obviously, a lot of things have to work out for a kid, but he competed so much harder than kids and it was just a different level. He was just different."
Borgen was named Defensive Defenseman of the year in the National Collegiate Hockey Conference (NCHC) this season and was one of four collegiate players selected to the United States Olympic team that played in the Pyeongchang 2018 Olympic Winter Games in South Korea. Unfortunately, he never got any ice time in the tournament. He won a bronze medal representing the U.S. at the World Junior Hockey Championship, which was held in Buffalo.
Other Prospects on the Sabres Watch
Casey Mittelstadt
The Sabres are also working on the big fish: Casey Mittelstadt. The 19-year-old forward, drafted eighth overall in 2017, just finished his hockey season last week as the University of Minnesota failed to make the NCAA Tournament. If Mittelstadt joins the Sabres for even a game this year, he'll burn a year off his ELC. He's got a lot to consider, especially with his head coach, Don Lucia, stepping down last week.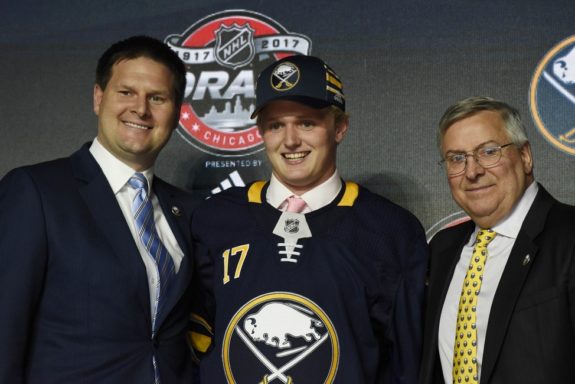 Judd Peterson
Also joining Borgen in Rochester is his teammate and Sabres 2012 seventh-round pick, Judd Peterson. He signed an amateur tryout (ATO) to play for the Amerks. Peterson is 24-year-old forward. In 151 NCAA games, he put up 65 points and was a plus-13.