Valentin Zykov is a difference-maker. The Carolina Hurricanes' forward is showing in the short time he has been playing on NHL ice that he might be a puzzle piece that has eluded the team for several years, that of a scoring forward they desperately need. While a sample size of a handful of games is far from conclusive, this recent look at Zykov inspires a great deal of hope that he is for real. By extension, his influence on the future of the team could be real, too. But, head coach Bill Peters says, "not so fast."
After last Thursday night's 6-5 home win over the Arizona Coyotes, I asked Peters about Zykov's two-goal performance and the effect it would have on determining his status as a Hurricane. Peters said:
"Everyone wants to make decisions real quick. So, we know what our plan was. There's a number of games, and it might fill one hand, for sure. Alright? Five games. So, after one game I said, 'Don't come and ask how he played.' To our people, I said, 'Let him play five then let's talk about his game.' So, he's on a power play unit. He's playing with two good players. And, I thought that line was good. Now, let's play again Saturday in Ottawa."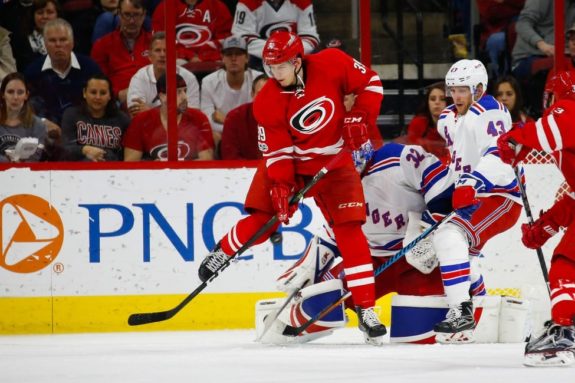 That's a fair request on the part of Peters, but one that might have helped the team more had it been made back in February when the team was fighting hard for a playoff spot. With two goals in the game against the Coyotes, and two assists Saturday night against the Ottawa Senators, it looks as if the Hurricanes could have used Zykov getting his five-game look then, no doubt.
I told Zykov that he looks comfortable at this level and he replied, "Still lots of things to learn to get better." Hopefully, he will get all the time at this level to learn and continue to get better.
From Whence Cometh Zykov?
Zykov, a 22-year old from St. Petersburg Russia, was drafted in 2013 by the Los Angeles Kings. He was picked in the second round, 37th overall. Zykov came to the Hurricanes' organization via a trade that sent Kris Versteeg to the Kings. At the time, there were questions as to the veracity of Zykov's scoring ability, as noted in a 2013 post about the trade by Andrew Leafman at Jewels From The Crown, wherein Leafman noted:
"Kings fans may be disappointed to give up Valentin Zykov–who just a couple of years ago was being acclaimed as the 'real deal' and LA's top prospect–but the truth is that the Russian winger's star was falling fast…To make the NHL almost any prospect needs to show significant improvement in the next two or three years after he is drafted, and Zykov was not doing so…It's not impossible that Zykov will turn it around late–he has good tools, and LA management did always rave about his personality and work ethic. But odds are it wasn't going to happen."
To read those words in 2013 one would be inclined to believe that former Hurricanes executive vice-president and general manager, Ron Francis really blew it in acquiring Zykov. Fortunately for the Hurricanes, recent indications are that Leafman was incorrect. It appears now that the odds are more in Zykov's favor than ever before. He has been tearing up the AHL, leading the Hurricanes' AHL affiliate Charlotte Checkers as well as the entire AHL in goals scored this season.
Opportunity with Zykov Missed?
As mentioned earlier, there was an opportunity this season for the Hurricanes to bring Zykov up from their AHL affiliate Charlotte Checkers that might have proven successful. After a couple of very disappointing games that the Hurricanes theoretically should have won, but played with a seemingly disinterested attitude and lost, coach Peters unleashed a rant of verbal fury that included an insinuation to some guys in Charlotte that could be called up and play with interest and intensity.
Most believed that would include Zykov, but in the end, nobody was brought up from Charlotte. It seems in hindsight to be an opportunity to improve the Hurricanes' playoff chance that was squandered. But, hindsight is 20/20.
Carolina Hurricanes: Valentin Zykov has the make up of natural goal scorer https://t.co/MjFRat6Zm0 pic.twitter.com/R5SIpxRqP0

— Zesty NHL Hurricanes (@HurricanesZesty) March 24, 2018
Andrew Miller at Cardiac Cane wrote a couple of days ago that, "His combination of natural scoring touch with his size and strength makes him a real threat to the rest of the league to develop into one of the better young scorers around." Peters also said of Zykov that he is a big, thick guy who tends to not be as selfish as a shooter needs to be, but opts to puck instead of launching a shot.
The Hurricanes must continue to evaluate Zykov over the rest of the season.  It would have been nice to have had that unselfishness learn how to be selfish six weeks ago. Zykov might well be preparing to give Peters and management an even larger sample-size through April and possibly into May or even June.