The Buffalo Sabres have been in talks to trade up in the 2013 NHL Draft but more than likely won't be able to simply because of the cost of such a move.
As covered Tuesday, we looked at who they would select with the 8th overall pick should they stay there.  Today, we'll look at who they'll take with their second pick in the first round, 16th overall.
This was a bit trickier as several mocks are up and down.  I had mentioned winger Hunter Shinkaruk in part one.  Depending on who you listen to, he could be the next great scoring winger or he could be a complete and utter bust.  Kind of says something about you when there is a ton of disparity amongst scouts. Still, I have to doubt he will be there when Buffalo picks at 16.  If he is, snap him up and hope for the best because he could end up being one of the better players in this draft.
But assuming he's not there, I've narrowed the list of names down to five possibilities:
Adam Erne, LW Quebec (QMJHL) – This guy is exactly what the doctor ordered.  He's a big, budding power forward with some wheels.  A strong hitter that uses his style to his advantage.
He wins battles along the wall, uses his size
and strength, throws his body around, and has a big shot.  A team like the Sabres, struggling over the last few years with team toughness issues, would love a guy like this who has "tough" written all over him.
All that aside, he's still inconsistent which isn't rare amongst players his age, especially power forwards.  He doesn't have big-time offensive skills and likely won't even light up the league but that's kind of what you're in for when you're picking in the middle of the first round.
Erne could blossom into a solid top-six forward that punishes opponents and wins battles along the wall, creating for smaller teammates. For a team like Buffalo, that's an asset they can desperately use.
Josh Morrissey, D Prince Albert (WHL) – Another guy who has seen his name all over mock drafts, Morrissey is a guy that could be a tremendous success in the right system.
Morrissey is in a class occupied by few in terms of his skating ability. He jumps into the rush well, using his graceful stride and making precision passes.  He has a potentially dynamic offensive game and could be a power play quarterback for whoever takes him.
The downside on him is that, while he's not bad in his own end, he could definitely use some work.  His size is alright but he frequently finds himself outmuscled for pucks which is a problem in your own zone.  If he can add strength, Morrissey could be one of the steals of the draft.
Ryan Pulock, D Brandon (WHL) – Pulock has been one of the harder prospects to classify this year.  Some feel he fits in the top eight, others believe he's in the mid-teens. What they can agree upon is that he's got an excellent game IQ and makes good, smart decisions with the puck.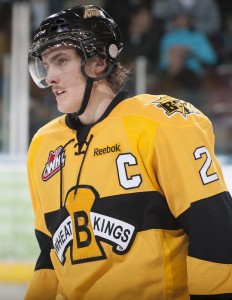 He also possesses a very good offensive game on the strength of a booming, elite shot; the kind power play quarterbacks are made of. Good decision making + good offensive skills + booming shot = success, right? Well, for his positives on the offensive side of the puck, his defense could use work. He has breakdowns at times but is generally fairly solid.
His biggest knock is his skating. Some call him average because he's not a blazer or constantly pushing the pace but as history has shown, there is plenty of success to be found by good offensive defensemen who can think their way through.
Pulock seems to be one of those guys that, with the proper development, could blossom into a very good top four defender that helps anchor a team in the long run.
Nikita Zadorov, D London (OHL) – Zadorov is another defenseman who finds himself all over the place in mock drafts these days.
He is a physically dominating player and, given his size (6'5" 230) that shouldn't come as a surprise.  He's one of the larger defensemen in this draft and uses his size very well, taking the body and landing big hits.
After that, it's kind of a question mark. He's solid in his own end but there have been questions about just how well he skates. Some feel it's somewhat of an issue while others think he skates well for a big man. Zadorov is also not the most dangerous offensive defenseman there is but he has enough skills that he could develop into a well-rounded defenseman that could fit into someone's top four.
If the first pick is a forward, the Sabres could use a big, physically dominating presence to compliment the puck-movers they have on board (Sekera, Myers, Pysyk). Not only does Zadorov fit the bill but with his size, he could be ready to test the lineup from day one.
Bo Horvat, C London (OHL) – Zadorov's teammate in London, Horvat is known for his two-way game.  Exceptional on faceoffs, he is strong on the puck and along the wall. Some argue that he is the most complete player in this draft class.
Another good skater with high hockey IQ (seeing a lot of the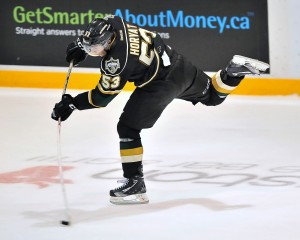 m on the list; something Buffalo should be looking at as well), he's always in position and has a good, not great, offensive game.
The knocks on him are that, while he's a good skater, he's not exceptional. Also his offensive game isn't particularly dynamic either.  He's one of the safer picks in the draft but he's also likely closest to his ceiling,
The NHL-ready Horvat would add to the growing list of solid centers in the Sabres developmental ranks and bring more of that hard-edged, two-way responsibility that they sorely need.
So Who's The Pick?
Horvat, Pulock, and Zadorov could all realistically be gone by the time this pick is up.  If that's the case, go with Erne as the Sabres could use a power forward like him amongst the mostly small forwards on the team, especially if Drew Stafford is shown the door.
If by some chance all of these guys are available? I would lean towards Zadorov simply because they took a forward first and getting a big, mobile, physical defenseman is something the Sabres desperately need.
The Pick: Zadorov
It'll be interesting to see what the Buffalo Sabres do at the draft. History says they should move both first round picks but if they stay where they are, grab the best player available and hope for the best.
Follow me on Twitter: @RWTFC
A long-time (and long-suffering) Buffalo sports fan. Sometimes optimistic, always weary. I write other stuff for a lot of other people.