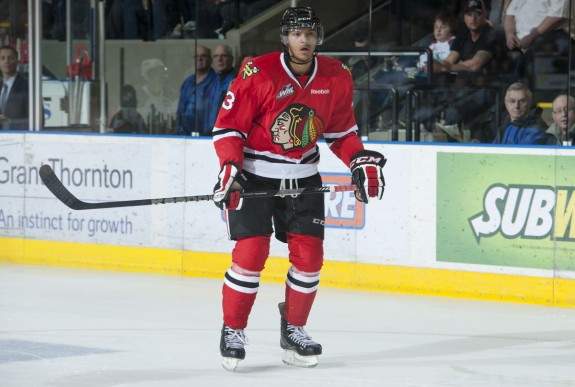 Why oh why do we do it? Every NHL mock draft you read is inevitably followed by a host of comments ridiculing the mock-drafter. Or, in the case of Toronto Maple Leafs fans, cursing the future progeny of the mock-drafter. "There's no way we would draft so-and-so 21st overall, you [fill in word/term which would make trucker blush] moron!" they write venomously. "A pox on your grandchildren!" Now, we all know it's probably even odds whether our grandchildren will be born before the  Maple Leafs actually win a Stanley Cup, but nevertheless it's hurtful to read in at least an existential sense.
Regardless, it's not just a fool's errand mock drafting, but also a masochist's errand. The mock draft is put into print with the author's name on it after a great deal of research and hard work, and then inevitably a team pulls a shocker with the fifth pick and the seventh pick is traded and the mock draft essentially spontaneously combusts before our eyes. Still, the mock-drafter mocks on. Why? Think of it like a game of Battleship. Read enough mock drafts and one will get a solid idea of what certain teams' draft tendencies are, what types of players they are looking for, what players will likely be available at which selection. A bunch of shots may miss around the target, but then one can aim somewhere in the middle.
And because I in particular am especially masochistic, I am doing not just one but two rounds. Then I will leave the house in a suit of armor for the ensuing month in case the Leafs fans don't like Samuel Morin.
ROUND ONE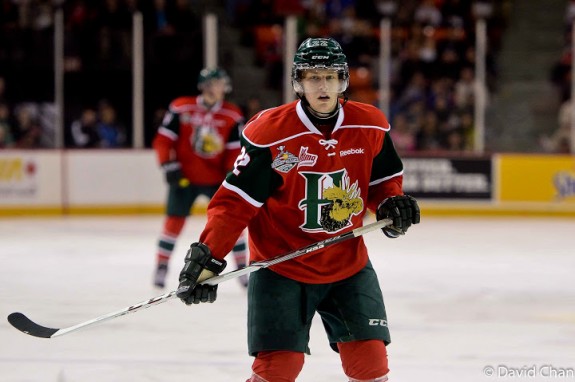 1. Colorado Avalanche: C Nathan MacKinnon, Halifax Mooseheads, QMJHL 
Joe Sakic said last week the Avs were not drafting widely top-ranked Seth Jones first overall, and then Patrick Roy stated that Colorado liked MacKinnon. Though many hockey pundits think the Avalanche front office is posturing, we lack a pocket polygraph test, so why not just believe them? MacKinnon is electric, dynamic — a future franchise center with 100+ point upside. Often compared to the incomparable Sidney Crosby, he might better be likened to a Claude Giroux with far greater upside.
2. Florida Panthers: D Seth Jones, Portland Winterhawks, WHL Though the Panthers would love a top center like MacKinnon, TSN's Craig Button has called Jones the best blueline draft prospect since Chris Pronger in 1993. 30 out of 30 NHL teams would covet a player of that pedigree. Usually likened to the future Hall-of-Famer Pronger, Jones has less of a mean streak but is a better skater and more athletic.
3. Tampa Bay Lightning: LW Jonathan Drouin, Halifax Mooseheads, QMJHL The most dynamic offensive talent in the stocked 2013 draft, Drouin has been called the human hockey highlight film and is a similar type of player to recent Conn Smythe winner Patrick Kane. A playmaking winger of extraordinary vision, Stamkos could one day pot 70+ goals with Drouin on his line.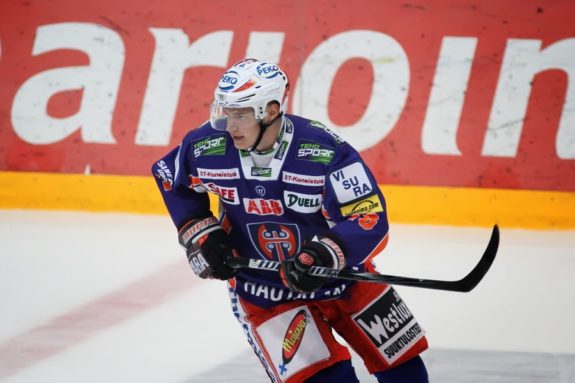 4. Nashville Predators: C Sasha Barkov, Tappara, FIN Pretty much every mock draft has Nashville tabbing Barkov here, and it's difficult not to agree. The Predators have lacked a true #1 center for pretty much their their entire existence, and despite his outlandish offensive potential, Barkov's responsible defensive game fits in perfectly with the Nashville philosophy. The flashy Finn is often compared to Anze Kopitar.
5. Carolina Hurricanes: C Sean Monahan, Ottawa, OHL Many draft-niks have the 'Canes taking Darnell Nurse or Valeri Nichuchkin here, but Carolina GM Jim Rutherford has only taken three d-men in the first round and has not drafted a European in the top round since the immortal Igor Knyazev in 2001. Monahan is a do-it-all center in the mold of ex-Canes hero Rod Brind'Amour with the talent to make an impact up the middle or on the wing, on a scoring or checking line.
6. Calgary Flames: C Elias Lindholm, Brynas, SWE With their first of three first-round picks, the Flames need to address their biggest organizational weakness: the fact that they have not had a true top-line pivot since the days of Gilmour and Nieuwendyk. Often unfairly compared to Peter Forsberg, a better parallel would be to Washington's Nicklas Backstrom. The Flames would surely be thrilled with that result.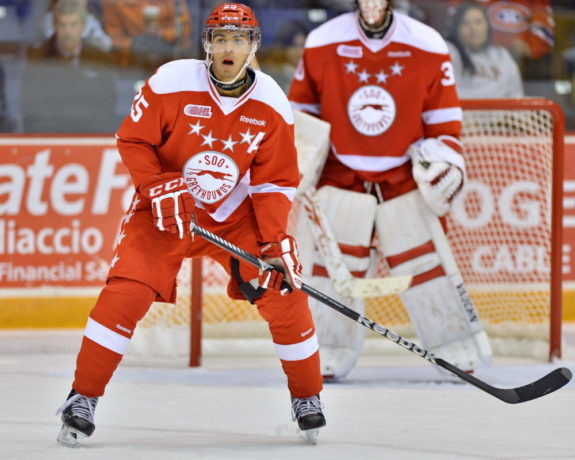 7. Edmonton Oilers: D Darnell Nurse, Sault Ste Marie, OHL Although I still think the Oilers will be looking to deal this pick for an impact defenseman who can help them right away, Nurse will be that player in a few years. Stockpiled with talented forwards and offensive defensemen, Nurse represents the biggest lack in the Edmonton organization: a physical shut-down force from the School of Scott Stevens who can intimidate the opposition for years to come.
8. Buffalo Sabres: LW/RW Valeri Nichushkin, Traktor, KHL The Sabres need… well, pretty much everything. Fortunately, Nichushkin is everything a team could possibly want: think a carbon copy of Rick Nash's size and scoring ability, but with more of a mean streak and far better skating ability. Nichushkin could one day lead the NHL in scoring, and as last year's Grigorenko pick proved, Buffalo is not scared off by the (completely bull@$#%) "Russian Factor".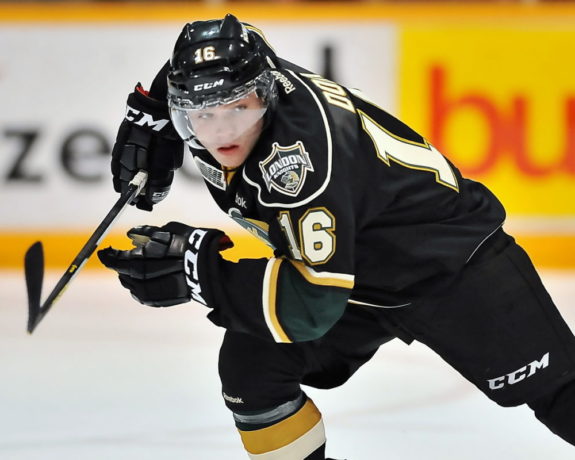 9. New Jersey Devils: C/LW Max Domi, London, OHL I know what you're thinking: are the Devils really going to spend two consecutive top picks on the offspring of ex-New York Rangers? Well, um… yes. It is important, however, to note that Domi is a scintillating offensive talent, not far removed in skill from MacKinnon and Drouin. If he were taller than his listed 5'9″, he would be in the mix for the top five. Yet at 195 lbs. with a low center of gravity and a mean streak, Domi does not play a small man's game. Though I am confident about the top eight picks, Devils' GM Lou Lamoriello is as unpredictable as he is brilliant: it would not be a shock to see him tab Shinkaruk, Horvat or even Zadorov here.
10. Dallas Stars: LW/RW Hunter Shinkaruk, Medicine Hat, WHL New Stars' GM has two first-rounders to play with, and coming from the top-notch Detroit Red Wings' organization he prefers a puck-possession game. Shinkaruk is an offensive dynamo who displays a stunning array of offensive skills and a hunger for scoring goals which can only be described as uncanny. This results in some entertainingly emphatic post-goal celebrations for this future first-line sniper.
11. Philadelphia Flyers: D Rasmus Ristolainen, Turku, FIN It is widely and wisely being reported that the Flyers are going for a defenseman with their first pick.  Do they take Zadorov or Ristolainen? Though Zadorov might be the better skater and more intimidating defensive presence, Ristolainen is physical and can more than handle his own end. Add to that Ristolainen's cannon-like slapshot and my own personal hunch, and the young Finn can pack his bags for the land of cheese-steak.
12. Phoenix Coyotes: C Alexander Wennberg, Djurgardens, SWE The Coyotes have coveted a true top-line pivot for more than a few years now. Coyotes coach Dave Tippett covets defensively responsible players. Coyotes GM Dan Maloney covets players with speed annually in the draft. Add that all together and enter Alex Wennberg, a skilled, two-way player with the upside to fill the hole of #1 center in Phoenix for many seasons (after they are no longer in Phoenix).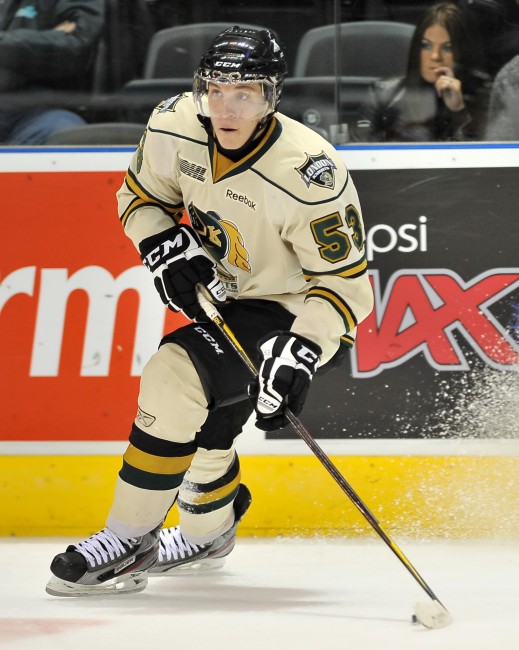 13. Winnipeg Jets: C Bo Horvat, London, OHL Winnipeg has no one outstanding need at #13 except for an outstanding player, and Horvat is quite simply every coach's, teammate's and fan's dream. Though he will never lead the NHL in scoring, he has the talent to skate with a top line and a penchant for clutch goals. Defensively, he's terrific — without a doubt the best face-off guy in this draft. Factor in his incredible leadership and character and we might be looking at the next Patrice Bergeron.
14. Columbus Blue Jackets: D Nikita Zadorov, London, OHL With their first of three first-rounders, Columbus will likely go for the best available player at #14. In my opinion, a hair is all which separates Zadorov and Nurse, two no-doubt talents who will be physical beasts and shut-down stalwarts on a blueline top pairing for many seasons to come.
15. New York Islanders: RW Ryan Hartman, Plymouth, OHL Always unpredictable at the draft, if there's one thing Isles' GM annually falls in love with it's character. Hartman has that in spades — a gritty winger who plays with a wolverine-like toughness which belies his average size, a shut-down force as a checker but capable of 30+ goals on a scoring line. Hartman is usually compared to Ryan Callahan, and what team wouldn't drool at that type of prospect?
16. Buffalo Sabres (From Minnesota): D Ryan Pulock, Brandon, WHL: With organizational needs everywhere, the Sabres will draft the best available player with the #8 pick and then go positionally at #16. For instance, if they take Nurse at #8, I would expect them to nab a forward here. Since I have them taking Nichushkin, I have them taking Pulock at #16, a competitive offensive-minded rearguard with a howitzer slapper which has been clocked at over 100 m.p.h.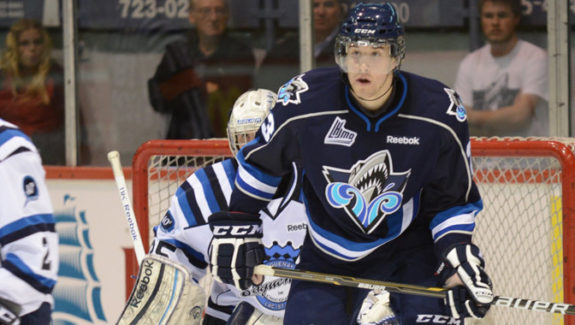 17. Ottawa Senators: C Frederik Gauthier, Rimouski, QMJHL As Jason Spezza's injury proved this season, a team can never be too deep up the middle. Spezza and Mika Zibanejad should form a formidable top two at center for the foreseeable future, but Gauthier is difficult to pass up on here. At 6'5″ and with excellent skating ability for his immense size, at the very least Gauthier will be an elite checking-line center. If, as many scouts predict, his offensive game develops — well, Gauthier could be the second coming of Jason Arnott.
18. Detroit Red Wings: C Curtis Lazar, Edmonton, WHL Though many pundits have the Wings drafting a defenseman first here, the in-season signing of Western Michigan standout rearguard Dan DeKeyser is like an early #1 pick in and of itself. I expect them to go with a prototype Wings' two-way forward here in Lazar, a lightning-fast skater with a strong defensive awareness and second-line offensive upside. Lazar's work ethic is widely heralded, and he compares to a faster Mike Fisher with more upside.
19. Columbus Blue Jackets (From New York Rangers): LW/RW Valentin Zykov, Baie-Comeau, QMJHL With a hat trick of first-rounders and several organizational needs, I expect the Jackets to go with the best available player with their top pick. In this hypothetical scenario it was defenseman Nikita Zadorov, so I would expect new Columbus GM Jarmo Kekelainen to address his scoring lines here. Zykov is a fast-riser in most scouting circles, a fast skater who plays an exceptionally physical game and has 30+ goal upside. An apt comparison would be a young Shane Doan.
20. San Jose Sharks: D Josh Morrissey, Prince Albert, WHL Dan Boyle is a tremendous offensive blueliner, but he's not getting any younger, so it would make sense for the Sharks to tab the Dan-Boylest player in the draft in Morrissey. The smooth-skating defenseman lives to join the rush and will be adept quarterbacking an NHL power play, and is quite competitive and physical despite his slightly less-than-ideal size.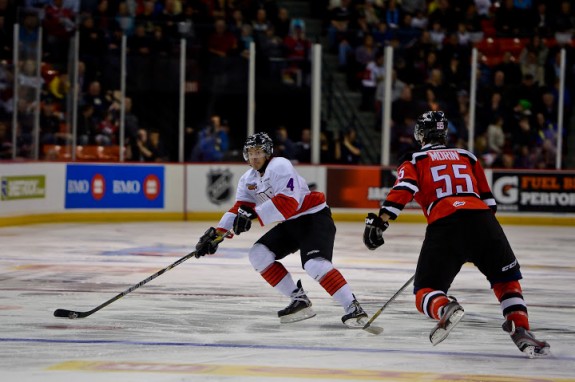 21. Toronto Maple Leafs: D Samuel Morin, Rimouski, QMJHL
 The Leafs' top need is for a center, and I would not be surprised to see them trade up a few slots for a shot at Horvat, Lazar or Gauthier. That being said, I have them all gone right here so I have them going after the tremendous 6'7″ blueliner with equivalently tremendous upside. Morin skates quite well, has the requisite meanness and toughness for his immense stature, and has the potential to be a shut-down stud comparable to Nurse and Zadorov.
22. Calgary Flames (From St. Louis): G Zach Fucale, Halifax, QMJHL It is a near-certainty that the Flames will address their top need of a top center with their first pick in the first round. With this, their second, they will address their next huge organizational lack and take the runaway top goalie in the 2013 draft. Fucale had a huge season with the Q's Mooseheads and has drawn comparisons to Cam Ward and Carey Price.
23. Washington Capitals: LW Kerby Rychel, Windsor, OHL Caps' GM George McPhee usually drafts for offensive skill in the first round, but the last few seasons' playoff exits prove that Washington also needs to get tougher. With Rychel, McPhee can achieve both goals — a two-time 40+ goal-scorer in the OHL, Rychel is as tough as any player in the 2013 draft. The Capitals do not lack talent so much as certain elements it takes to win big games, and Rychel has the skill-set to develop into the next Milan Lucic.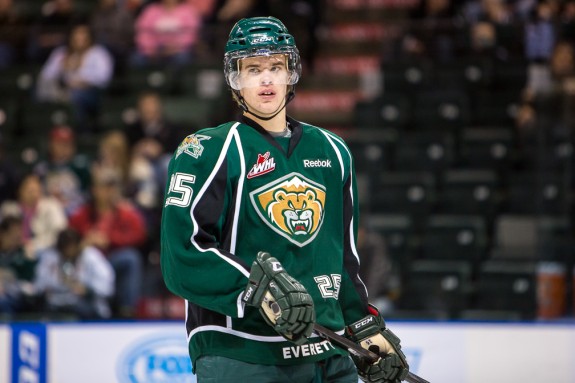 24. Vancouver Canucks: D Mirco Mueller, Everett, WHL
 Many mock drafts I have come across have had the Canucks selecting local scoring dynamo Nic Petan here, but with the recent hiring of defensive-tyrant/coach John Tortorella, expect the Canucks to draft a player more adept at keeping pucks out of their own net than filling the opposing nets. Mueller is another fast-riser up recent draft boards, a huge, smooth-skating and smart Swiss defender who has been likened to Victor Hedman.
25. Montreal Canadiens: LW Emile Poirier, Gatineau, QMJHL The Canadiens have been tremendous at developing NHL players over recent years and have no glaring needs. That's given them a lot of time to look in their own backyard at Montreal-native Poirier, who (in my opinion) has been glaringly overlooked by many draft pundits. A 6'1″ power forward who likes to mix it up and instigate with 30+ goal upside, Poirier has been compared to Brad Marchand, which describes the general nature of his game though he is not nearly as dirty or apt to dive as the Bruins' antagonist.
26. Anaheim Ducks: LW/RW Anthony Mantha, Val-d'Or, QMJHL Mantha's 50 goals in the Q were more than any other player eligible for the 2013 draft. At 6'4″ with a sick shot and terrific puck skills, Mantha has the potential to be a force as an NHL power forward, though questions have been raised about his competitive edge. Talent-wise he has been compared to Max Pacioretty, and if he reaches his considerable potential the Ducks could have a real boom pick here.
27. Columbus Blue Jackets (From Los Angeles): LW Andre Burakowsky, Malmo, SWE With three first-round picks, the Jackets can afford to take chances on a boom/bust prospect with their third one. Some scouts see Burakowsky as a can't-miss scoring star with his incredible speed and Semin-like puck skills, other scouts see him as mercurial, a player who often seems to vanish from the ice against superior competition.
28. Calgary Flames (From Pittsburgh): D Robert Hagg, Modo, SWE  The Flames' third pick will be forever tied to Jarome Iginla, so Calgary may not be able to afford to take the chances Columbus did with the previous pick. Having taken a center (Lindholm) and goalie (Fucale), I expect them to go defense here, and Hagg is a sure bet to be at least a second-pairing NHL-er. An excellent skater with smarts and NHL-size, Hagg's finest asset might be a thunderous slapshot from the point.
29. Dallas Stars (From Boston): D Tommy Vanelli, Minnetonka HS, USHS Like several teams with multiple first-round picks and multiple organizational needs, if Dallas (as expected) takes a forward first, they will likely address the blueline with the 29th pick. Though some would call Vanelli a reach here, that's because they have not seen him play. Vanelli possesses immense upside as a top-pairing, two-way blueliner, with tremendous skating and puck skills and NHL size. He will need to build core strength for the next few years at the University of Minnesota, but Vanelli is first-round worthy and potentially an all-star for the team with the patience to develop his abilities.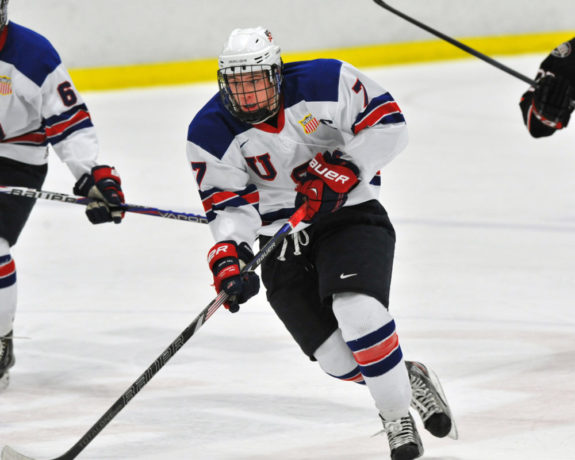 30. Chicago Blackhawks: C/RW J.T. Compher, US-NTDP, USHL 
What's not to like about the Blackhawks future? Fresh from their Stanley Cup win, with an incredibly talented and driven core locked up for the foreseeable future. What's not to like about Compher? His competitiveness is off the charts, he hits anything that moves, he has first-line offensive upside. If it weren't for concussion issues in his past, he would be going far earlier than here. Chicago has the depth to take that chance on this tremendous character kid with star-quality talent.
SECOND ROUND
31. Florida Panthers: C Laurent Dauphin, Chicoutimi, QMJHL If, as expected, the Panthers get Jones with their top pick, they will look to roll the dice on a potential top-line center in the second round. Dauphin is an excellent stickhandler and playmaker who has been likened to Paul Stastny.
32. Colorado Avalanche: D Jonathan Diaby, Victoriaville, QMJHL If Roy is to be believed on the MacKinnon pick first overall, look for him to nab a d-man here. Diaby is huge at 6'5″ and tough as nails. Though he will never be known for offense, Roy is familiar with the Q and Diaby's shut-down potential.
33. Tampa Bay Lightning: D Ian McCoshen, Waterloo, USHL Tampa is desperate for defense all throughout their organization, leading many to believe they will trade down from the third overall pick. If they keep it and take Drouin, they would be lucky to find McCoshen here — a stalwart shut-down stud with NHL size and skating and untapped offensive upside.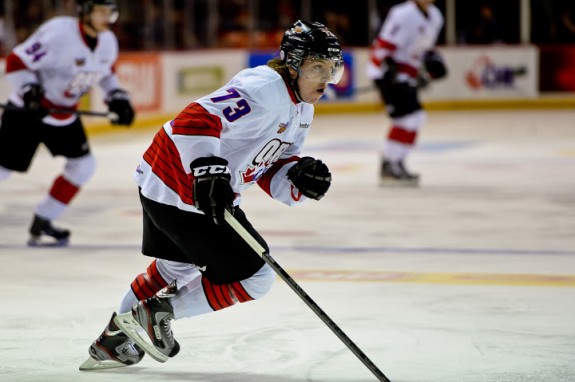 34. Montreal Canadiens (From Nashville): RW Adam Erne, Quebec Remparts, QMJHL 
The Habs go back to their backyard to grab an actually American kid who plays a power game with the drive and skill-set to be a fantastic second-line forward. Erne has the upside to be an even better version of ex-Canadiens forward Erik Cole.
35. Carolina Hurricanes: D Madison Bowey, Kelowna, WHL GM Jim Rutherford loves taking high-upside defensemen in the second round, and the ultra-fast skating Bowey fits the profile. Bowey is flying a bit under the radar now, but with the right development he could be the next Brian Campbell.
36. Montreal Canadiens (From Calgary): D Jordan Subban, Belleville, OHL Wow, would this be a quick way to alleviate the tensions of this year's P.K. Subban contract holdout. Though, at 5'8″, Jordan will never be quite his Norris-winning brother, he has the upside to be an ace power-play quarterback and solid mid-pairing defender. And, oh the cheers from the Habs' faithful.
37. Edmonton Oilers: C Jason Dickinson, Guelph, OHL After filling their glaring need for a physical shutdown defender, the Oilers try to sate their secondary need for size up the middle. Dickinson is a gifted stickhandler and playmaker who has become more defensively adept, and simply needs to fill out his 6'2″ frame to become an effective NHL second-line pivot.
38. Buffalo Sabres: D Steve Santini, US-NTDP, USHL Buffalo would be beside themselves with joy to find New York-native Santini still around with the 38th pick. A huge, strong and ultra-competitive kid, Santini is future captain material and is a can't-miss prospect as the type of stifling defensive presence every NHL team covets.
39. New Jersey Devils: LW/RW Morgan Klimchuk, Regina, WHL Devils' GM Lou Lamoriello has made a living picking players who become undervalued for ancillary reasons, and Klimchuk is a bubble 1st/2nd rounder with top-10 skills and heart. Though he has a slim physique on his 5'10" frame, Klimchuk's truly elite speed, shot and heart are certain to rocket him into a major scoring role in the NHL.
40. Dallas Stars: LW Jacob de la Rose, Leksand, SWE With Jim Nill at the helm, expect the Stars to make a great many shrewd Wings-like picks in future drafts. de la Rose would qualify as one: an outstanding skater with soft hands and a terrific two-way game, I watch film of him and can't help but envision former Rangers' star Niklas Sundstrom.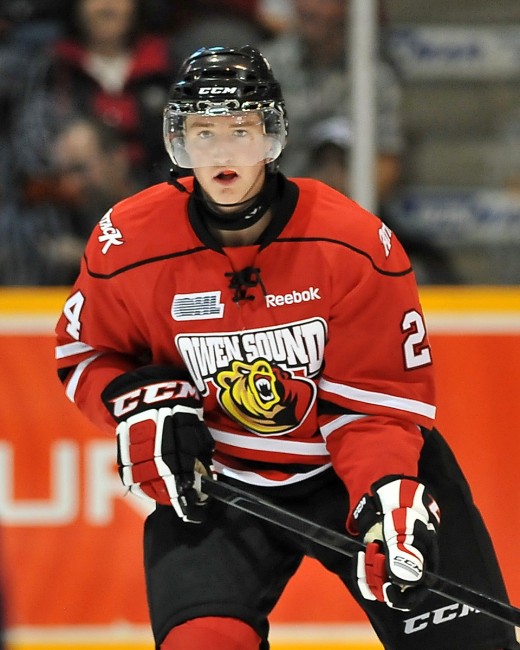 41. Philadelphia Flyers: D Chris Bigras, Owen Sound, OHL:  The Flyers need defense both at the NHL level and in the prospect pipeline. It would not be surprising to see them use their top two picks on blueliners, and Bigras is a solid defensive defenseman with the outlet passing, size and smarts to be a very good second-pairing option for a very long time.
42. Phoenix Coyotes: RW Nick Sorensen, Quebec, QMJHL Again, Coyotes' GM Don Maloney loves speed. An electrifying skater with superb agility, were it not for a knee injury last season Sorensen might be spoken of as a potential first rounder. Though his injury-riddled past may have slowed his development as a goal-scorer, at the very least Sorensen will be a dynamic penalty killer and checking-liner.
43. Winnipeg Jets: RW Zach Nastasiuk, Owen Sound, OHL How does a player with Nastasiuk's prototype power-forward size, terrific shot, physical penchant of play and defensive acumen fall to the second round? Well, his skating has been maligned by scouts, to say the least. It's almost like reading Jamie Benn's scouting report all over again, and the Jets would be thrilled to find Nastasiuk available with the 43rd pick.
44. Columbus Blue Jackets: LW/RW Arturri Lehkonen, Kalpa, FIN Being the NHL's sole Finnish GM doesn't mean Jarmo Kekalainen has to draft players from his homeland, but many have Lehkonen listed as a first-round talent. Though reed-thin and not the most physical specimen, this kid has top-end speed and puck skills and first-line upside if he improves his strength.
45. Anaheim Ducks (From Islanders): C Nic Petan, Portland, WHL Beware the player who is knocked down constantly for size when every other skill is elite. Ask Martin St. Louis, Danny Briere… hell, ask Marcel Dionne. This kid scored 120 points in just 71 games as the top forward on the top team in the WHL last season. Go ahead, try telling him he's too small to succeed in the NHL.
46. Minnesota Wild: C Conor Hurley, Edina HS, USHS With no first-round pick in the 2013 draft but an extremely talented stable of prospects, expect the Wild to swing for the fences with this pick. They should be familiar with Minnesota high schooler Hurley, a terrific skater with NHL size and the skill-set to develop into a top-line threat at his college commitment of Notre Dame.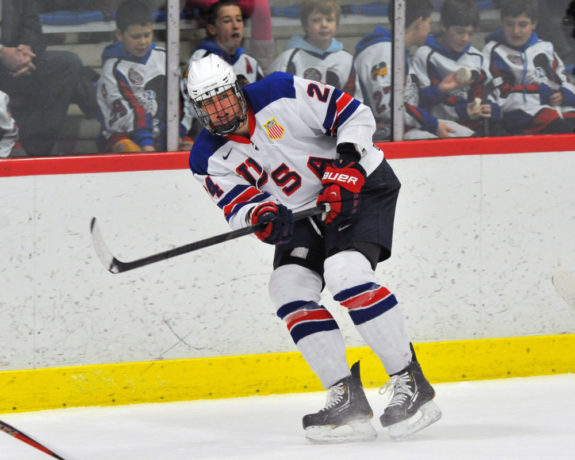 47. St. Louis Blues (from Ottawa): RW Mike McCarron, US-NTDP, USHL 
The Blues are lacking a top-round pick or discernible organizational need. They do like size and toughness up front. Kerby Rychel is often likened to Milan Lucic for his combination of toughness and ability to skate on a top line, and McCarron might have similar upside. At 6'5″, McCarron plays like a kodiak bear on skates and has a nasty nose for the net. It would not be surprising to see a team roll the dice on this talented giant in the first round.
48. Detroit Red Wings: C Jimmy Lodge, Saginaw, OHL Year in and year out, Wings' GM Ken Holland finds gems in the late round. Lodge has first-line star upside, with incredible acceleration to his phenomenal skating and high-end passing ability. His size and intensity have been questioned, perhaps dropping him out of the first round, but if anyone can find a second-round diamond in the rough, it's the Red Wings.
49. San Jose Sharks (From New York Rangers): C/LW William Carrier, Cape Breton, QMJHL Scouts are split on whether Carrier, with his power-forward frame and fine skating ability, is a second-line power forward or a checking-line quality talent, but he seems certain to be an NHL regular. With his advanced defensive game, Carrier is a low-risk pick for a team like the Sharks who traditionally prefer to ice a team with both size and speed.
50. San Jose Sharks: RW Hudson Fasching, US-NTDP, USHL With three second-rounders, the Sharks can afford to take a chance on a player whom many consider to be one of the biggest boom/bust picks in the draft. Yet let me say that Fasching is one of my favorite players in this draft — at 6'3″ 205, he has prototype power forward size and stellar skating ability with soft hands which belie his huge physique. Although he has a great deal of development before he reaches the NHL, Fasching is one of the best character kids and leaders in the entire 2013 draft — having helped raise two younger siblings afflicted by a rare mitochondrial disease rendering them unable to walk or speak. It may be a few years away, but in my opinion Fasching will be one of the steals of the 2013 draft.
51. Toronto Maple Leafs: C Ryan Kujawinski, Sarnia, OHL With Nazem Kadri finding his way as the Leafs' future #1 center, Toronto is on the lookout for a big, two-way for the #2 pivot hole. Kujawinski projects to just that, a large man and fast skater with fine playmaking skills and solid awareness in the defensive zone.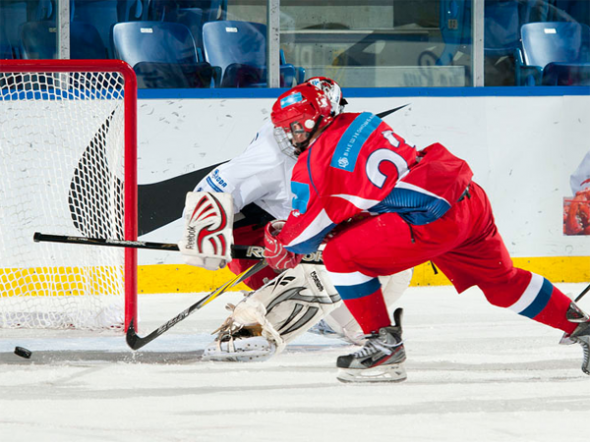 52. Buffalo Sabres (From St. Louis): LW/RW Anton Slepyshev, Ufa, KHL Under contract to a perennial KHL power in Ufa, teams may be scared away from drafting Slepyshev this year like they were last year when he went completely undrafted in his first draft-eligible season. Yet this offensively skilled scoring machine has been compared by scouts to Radim Vrbata and might just be worth waiting for by a team like the Sabres who have the luxury of several early picks in the 2013 draft.
53. Washington Capitals: C Pavel Buchnevich, Cherepovets, KHL Very similar to Slepyshev in that Buchnevich has top-end skating and skill, but often looks out of place in the defensive zone and seems to be fine spending the next few years in the KHL. Still, the Caps like bargain-shopping in Russia and Buchnevich will be one of the few players available late in the second round with top-line offensive upside.
54. Dallas Stars (From Vancouver): C John Hayden, US-NTDP, USHL The Connecticut native is going to Yale next year, but it's not just that he's smart on and off the ice. At 6'3″ 210 he has prototypical power forward size, a penchant for physical play and an off-the-charts work ethic. His skating needs work, but at the very least Hayden will be a fine checking line center.
55. Montreal Canadiens: C/RW Justin Bailey, Kitchener, OHL Last season, the Canadiens spent the draft snatching up players who dropped in the draft for inexplicable reasons. If Bailey drops to #55, this would be a player the Habs would grab in an instant — his 6'3″ size, very good skating ability and lethal wrist shot comprise the complete NHL power-forward package. His lack of statistical output in the KHL have dropped Bailey in many scouts' rankings, but Montreal has displayed excellent acumen in recent years developing this sort of talent.
56. Edmonton Oilers: C Bogdan Yakimov, Reaktor, MHL A big, tough and physical center — something the Oilers will attempt to fill in their organization in the 2013 draft. It doesn't hurt that Yakimov grew up in the same Russian town as Nail Yakupov, the Oilers top young offensive talent. Yakimov is far from an elite skater or playmaker, but his physicality and heavy shot make him a possibility as a strong second-line center at the NHL level.
57. Los Angeles Kings: D Brett Pesce, University of New Hampshire, NCAA With no first-round pick but a strong organization with no discernible need, the Kings just hope to land an NHL player with the 57th pick. Pesce is a great bet to be just that, a big and solid defensive stalwart with the upside to contribute like current Kings' rearguard Rob Scuderi.
58. San Jose Sharks (From Pittsburgh): LW Tyler Hill, Chicago Steel, USHL Here's predicting another Sharks off-the-radar steal: Hill is HUGE at 6'6″, skates well, plays with extreme nastiness and has offensive upside. Not exactly offensively creative and with a ways to go developmentally, bet on Hill to make it bigger than his stature: growing up on a reservation has led to his uncommon leadership and character.
59. Winnipeg Jets (Compensation): D Dillon Heatherington, Swift Current, WHL Although I expect the Jets to use most of their early picks on forwards, Heatherington is the type of player that every team covets. A big, physical defensive defenseman who is rock-solid in his own zone and might not get the job done pretty, but always seems to get it done.
60. Boston Bruins: D Shea Theodore, Seattle, WHL With no picks until 60th overall, at least the Bruins have the luxury of being a perennial Stanley Cup contender. Expect them to jump on a player who slips, such as Theodore, a potential power-play quarterback who has the potential to slip in the draft due to a penchant for costly giveaways. With the Bruins solid system and excellent coaching, Theodore could fix these bumps in his game and has the athletic talent to become a top-pairing offensive force on the blueline.
61. Winnipeg Jets: LW Zack Sanford, Middlesex, EJHL Want a big-time draft sleeper as the final entry in this two-round mock? Okay, I'll give you one. You may not have read about Sanford due to his playing in the little-known EJHL and a slow start to the season. But, man, did he come on like gangbusters during the season's home stretch. A power forward specimen at 6'4″ 190 who oozes skill and hockey sense, Sanford tore up the, um, "E" and forced his way onto the hockey-geek radar. If Sanford scores 40+ goals in the NHL one day, just remember you read it here first.
For an alternate mock draft, be sure to read THW's own resident draft guru, the brilliant Christopher Ralph: https://thehockeywriters.com/2013-nhl-mock-draft-the-next-ones-memorial-cup-edition/
Agree? Disagree? Check me on Twitter: @StIves72 — and be sure to hit me up at the draft, I'll be there. In the VIP section, of course.
Writer/lunatic, hockey columnist, mlb.com, aspiring cryptozoologist, estrogen addict, patron saint of vertigo, unintentional ghost hunter. Brooklyn, New York