We are here. There are only a few days until the 2013 NHL Draft takes place in Newark, NJ at the Prudential Center. The draft itself starts at 3:00 in the afternoon. There are a series of events listed for media (Collectors show, FanFest and Draft for fans and media). This will be a very jammed pack weekend. Nerves will be frayed a bit. Let's be honest.
For the media, this is quite the time. Think about all the deadlines, interviews, recordings, etc. and you can get easily overwhelmed just contemplating it. I am going to try to give our readers a unique access at some of the events I will be attending over the weekend. Remember, the focus is on the players but the trades, speculation, and media all play vital roles in shaping the entire draft experience.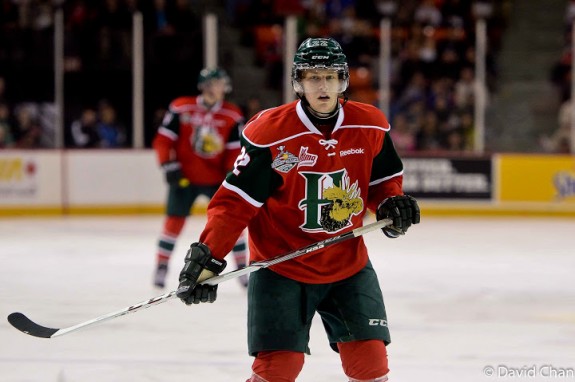 Hey, this is the number one draft pick for this year (err likely). It is always a pleasurable privilege to interview all prospects. Anyone who has a background in the sport (especially if they played hockey at higher levels). There is a unique appreciation but all things considered, these prospects are still young adults. A weekend in the tri-state area has to be quite the experience along with being drafted obviously.
Here is the agenda for those in the area and thanks to Nicole from NHLPR for all of her help as always.
2013 NHL Draft Weekend Media Schedule
Thursday, June 27
3:00 p.m.               Top Prospects Media and Photo Opportunity atop the
Empire State Building
New York, NY 
Friday, June 28
1:00 p.m. – 2:00 p.m.         Top Prospects Media Availability
Sheraton Lincoln Harbor Hotel
Weehawken, N.J. 
Tent Overlooking the Hudson (Rain or Shine)
Saturday, June 29
12:00 p.m. – 12:30 p.m.       New Jersey Legacy Tree Project Press
Conference
Prudential Center – Lafayette St. Tower
1:30 p.m. – 2:30 p.m.         Top Prospects Clinic
Prudential Center, AmeriHealth Pavilion
5:00 p.m. – 8:00 p.m.         Media Welcome Reception
Wicked Wolf
Hoboken, N.J. 
*2013 NHL Draft media credential required*
Sunday, June 30
10:30 a.m. – 2:30 p.m.  2013 NHL Draft Fan Fest presented by New Jersey
Stronger than the Storm
Championship Plaza outside the Prudential Center
Noon  —  Media Access to 2013 NHL Draft
Prudential Center
1:00 p.m. – 9:00 p.m.         2013 NHL Draft Trading Card and Memorabilia
Show
Presented by Panini America, Inc & Upper Deck
Prudential Center – Concourse
3:00 p.m. – 10:30 p.m.        2013 NHL Draft – All Rounds
Prudential Center
---
This is pretty much the itinerary for the weekend. Not every media member attends every single event. However, usually there are some events not listed that often wind up taking place. For example, tweet-ups and social media outings are commonplace and the draft won't be an exception. Also, credential pickups and media workroom access was taken out as it really is not that essential in a sense.
What are we doing here?
Simply, the goal is to give readers access to what it is really like as reporters try to meet deadlines while doing their jobs. If we can capture a fraction of the chaos and atmosphere, the we have accomplished our goal. The next four days will be truly unique culminating in a 7 1/2 hour one day draft done over seven rounds and 211 picks.
There should be enough memories to last a lifetime as the last one day draft was in Calgary in 2000 (that was nine rounds by the way). The recaps and deadline pieces will come late Sunday and Monday but the trials and travails of the weekend including maybe some audio and video are coming. Stay tuned!