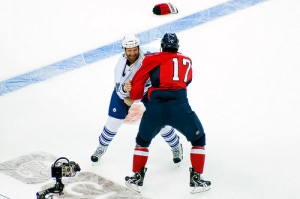 A new era of hockey in Toronto may be just over the hump.
When the Toronto Maple Leafs placed Colton Orr, a fourth-liner known more for his fists than pure hockey talent, Twitter erupted. So much that Orr became the third highest trending topic on Canada in just moments.
While Orr was receiving a lot of attention over social media, not much of it was very positive. People were saying that Orr's demotion to the American Hockey League (granted he cleared waivers, which he did on Thursday afternoon) didn't mean anything and that the Leafs would just move on without him. Well, only half of that is true.
First, what is true: The Leafs no longer have to worry about Orr's $1 million salary counting against the team's salary cap, giving the team a bit more room to maneuver come the trade deadline. Aside from that, nothing else is expected to happen in the immediate future.
Secondly, the decision to place Orr on waivers does, in fact, have meaning. If you look deeper into the situation, you will find that this is a very uncharacteristic move on Brian Burke's part.
Burke, who is known for being the type of general manager who likes to have a few tough guys on his team, shocked a few people by placing Orr on waivers. As mentioned above, Orr is someone who isn't known for finding the back of the net or setting up scoring chances, but rather someone who would prefer to drop the gloves and give his team a spark with his physicality.
One of the better fighters in the league, Orr played in all 82 games during the 2009-2010 season with the Leafs and appeared in 46 games last season before it was cut short on January 20 by a concussion that was rumoured to have put his career in jeopardy.
This season, Burke and his staff appear to have changed their approach to putting a lineup together, creating a group of players that is better suited for Ron Wilson's coaching style.
The switch is a smart one that tells fans that the Leafs are a changed organization, according to The Globe and Mail hockey reporter, James Mirtle.
"It shows the team is willing to admit its mistakes, say the game has changed and adapt by getting rid of someone like Orr," Mirtle said via email on Thursday afternoon.
Up until this season, the Leafs were still somewhat stuck in the past. With just two scoring lines to go along with third and fourth lines that were meant to add nothing to a game but a physical element, the Maple Leafs had troubles shutting down players who must have their offensive production limited in order to win games.
The recent changes to the bottom-six have paid off all season long. After a hot start and consistently solid play aside from the penalty kill, the Leafs still find themselves competing for a playoff spot now five days into the New Year.
Mirtle chimed in on the Leafs' revamped third line, which now consists of solid two-way players who can also get the job done offensively, rather than those who are just out to hit.
"It's a positive that they'll have three guys on the third line who can skate and kill penalties," he said.
The only problem now is to get the penalty kill straightened out, but now with another million dollars off of the books, the Leafs are slowly creating a little more wiggle room under the salary cap. Let's try not to stir the pot here, but any room at all could help the team bring in someone to help improve the league's worst penalty kill, which has already costed the Leafs too many games this season.
It's clear that placing Colton Orr on waivers signifies a lot more than people think it does. It shows that the Maple Leafs are beginning to move ahead with the game of hockey and are getting away from the old school style of play, which will undoubtedly improve their chances to win hockey games in the long run.
If you want proof, go ahead and compare this year's roster to that of the depth chart from last season, as well as the team's success in the Eastern Conference standings.
Twitter: @LukasHardonk | Email: lukas.hardonk@gmail.com | Lukas' archive
For every Leafs article on THW, follow @THW_MapleLeafs on Twitter.