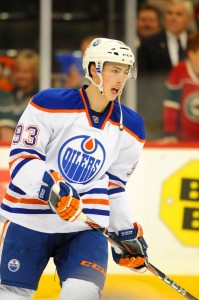 The last thing a struggling team ever wants to hear is that they will be forced to play without one of their stars. For the Edmonton Oilers, the news on rookie sensation Ryan Nugent-Hopkins isn't positive. The 18 year old took an awkward fall in Monday night's game against the Chicago Blackhawks and is out indefinitely. Nugent-Hopkins was seen with his left arm in a sling and flew back home to Edmonton to be further evaluated by doctors. The team is being tight-lipped on the exact details of the injury and haven't offered any kind of timetable for his return. The Oilers are in the midst of a seven game road trip that's seen them lose four out of five games so far. They will visit the St.Louis tonight and then wrap up the lengthy trip on Saturday against the Dallas Stars. The recent slump has the team mired in 13th place in the Western Conference and losing the services of Nugent-Hopkins won't help the situation.
Before getting hurt, Nugent-Hopkins had racked up 13 goals and 35 points in 38 games, and was thought to be a lock for this years Calder trophy. Last year, Taylor Hall seemed to be on the same trajectory for rookie of the year until he was felled by an ankle injury that ended his season. The Oilers are hoping that Nugent-Hopkins won't be the second rookie to have his season cut short. Sam Gagner and Shawn Horcoff are the likely candidates to take Nugent-Hopkins top spot at the center-ice position. The team will be relying heavily upon their leading scorer Jordan Eberle to continue to carry the load and they will certainly be in tough against the resurgent St. Louis Blues. Since hiring head coach Ken Hitchcock, the Blues have gone 16-5-5 and are threatening to take over first place in the Central division.
The Oilers will likely play against the Blues without defenseman Tom Gilbert, who took an ugly hit into the boards courtesy of Daniel Carcillo and hurt his knee on the play. Carcillo received a 7 game suspension. NHL disciplinarian Brendan Shanahan had this to say on the incident:
"At an extremely dangerous distance from the boards, Carcillo finishes high and hard with his hands, using the boards as a weapon," Shanahan said. (Vancouver Sun)
Corey Potter took Gilbert's spot in the line-up, but the team is hopeful the injury won't keep him out long term. The Oilers will have a few days off after their road trip before facing the New Jersey Devils back on home next Wednesday.