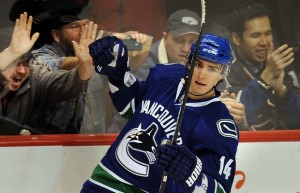 Alex Burrows is one of those players that, while constantly on centerstage, rarely receives full attention of the fans. Players like Mike Knuble, Tomas Holmstrom and Andrew Brunette who thrive on the top line, but are never the players to garner all the attention and awards. But maybe it's time for one of the co-stars to get an award. Burrows could make a name for himself as he is having a darkhorse run to the Conn Smythe Trophy.
Burrows is not only being his usual pesky self, drawing the ire of New England early in the Stanley Cup final, but is scoring as well. He is tied for first on the Canucks in goals (nine) and is fourth in total points (17) and he is getting them at the right moments. He scored both goals in Game 7 against the Blackhawks, had a point in every game in the San Jose series and now has another overtime goal in Game 2 of the final.
When the Canucks have needed scoring at the most critical times in the playoffs, Burrows has come through. He hasn't been hurting Vancouver either as he has only 14 PIM, though he did have eight in Game 1 of the final. He is only two seconds behind Selke Trophy nominee Ryan Kesler in shorthanded time on ice (3:02) and is a plus-5. Certainly he deserves consideration.
Standing in Burrows' way is Tim Thomas who is taking way too much heat for the Bruins being down 2-0. Some are saying his style is too aggressive because he was nowhere near the net on the wrap-around goal, but they probably weren't complaining when he used his power to stop Brian Gionta in overtime of Game 5 against Montreal. Or when he just got his stick on a Steve Downie shot in Game 7 of the Eastern Conference final, or any of the other brilliant saves he has made this postseason.
He is the reason the Bruins are still playing hockey. Despite his inconsistent stats, he is 7-1 when facing over 35 shots and has kept them close in many games, going 7-4 in one-goal games. Having him change now would be going against the game plan that got them there in the first place. Coach Claude Julien told the media on Sunday "All year we've played in front of Timmy Thomas. To me he's a Vezina Trophy winner. We are here right now because of his contribution, which has been really good. For us to be sitting here, having to answer those kind of questions, is ridiculous to me."
There is no point in fixing something that isn't broken, so getting Thomas to change his style wouldn't make much sense. He has played very well at times and has a .956 save percentage and a 1.34 goals-against average in his past three games even though he has lost two of them. He has nothing to do with their lack of offense, instead he is the main reason they haven't been blown out in the first two games. What should he change?
A native of Monroe Township, NJ, Tim received his Bachelor's Degree in Contemporary Journalism from Endicott College in Beverly, MA. A Flyers fan growing up, he has gone to numerous events including each installment of the Winter Classic, the Stanley Cup final and the 2010 Olympics.
In addition to The Hockey Writers, Tim also writes for The Good Point and interned with The Hockey News from Jan. to May 2011, contributing to their book Hockey's Most Amazing Records. Outside of hockey, Tim enjoys reading and watching movies and extreme sports such as snowboarding and skydiving.