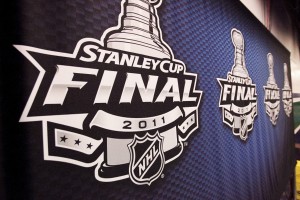 What Aaron Rome of the Vancouver Canucks did tonight was inexcusable.
Yes, you want to send a message while on the road that your team is not intimidated. You want to quiet the hostile, energetic crowd any way that you can. Be it a hit, a check, an impressive save, you want to do anything you can to make 17,565 fans go quite to maintain all of the momentum your team had built with two gritty wins in Vancouver.
You do not, however, want to do it at not only the expense of your team by shortening your own bench, but at the health of the opposing player.
Nathan Horton, of the Boston Bruins, could be done for the remainder of the Stanley Cup Finals after sustaining a massive, borderline at best, blindside hit from Aaron Rome.
In case you missed the hit, Horton was leading the Boston counter-attack, had released a pass to his left to Milan Lucic, and just as they crossed the blue line, Rome stepped up and unloaded a late hit on the center. Both Horton and Rome were then airborne, Rome "in control" and Horton left at the mercy of force and gravity. None of the contributing factors were forgiving, as Horton hit his head [for the second time in a matter of a second or two] on the ice before rolling onto his back, motionless, and that infamous blank stare so many victims of big hits sustain.
Horton was then taken off the ice on a stretcher, moving his hands minimally, but communicating with the medical staff who were tending to him. At the time of writing this article, the Bruins had reported that Horton was at Massachusetts General Hospital with motion and feelings in all of his extremities.
Rome escaped a retaliatory beating, for now, by being assessed a 5 minute major for interference and a game misconduct. Boston exacted their revenge by embarrassing the Canucks not through turning the game into a brawl, but by absolutely lighting up the scoreboard and Roberto Luongo for 7 goals en route to a 8-1 victory.
The hit came between a half-second to a full second after Horton released his pass, according to an estimate done by TSN's Bob McKenzie. The backlash on the social media outlets from fellow NHLers, both past and present were both quick and damning of the incident.
Blake Wheeler of the Winnipeg/Manitoba Franchise [formerly the Atlanta Thrashers] and former member of the Boston Bruins said via Twitter, "This is the scary part of our sport. Score twice on this B's. Absolutely embarrassing hit."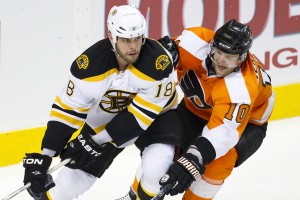 Krys Barch of the Dallas Stars echoed similar displeasure for Rome, "Now that's a f'n 5min major and game misconduct and need of league discipline. That was a hit that is not needed in the game!"
The list goes on, the degrees of intensity of their comments vary, but the message is beyond clear: players are upset to say the least and the league needs to take swift, immediate, and forceful action on this one.
In Game 1, Alex Burrows' mouth, well teeth more specifically, met the tip of Patrice Bergeron's finger. The Bruins, players, analysts, and a considerable number of fans were outraged at the fact the league not only reviewed the incident, but they did not hand out any form of punishment for what appeared to be a very cut and dry incident, no pun intended.
Burrows would bite the Bruins again in Game 2 (Okay, that one was intentional). He netted two goals, including the insanely quick game-winner, a mere 11 seconds into overtime.
Tonight's incident not only has clear-cut, indisputable evidence but the fact that it took place almost at center ice, there should be a few dozen camera angles to condemn Rome for at least one game if not the remainder of the series and well into next season.
Darren Dreger added via Twitter that "Rome hit will be used as clear example of vulnerable player when Blue Ribbon panel discusses criteria changes to Rule 48 at General Manager's meeting on Wednesday."
The culture of the game has come under heavy scrutiny this season with the repeat offenses of Matt Cooke, Trevor Gillies, and the first time but still equally deplorable Brad Marchand and Tom Kostopoulos, to name just a few. During the 2010-11 regular season, the NHL handed out 50 fines and suspensions to offending players, coaches and teams. The percentage which came as a result of illegal hits is astounding and only furthers the need for the NHL to take direct action to help force the players, for lack of a better word, grow up.
When you play hockey growing up, you're taught to respect your opponents. You don't have to like them, or be their friends, but you need to respect them. Even the late enforcer, Derek Boogaard, in his camps would teach his athletes to fight the right way, and above all else, respect your opponent.
Sure, sometimes one can be caught up in the heat of the moment, but it does not warrant putting an opponent in harm's way.
Players from mite-hockey to bar leagues don red "stop" signs on their backs as a reminder to the opposition to not hit a player when you can see that. The NHL should not adopt this practice, but instead, since they're supposed to be professional adults, exercise some common sense and go back to the days when they were younger.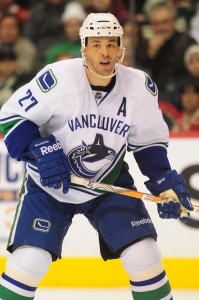 On Monday, the NHL received yet another black eye thanks to an individual who turned a play which really did not need to happen into a despicable, selfish act.
His [expected] suspension will save the league some face by them finally being decisive and saying, "We will protect our players and will not tolerate these types of actions." It will be the first step in rebuilding the once respected culture of the NHL.
Pair the strong statement suspension, with the on-ice actions of players such as Manny Malhotra, who late in the 3rd period of Game 3 shot a puck into the bench, narrowly missing Bruins' coach Claude Julien, and then skated over to apologize, and the league will begin to return to better times.
Until the players step up and begin to respect one another, the League has to step in and play the parent to the dueling children.
UPDATE: Horton is awake, alert and will be held overnight at Mass General Hospital for further tests and observation.