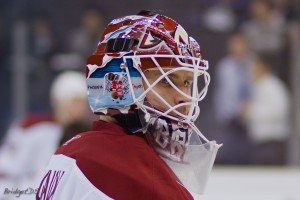 The Philadelphia Flyers have made a big step in their two-decade long search for a true starting goalie, securing the negotiating rights to Ilya Bryzgalov by sending left wing Matt Clackson, a third-round pick in 2012 and future considerations. They did the same thing in the summer of 2007 when they traded for the rights to talk with Scott Hartnell and Kimmo Timonen before signing them to long-term contracts. They did the same thing last summer, trading to Dan Hamhuis, but they were unable to get a deal made so he was sent to Pittsburgh.
Should they get a deal done, it is likely GM Paul Holmgren would have to trade of their established players. The Flyers have $59.4 million tied up in 18 players for next season and Bryzgalov made $4.25 million. He will probably end up with a deal for around $6 million and since the salary cap next season is expected to be as high as $63.5 million, the Flyers will need to get rid of nearly $2 million in salary; more even since they need to sign Ville Leino as well as a sixth defenseman and several other spots up front.
Someone is going to have to leave to make this deal work, so here is a look at some players who may receive trade consideration.
Michael Leighton: Their 2010 playoff hero will be the odd man out once again should Bryzgalov sign with the Flyers. That may garner some attention, but so will the fact he appeared in one regular season game and had a .862 save percentage in two playoff games this year. He will most likely collect his $1.55 million salary in Adirondack.
Matt Carle: Losing Carle would mean an extra $3.44 million in cap room, but it would also mean losing one of their top puck-moving defensemen. He is not big and doesn't score many goals, but his assist totals have risen each year since coming to Philadelphia (20, 29, 39) and he is the heir to Timonen as the main power play quarterback. He could fetch some intriguing returns on a trade, but the Flyers should hang on to him for his youth and potential (he is 26 years old on a blue line that averages 31 years of age).
Braydon Coburn: He was supposed to be a nasty defenseman who could provide offense, but Coburn hasn't quite reached that potential yet. Unlike Carle, Coburn's point totals have gone down in each of his full seasons (36, 28, 19, 16), though thanks to his size (6-foot-five, 220 lbs.) he can handle the big forwards. However, Carle provides the Flyers with a slick passing game they don't have in other areas while they have plenty of crash and bang throughout the lineup. Holmgren should consider trading Coburn's $3.2 million salary.
Kris Versteeg: He was supposed to provide secondary scoring, but he only had 11 points in 27 games after coming over from Toronto and one goal in 11 playoff games. Versteeg comes with a $3.08 million price tag and has already been traded twice in the past year, but he never seemed to find his groove in Philadelphia. He is only under contract for one more year, so it would be a risk free move for a team to acquire him, which is good for Philly.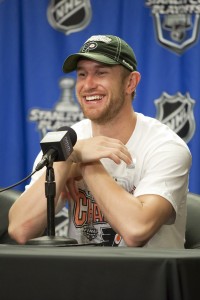 Jeff Carter: This is an interesting case. Carter is a big center more than capable of scoring 30 goals every year and he is signed for 11 years at a $5.27 million cap hit. That amount of cap space would go a long way for the Flyers, especially with James van Riemsdyk expecting a big raise in a year. Carter is a cornerstone for the Flyers, but his goals and points per game goes way down in the playoffs where his play is very inconsistent. Trying to move a contract of his term will be difficult, but there are a few teams (Columbus, Dallas, Winnipeg) who can use a number one center, something the Flyers have an abundance of. He is certainly the most interesting trade option and the Flyers will have to choose between being loyal to one of their best players and trying to fix what has obviously been their weakest link.
Scott Hartnell: Hartnell is capable of playing physical and getting under the skin of the opponent while also providing offense, especially when crashing the crease looking for the garbage left over from the more skilled players. But he can also be left off the scoresheet for long stretches while taking his share of dumb penalties. Trading him would free up $4.2 million in cap space and his grit and experience (he has played 761 games and only just turned 29) should make him attractive to other teams seeking a bigger physical presence. He is a very popular player, but could possibly be their best trade option.
A native of Monroe Township, NJ, Tim received his Bachelor's Degree in Contemporary Journalism from Endicott College in Beverly, MA. A Flyers fan growing up, he has gone to numerous events including each installment of the Winter Classic, the Stanley Cup final and the 2010 Olympics.
In addition to The Hockey Writers, Tim also writes for The Good Point and interned with The Hockey News from Jan. to May 2011, contributing to their book Hockey's Most Amazing Records. Outside of hockey, Tim enjoys reading and watching movies and extreme sports such as snowboarding and skydiving.