After falling short last season, many Buffalo Sabres fans are left scratching their head, wondering where it all went wrong.
It leaves us with a lot of questions, regarding the relatively quiet off-season this summer, the raucous off-season last summer, and about the lengthy reign of Lindy Ruff, currently the longest tenured coach in the NHL.
However, the Sabres do have something that not many other NHL teams do have right now: time.
With a seemingly inevitable lockout looming right around the corner, you've got to think that the majority of NHL teams right now are really beginning to sweat it.
A lockout year can prove to be absolutely devastating to a franchise with an older talent core, built to make a strong push based on experience and camaraderie.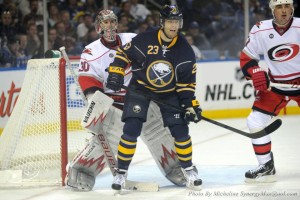 Take the 2003-04 Toronto Maple Leafs for example, who had eight players on their roster who are either currently Hall of Famers, or will make a strong case for HOF status in the next few years. After getting knocked out in the second round of the playoffs that year, the Leafs seemed to be in good position to make a return to the post-season the following year, with a strong bunch of returning veterans, and a decent crop of younger players who would benefit from another year with the vets.
But then the lockout happened, and we all know full well what happened to the Leafs after that.
The Sabres, on the other hand, do not have a single player on the roster older than the age of 32. What was the average age of the 2003-2004 Toronto Maple Leafs, you ask? A staggering, hip-popping 30 years of age.
There are very few teams in the NHL that the lockout could actually benefit, and the Sabres are certainly one of them.
They're a young team, with lots of sharp young talent waiting in the wings. A lockout would give those young players another year to hone their skills without having to worry about the pressure of cracking an NHL squad.
One player in particular who could really take advantage of this is Mikhail Grigorenko, the Sabres top pick in this summer's draft.
Grigorenko, once considered to be in the mix for the number one spot with Nail Yakupov, dropped a staggering 10 spots just before the draft to be taken at number 12. Some scouts, including TSN's Craig Button, had him ranked as low as number 20.
If Grigorenko were to go to camp and be cut from the Sabres, he'd be returning to junior with a lot on his mind. However, if a lockout takes the season out of the picture, he can return to junior with a clear mind and try to remind the 11 teams who passed him over what he is really capable of.
Another lockout concern many teams have is that their guys will return to their home countries to play for the year, and never return. This is something else the Sabres need not worry about. With a team consisting nearly entirely of skaters that are either North American-born or North American-trained, they won't have to worry about losing guys to European leagues.
On the contrary, I think a lot of the Sabres young talent core will benefit from a year outside the NHL. Without being constantly surrounded by the best players in the world, young guys like Luke Adam and Marcus Foligno should be able to continue to realize their full potential, playing in leagues where they can overpower and outsmart opponents.
Lockouts are better known to break careers, but they have also made a few as well, and that's something the Sabres can look forward to.
Take the case of Daniel Cleary, for example. Before the lockout, he had nowhere to go. Everybody had given up on him. The Blackhawks, who drafted him, no longer wanted him. He was shipped to Edmonton,  but it wasn't long until that ship sailed right on through as well. When he was dumped from Phoenix, it was rock bottom. When the 2003-2004 Phoenix Coyotes don't want you back, you may as well pack it in. But Cleary instead joined the flood of players heading overseas, and managed to pick up a game with Mora IK of the Swedish Elite League. After finding his stride once again, he was invited to the Detroit Red Wings training camp. He managed to catch on with the Wings, and has since enjoyed the success that once seemed destined for him.
While the Sabres might not have anybody in as desperate need as Cleary was, it will be a great chance for a guy like Ville Leino to restart. After a huge contract that left a lot of people with an eyebrow raised in surprise, Leino fell majorly short of expectations last season. A year in a lesser league could do wonders to kickstart Leino's confidence.
Despite not making a tonne of moves in the offseason, and despite concerns that changes may be needed in the front office, the Sabres shouldn't be hitting the panic button just yet. With a strong young core of players, they should be able to piece together another middle-of-the-pack season at the very least – if a season takes place. If not, the Sabres are actually put in a much better position than the majority of the teams in the league.
It seems safe to say the Sabres won't be singing the post-lockout blues in a year's time if the NHL and NHLPA can't come together on a deal in the next couple of weeks. And that's a lot more than most teams can say.