Winning the majority of their games in the last month of the regular season seemed counterproductive for the Calgary Flames, who were fighting for bottom-feeder status with the Colorado Avalanche and the Florida Panthers prior to the Iginla and Bouwmeester trades.
After several steady seasons of mediocrity, the 2012-2013 season clarified that it was indeed time to burn down and rebuild the franchise. The common route, for most teams, is to (deliberately or not) tank as the season winds down to solidify a top 3 draft pick. But the Flames did no such thing, and instead thrived in their last few games with young, fresh faces and a new dynamic on the ice.
The Flames' relative success post-Iginla has awarded them the 6th draft pick in this year's lottery, while Colorado and Florida nabbed #1 and #2, respectively. And although a 6th-ranked pick would still do wonders for the team, Flames fans can't help but wonder what their team would be like with a highly-touted prospect like Nathan Mackinnon or Seth Jones. What's done is done, however, and with Mackinnon, Jones, and Jonathan Drouin all but spoken for, it's time to take a closer look at who could soon be the newest member of the Calgary Flames.
Best Case Scenario: Alexander Barkov
Ranked #1 above all European skaters, Finnish center Alexander Barkov is a player who has consistently demonstrated his impressive skill set throughout his 2012-2013 season with the Tappara Tampere. With his size, strength, keen offensive instincts and a certain finesse with the puck, Barkov is a great all-around player and has the potential to become a formidable power forward.
Unfortunately, the Nashville Predators will likely snap him up first, and the chances of the Flames landing Barkov are slim to none.
Most Likely Scenario: Sean Monahan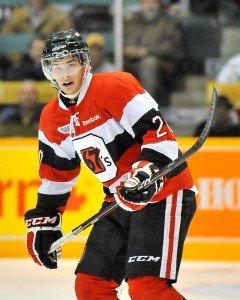 The 18-year old Monahan is the highest-ranked prospect in the OHL. The numbers he's put up this year with the Ottawa 67s speaks volumes, considering that the team has had a particularly dismal season. But somehow Monahan racked up 78 points in 58 games played, despite doing it in a losing atmosphere (a feeling current Flames players are all too familiar with of late). Monahan's offensive prowess, combined with a solid two-way play, guarantee that he will be a good choice for any team who picks him up.
The Calgary Flames would benefit greatly from the young center's ability to create turnovers and his defensive-minded play, and although he's no Nate Mack or Seth Jones, having Monahan on the roster should give everyone in the organization something to look forward to.
Only Time Will Tell
With 3 first-round picks going into the 2013 NHL Entry Draft, and a reliance on which prospects are passed on by other teams, the Calgary Flames' draft could go in any number of directions. Whether it be Barkov, Monahan, Valeri Nichushkin or even Darnell Nurse, the fans and the franchise will have to wait until June 30th to see what the future has in store for the Flames.
Graduate of Mount Royal University's Journalism program and a freelance sports writer from Calgary, Alberta.