In this edition of Calgary Flames News & Rumors, I'll share some of the decisions that have emerged from the team's Week 1 of training camp. The Flames also made a number of roster moves to help the team prepare for the 2020-21 season. I'll share a number of those moves as well.
Related: Calgary Flames: News & Rumors: Leivo, Parsons, Kinnvall, Stone & More
Finally, I'll take a look at new goaltender Jacob Markstrom's arrival in Calgary, particularly discussing his strong relationship with Elias Lindholm. It seems that Markstrom landed into a good situation when Lindholm invited him to share a room in his family's residence.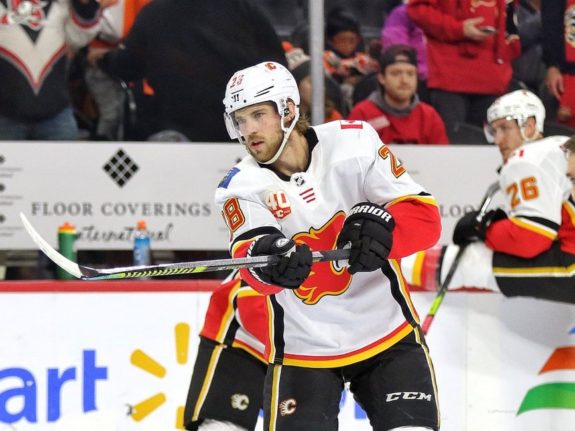 Markstrom, who always was a popular teammate with the Vancouver Canucks, hinted that he's having such a good time with the Lindholms that he might stay there for the entire season. This feel-good story suggests how much easier it is for a player to move to a new team when he has a friend who's been with that team for a while.
Item One: Sam Bennett Didn't Play in Thursday's Scrimmage as a Precaution. 
Currently, Sam Bennett is listed as day-to-day. Bennett missed Thursday's scrimmage for precautionary reasons, but he skated on his own Saturday. At the conclusion of that skate, Flames head coach Geoff Ward reported that he's hopeful Bennett will be available for Sunday's practice. But the Flames aren't pushing things and are taking Bennett's injury as a day-by-day thing.
Related: Jarome Iginla's 5 Greatest Highlights
Bennett had originally been deemed as "unfit to participate" for Saturday, so there is improvement. Although the Flames are being cautious with Bennett, there's little reason to think he'll miss Thursday's season opener against the Winnipeg Jets.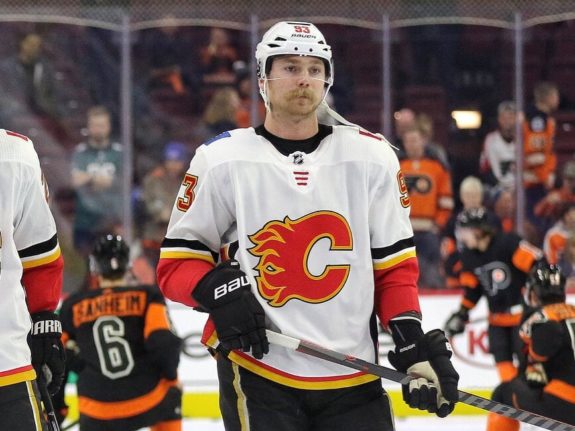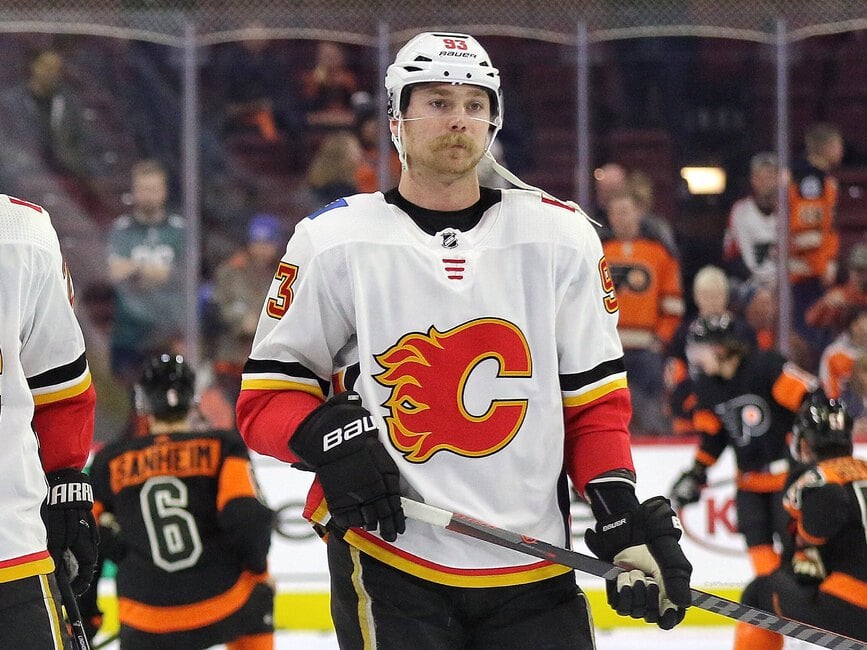 Given his production during the 2019-20 postseason, Bennett was expected to play in a top-six role during the training camp. The Flames hope the 24-year-old will assume a larger role with the team in 2020-21. Last season, he only scored eight goals and 12 points in 52 games. But, as is Bennett's history, he was a postseason standout with five goals and eight points in 10 games – even though he played with a torn triceps muscle. 
Item Two: Oliver Kylington Arrived Sooner than Expected
In a bit of surprise, Oliver Kylington completed his immigration protocols sooner than expected and was on the ice for the Flames' training camp on Saturday. Kylington originally wasn't supposed to join the Flames until Wednesday, but he obviously sorted out those issues sooner than expected.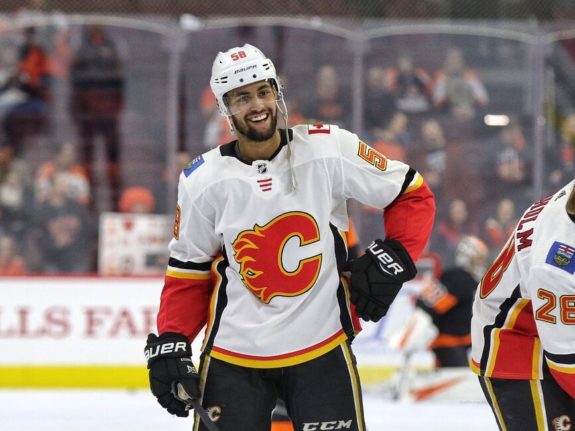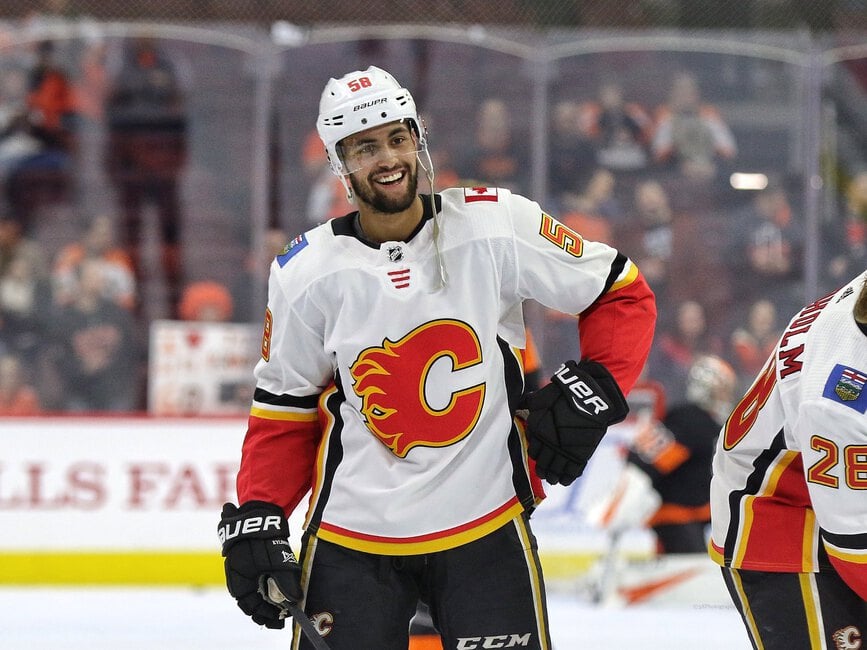 The 23-year-old Swede signed a one-year, two-way contract with the Flames in mid-December. He scored two goals and seven points in 48 games during the 2019-20 season and is expected to start the season as a Flames' bottom-pair defenseman.
https://mobile.twitter.com/WesGilbertson/status/1347986790825611265
Item Three: Flames Send Winger Justin Kirkland to Minors
Before the Flames signed Brett Ritchie to a PTO, the organization needed to make room on its training camp roster. That move was to send winger Justin Kirkland to their AHL affiliate, the Stockton Heat. Kirkland had scored nine goals and 21 assists (for 30 points) in 75 AHL games with the Milwaukee Admirals last season. Kirkland, a 24-year-old Winnipeg native, has yet to make his NHL debut.
Item Four: Flames Sign Brett Ritchie to a PTO
As noted above, the Flames signed 6-foot-4, 220-pound, right-winger Brett Ritchie to a professional tryout agreement. Ritchie is an NHL veteran, with six seasons of experience with both the Dallas Stars (five seasons) and the Boston Bruins (last season). During 2019-20 he played 27 games with Boston, he scored two goals and six points. The physical right-winger will likely be asked to inject some grit into the Flames fourth line.
Related: Metropolitan Riveters New Year's Resolutions
Ritchie's the kind of NHL-experienced player teams might be seeking to man their taxi squads. He has 268 games NHL experience with a reputation as a hitter. He won't be asked to provide much offense, but he has scored 35 goals in his six seasons so the odd goal or two always helps.
Item Five: Elias Lindholm Makes Life Easier for Jacob Markstrom in Calgary
The fact that Elias Lindholm was already a member of the Flames' roster made life a whole lot easier for Jacob Markstrom than it might have been otherwise. Both Lindholm and Markstrom come from Gavle, Sweden, and are good friends. After Markstrom left the Canucks to sign a six-year deal with the Fames, Lindholm offered the Flames' new goalie his family's spare room while he looks for his own place in Calgary. 
Lindholm noted that, "as a roommate, he's good. We're close friends. He's down in the basement and I'm up top, so we get to see each other here and there." (from "Close pals and current roommates Lindholm and Markstrom will be key pieces for Flames, Wes Gilbertson, Calgary Herald, 08/01/21).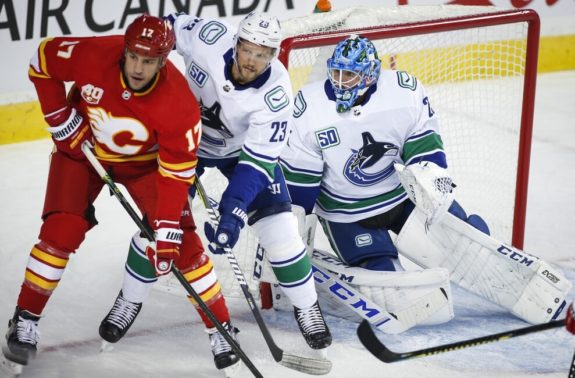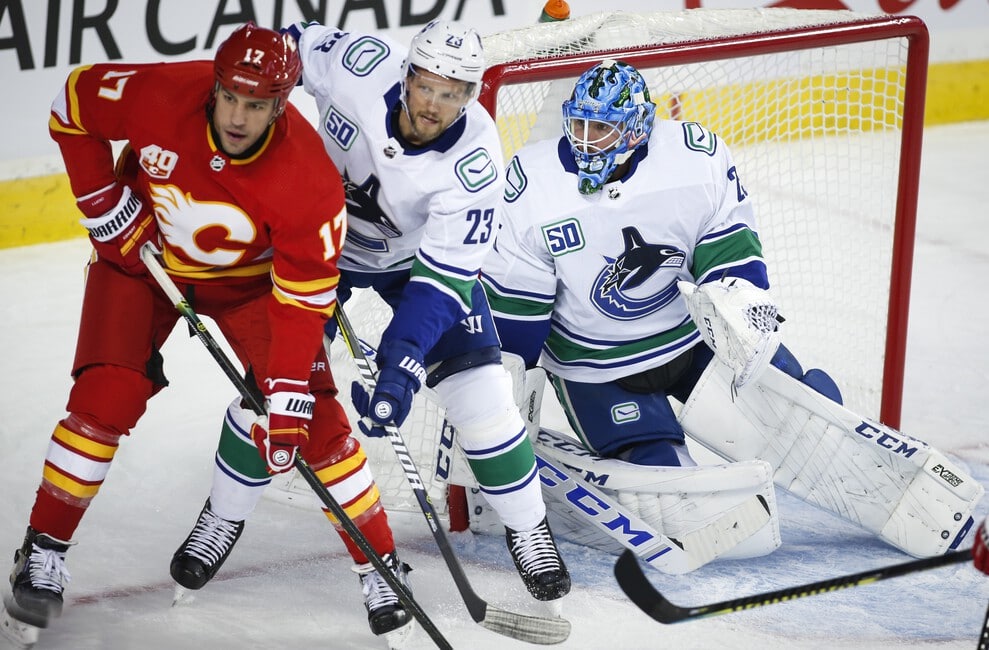 Lindholm added, "It's been good. He's a good friend, so I'm happy to help out until he finds a place to stay."
Coming off a strong season where he posted a goals-against-average of 2.75 and a .918 save percentage with the Canucks and finished fourth in Vezina Trophy voting, the Flames are counting on Markstrom to become their starting goaltender.
What's Next for the Flames?
The usually quotable Milan Lucic put it well about the excitement of playing in the (all-Canadian) NHL's North Division: "It's going to feel like every night is Saturday night, Hockey Night in Canada-type of feel and type of game." 
Related: 7 Cool Things About Jarome Iginla: Calgary Flames Hall of Famer
It's going to be an interesting season for Canadian-based teams. As far as I've heard, the Province of Manitoba hasn't yet given permission for the Winnipeg Jets to play home games yet, but that should come soon I believe – I would guess Monday.
NHL hockey is on its way.
---
---