The Colorado Avalanche are celebrating 25 years in Colorado this year, and there will certainly be plenty of talk about two Stanley Cups, and the three Hall of Famers — Joe Sakic, Peter Forsberg and Patrick Roy — from that high-flying initial group of players.
But one of their superstars will likely fly under the radar during this celebration. Again.  
Milan Hejduk was the first star to take the ice in Colorado that wasn't a holdover from the Quebec Nordiques. He is one of the most prolific scorers and important players in the team's history, but might also be the most underrated over the last 25 years, despite playing in 14 of those seasons.
That's not saying Hejduk was underappreciated by Avalanche faithful. His No. 23 is one of six numbers retired by the team. Of those six, Hejduk and Sakic played their whole careers with the franchise.
Hejduk also served as the captain in the 2011-12 season, and is one of only four players to wear the 'C' for the Avalanche during the past 25 years. The others are Sakic, Adam Foote and Gabriel Landeskog — who has worn it every season since that 2011-12 campaign.
But Hejduk was more than just a fixture in Colorado. He was an elite scorer in the NHL ranks for most of his 14-year career. He was certainly the beneficiary of great teammates, but they benefitted from having Hejduk on the ice, too.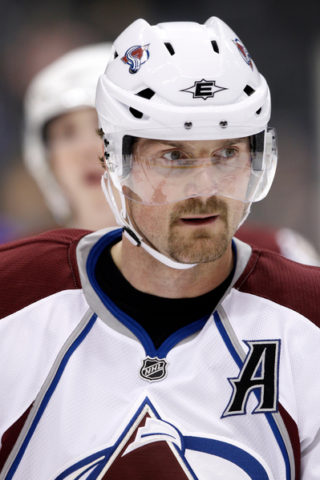 To put it in perspective, take a look at Hejduk's time playing with his Hall of Fame teammates Joe Sakic and Peter Forsberg.
One of the most prolific goal scorers in NHL history, Sakic scored 625 in his career. He is 16th all-time in goals scored, one of only 20 players to reach 600 career goals. In the 10 seasons Hejduk and Sakic played together, Hejduk lit the lamp more often than the famed Avalanche captain, 312-291.
Forsberg's 538 assists are third on the franchise's all-time list, behind fellow Hall-of-Famers Sakic (1,016) and Quebec star Peter Stastny (668). In the eight seasons Forsberg played with Hejduk in Colorado, Hejduk hung right with him. Forsberg totaled 293 assists in those campaigns, while Hejduk had 278 helpers.
Hejduk Made Early Impact in Colorado
Hejduk was drafted in the fourth round (87th pick) of the 1994 NHL Draft by the Nordiques. But that would be his only connection to the Canadian club. He came to the Avalanche in between their Stanley Cup wins and wound up playing his entire career in Colorado.
Fresh off winning a gold medal at the 1998 Nagano Olympics with the Czech Republic, Hejduk's first year with the club was 1998-99. He arguably began getting overlooked almost immediately.  
Despite leading all rookies in scoring, Hejduk finished third in the voting for the Calder Memorial Trophy, given annually to the league's top rookie. The honor was won by Hejduk's teammate, Chris Drury. Marian Hossa of the Ottawa Senators was second.
While Hejduk's 48 points topped all rookies, his 34 assists did, too. He followed that solid rookie campaign the next season by finishing second on the team in points (72) behind Sakic (81). Hejduk's 36 goals led the club that season, and he played in his first All-Star Game.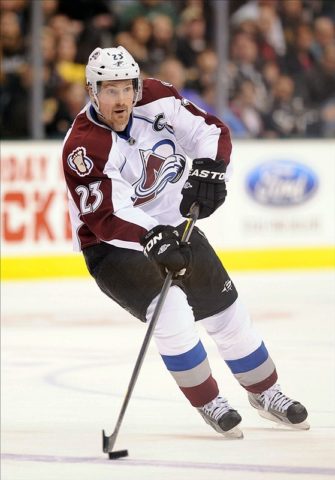 Colorado won its second Stanley Cup in Hejduk's third season, and he racked up 41 goals and 79 points. More importantly, he was a force in the playoffs. His 16 playoff assists led the NHL those playoffs, and only Sakic and Drury scored more goals for Colorado during that postseason run.
That 2000-01 season would be one of the best of his career, and legitimized him as a force going forward for the Avalanche. He played in his second of three consecutive All-Star Games, proved his mettle in the playoffs and became a fan favorite in Denver.
Hejduk Puts His Stamp on the NHL
After an injury-riddled campaign in 2001-02 — where he still scored 21 goals despite missing 20 games — Hejduk bounced back with his best season ever.
The 2002-03 campaign was Hejduk's best. He led the NHL with 50 goals, winning the Maurice "Rocket" Richard Trophy and notching a career-high 98 points. Taking just his 32 even-strength goals, he would have finished ahead of all but 22 players that season. Despite the 50-goal season, Hejduk still managed to fly under the radar once again.
There are 14 seasons in NHL history where only one player hit the 50-goal mark. Hejduk was the first of those players in NHL history to finish outside of the top five in Hart Trophy voting. And he wasn't close to the top five, finishing 12th.
No one was overlooking linemate Peter Forsberg, who took home the Hart Trophy with 77 assists and 106 points, both of which led the league. However, despite scoring 50 goals and 98 points, Hejduk was surpassed in the voting by 11 others — including a pair of goaltenders and six players with fewer than Hejduk's 98 points on the season. Of those six, only Todd Bertuzzi (97) of the Vancouver Canucks came within 13 points of Hejduk's points total.
Not that Hejduk would ever cry foul. The soft-spoken forward generally let his play do the talking, and it spoke volumes. He is on the top five of the team's all-time lists in just about every meaningful category — goals, assists, points, and power-play goals.
He might have been overshadowed by the play of the Hall of Famers he shared a locker room with, but his career stands on its own. Comparing him to Colorado's recent superstar, Nathan MacKinnon, the stats aren't that far off.
MacKinnon is widely regarded as one of the top players in the game, and has piled up 190 goals and 495 points through 525 games in his first seven seasons. Through Hejduk's first seven seasons, he played 544 games, scoring 221 goals and 474 points.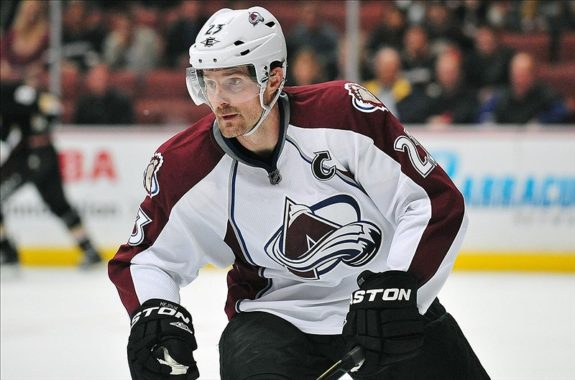 Hejduk retired after the strike-shortened 2012-13 season. His contract was up with the Avalanche, and they were moving to their next chapter. He expressed some interest in playing for another team, but decided to hang up his skates as a lifetime member of the Avalanche.
His number was retired on Jan. 6, 2018, making him the sixth Avalanche player to get his number hung at the rafters of Ball Arena. He retired with five seasons with at least 35 goals, and scored more than 20 goals in all but three seasons — his first and final two.
Hejduk isn't in the top 10 in all-time NHL points like Sakic. His home country didn't put him on a postage stamp like Forsberg. He's not in the Hall of Fame like either of those two. But Hejduk deserves to be mentioned right with the other stars of Colorado's past.
---
---