The Calgary Flames were busy this offseason addressing some key concerns via trades, ultimately changing the teams' outlook heading into the 2018-19 season. Optimism is on the rise in Calgary and the right trades can do that for an organization. While it's still too early to tell how these recent deals will turn out for Calgary, let's look at some prior trades that sparked the Flames and led to some of the greatest moments in franchise history.
Swimming With Sharks
It was 2003 and Calgary had not seen playoff action since 1996, but that was about to change when they completed a trade on Nov. 16, 2003, with San Jose. The Sharks traded Miikka Kiprusoff to Calgary in exchange for a 2005 conditional second-round pick, which they eventually turned into defenseman Marc-Edouard Vlasic. While that could have stung a little in Calgary, it didn't, considering it was Kipper who the Flames got in return.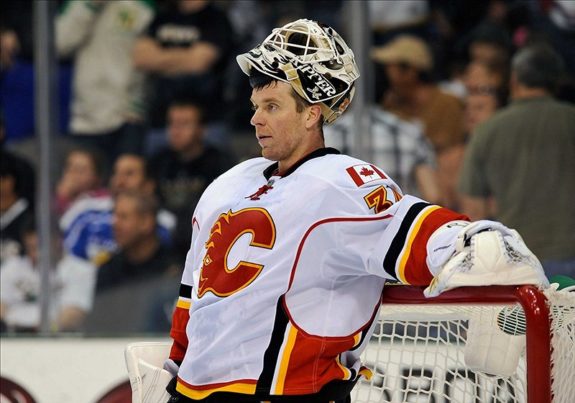 Ask anyone up and down the 'red mile' about what they think of the quiet, reserved Finnish goaltender who patrolled the pipes for eight seasons in Calgary and it should be a consensus answer. Miikka was the man – remembered as a calm, consistent presence in net, Kiprusoff is undoubtedly the top goaltender in the Flames 38-year history.
In his debut season in Calgary, Kiprusoff recorded a 24-10-4 record, with a 1.70 goals against average (GAA) and a .933 save percentage (Sv%). His stellar play throughout the regular season propelled the Flames to sixth place in the Western Conference, giving them their first playoff berth in seven seasons. 'Kipper' was the backbone of the Flames' memorable 2004 run to the Stanley Cup Final, coming just one win away from hoisting the Cup. 
Related: Top Ten Flames Goalies of All-Time 
Miikka Kiprusoff would record 305 career wins as a Flame, the most in franchise history, and he posted the most career shutouts with 41. In 2005-06 he won the Vezina Trophy as the top goaltender in the league, and also took home the William M. Jennings Trophy, awarded to the goaltender who has played a minimum of 25 regular season games for a team with the lowest goals against allowed.  
'Connie' Comes to Calgary
The Flames acquired American-born center, Craig Conroy, from the St. Louis Blues along with a 2001 seventh-round pick on Mar. 13, 2001, in exchange for Flames fan favorite Cory Stillman. It may have been an understated trade at the time, but in doing so the Flames added a key piece to their top line that would play a big role in multiple 'Rocket Richard' caliber seasons from their young superstar right-winger, Jarome Iginla.
Conroy, a Frank J. Selke Trophy finalist with St. Louis, was a responsible two-way player and a gifted passer. He quickly developed chemistry with Iginla, and, in his first full season in Calgary, scored a career-high 27 goals. Iginla recorded his first 50-goal season that year, a feat that he credited, in big part, to playing with Conroy.
"He's always been one of the best skaters in the league. Sees the ice well. Could always pass. I just think he was undervalued in a lot of ways." – Brett Hull on Craig Conroy https://t.co/HjxJgbaC9q

— Calgary Flames (@NHLFlames) May 17, 2018
Conroy appeared in 507 regular season games in two stints with Calgary, scoring 97 goals, 211 assists and 308 points, good for 16th best in Flames history. He was front row center, literally, for the Flames run to the Stanley Cup Final in 2004, scoring a big goal in Game 7. Conroy now works in the Flames front office as the assistant general manager and was an integral presence behind the scenes in the Flames' recruitment of current superstar, Jonny Gaudreau.
From One Franchise Leader to Another
It was a trade that may have left some fans scratching their heads in Calgary when, following an unsuccessful contract dispute, the Flames shipped their all-time leading scorer (at the time), Joe Nieuwendyk, to the Dallas Stars on Dec. 19, 1995. Coming the other way was Corey Millen and a young kid from St. Albert Alta, who hadn't played an NHL game. That kid was Jarome Iginla, who was playing with the Kamloops Blazers of the WHL. Iginla had a solid NHL rookie season in 1996-97, finishing as a runner-up for the Calder Trophy as the NHL's Rookie of the Year.
'Iggy' would play the majority of his career in Calgary, suiting up for 1,219 regular season games, the most by any Flames player. He was named the 19th captain in franchise history in 2003-04 and would retain that honor for nine seasons until he was traded to Pittsburgh towards the end of the 2012-13 season. Iginla embodied what it meant to be a leader on and off the ice and while he was recognized for his friendly demeanor and infectious smile, he was not afraid to mix it up and drop the mitts in defense of his teammates. He was a six-time NHL All-Star and led the Flames to one win shy of a Stanley Cup in 2004.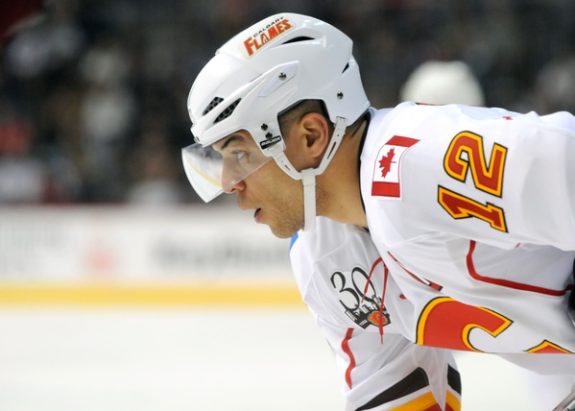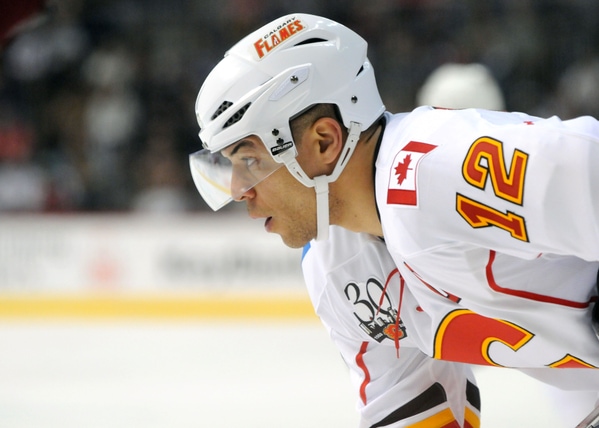 Iginla and Nieuwendyk are the only two players in Flames' franchise history to reach the 50-goal mark twice. Iginla averaged 39 goals per season in his time in Calgary, reaching the 30-goal mark in 11 consecutive campaigns from 2000-2011. He is the franchise leader in a slew of categories including goals (525), points (1,095) and games played (1,219) and is a member of the exclusive 600-goal club. Iginla sits tied for 15th all-time among scorers in the NHL.
Nieuwendyk would play 12 more seasons in the NHL after the trade from Calgary. He won the Stanley Cup with the Flames in 1988-89 and would add two more Stanley Cups to his resume with the Dallas Stars ('99) and the New Jersey Devils ('03).  He was inducted into the Hockey Hall of Fame in 2011, an honor which (the recently retired) Iginla is sure to receive in due time. Both players were significant pieces in a trade that benefited both clubs, but when comparing the numbers, it's clear to see how the deal worked out for Calgary. 
*Stats Comparison following 1995 trade between DAL & CGY
| | | |
| --- | --- | --- |
| | Jarome Iginla      (1996-2017) | Joe Nieuwendyk (1995-2007) |
| Goals | 525 | 250 |
| Assists | 570 | 260 |
| Points | 1,095 | 510 |
| Games | 1,219 | 680 |
Singing the Blues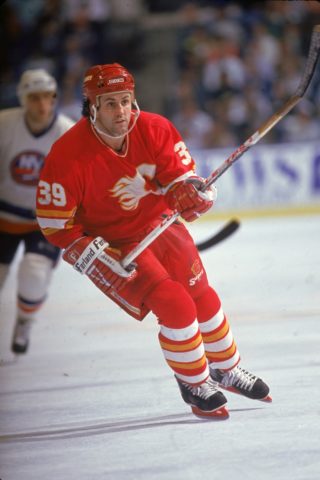 There's no question that trading for Doug Gilmour was an instrumental move for the Flames. Calgary pulled off a seven-player trade with the St. Louis Blues on Sept. 6, 1988, sending Mike Bullard, Tim Corkery and Craig Coxe to the Blues in exchange for Mark Hunter, Steve Bozek, Michael Dark and Doug Gilmour.
Affectionately nicknamed 'Killer' during his time in St. Louis, Gilmour played 266 games in four seasons with the Flames from 1988-1992. He scored 81 goals and added 214 assists (295 points) for Calgary, with his biggest goal coming in the 1989 Stanley Cup Final, with the Flames up 3-2 in the best-of-seven series against the powerhouse Montreal Canadiens.
Gilmour scored two goals in the third period of Game 6. His first tally was scored at 11:02 of the period, assisted by Joel Otto and Al MacInnis, which extended the Flames lead to 3-1. That marker would be the eventual game-winner and the Cup-clinching goal for Calgary, as they defeated the Canadiens 4-2. The Flames are the first and only opposing team in NHL history to win a Stanley Cup in Montreal.
"Just Tell 'Em Lanny Sent You"
If this was a list of all-time greatest mustaches in the NHL, Lanny McDonald would be on it, no doubt. However, the man behind the moustache is greater still and is immortalized in Calgary Flames lore for his contributions to the team and the city over the years.
The Flames traded Bob MacMillan and Don Lever to the Colorado Rockies on Nov. 21, 1981, in exchange for Lanny McDonald and a 1983 fourth-round pick. The trade had immediate positive ramifications for the Flames. Lanny scored 66 goals (98 points) in 1982-83, his first full season in Calgary, finishing second in goals that year to Wayne Gretzky (71 goals).
Related: 7 Worst Flames Trades Ever
Lanny was the ultimate 'character guy' and a true leader. In 1983 he was awarded the Bill Masterton Trophy for his perseverance, sportsmanship and dedication to the game of hockey and was named co-captain of the Flames during their first and only Stanley Cup title in 1988-89. He won the first ever King Clancy Memorial Trophy for his leadership and humanitarian contributions, which was seemingly predestined for the aptly named, Lanny King McDonald, who was given the middle name 'King' at birth as an homage to the man in which the award was named.
Lanny McDonald wrapped his career with the #Flames and his final season featured his 500th @NHL goal, 1000th point and a Stanley Cup win. https://t.co/qMte3GUwqa

— Calgary Flames (@NHLFlames) May 12, 2018
McDonald scored his first career goal in the Montreal Forum in 1973 and would score his final career goal in the very same building, firing the puck past Canadiens goalie, Patrick Roy, at 4:24 of the second period in Game 6 of the 1989 Stanley Cup Final. McDonald was inducted into the Hockey Hall of Fame in 1992, the Alberta Sports Hall of Fame in 1993 and most recently, Canada's Sports Hall of Fame in 2017. His face can be seen at many charitable alumni events in Calgary and his voice is still heard from time to time as a welcome addition on certain truck commercials across Alberta.