In a move that's been anticipated since his hiring, today Calgary Flames president of hockey operations Brian Burke has fired general manager Jay Feaster. Assistant general manager John Weisbrod was also relieved of his duties in the shake-up.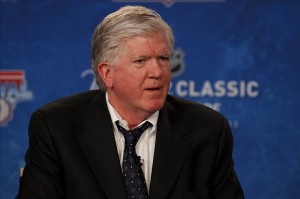 Originally hired as assistant general manager to Darryl Sutter in July 2010 and was promoted to acting general manager that December when Sutter was jettisoned and became the permanent GM following the 2010-11 season. However, during his tenure at the helm of the Flames, the club never, ever made the playoffs. With the team looking to speed up the rebuild, and Burke likely looking to add his own stamp to the franchise, it's likely this move was inevitable.
Weisbrod served as the assistant general manager, focusing on player personnel, from June 2011 until his dismissal. He was the head of the Flames scouting team, with all drafting decisions going through him or Feaster. This system oversaw the last two NHL drafts.
At the press conference following the announcements, Burke noted that no further moves are coming – specifically mentioning that the coaching staff and assistant to the GM Craig Conroy are safe. While he also stressed that he wants the team to be bigger and more physical, he did note that he reached out to Boston College coach Jerry York, who coaches Flames picks Johnny Gaudreau and Bill Arnold.
Burke on Gaudreau, Arnold: "I sent a text to the coach at Boston College and said, 'Make sure your guys know we still love them'"

— Wes Gilbertson (@SUNGilbertson) December 12, 2013
According to Burke, the search for Calgary's next general manager is already underway.
Ryan Pike has covered the Calgary Flames and the NHL Draft extensively since 2010 as a Senior Writer for The Hockey Writers and Senior Contributing Editor of FlamesNation.ca. A member of the Professional Hockey Writers Association, he lives in Calgary.