The first thing you see when approaching Dell Children's Hospital in Austin, Texas is its 145-foot campanile, or bell tower, although instead of a loud, ringing bell, the tower's top portion features what might be considered the opposite of a bell: an abstract adaptation of a habit worn by those paragons of silence, nuns.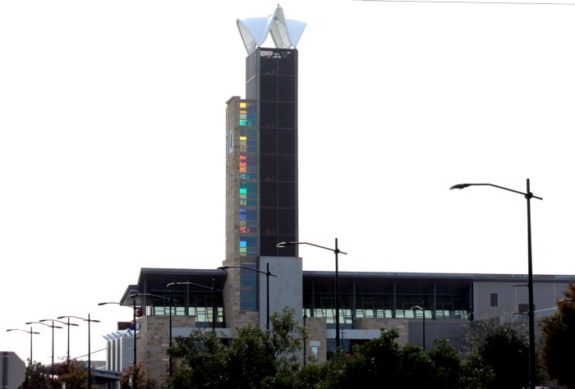 The tower serves a purpose as old as the one served by one of the seven wonders of the ancient world, the lighthouse at Alexandria: a beacon visible from far away to help guide the traveler to safe harbor. The designers added the tower because the hospital is the only freestanding non-profit pediatric hospital in the region, serving 47 counties in central Texas–an area the size of the state of Ohio.
So for example if a child is very sick and lives a hundred miles away, and the only place they can be treated is at Dell, the tower is a signature spot on an unfamiliar landscape, a vision of relief for worried, road-weary families.
The CBCC
Within this 470,000 sq. foot facility is the Children's Blood and Cancer Center (CBCC), the largest pediatric hematology and oncology center in Central Texas, treating kids with everything from leukemia and brain tumors to sickle cell anemia and hemophilia. I can personally attest to the fact that the CBCC is one of the busiest hospital centers you'll ever see, if you are so unfortunate as to require their services. What makes it so busy is not what you might expect: it's busy because the staff works tirelessly to divert the attention of patients and their families from their illness, because otherwise, when your child has for example acute lymphoblastic leukemia (ALL), the most commonly diagnosed childhood cancer, leukemia becomes your life. In the same way that cancerous leukocytes overwhelm the body, leukemia overwhelms a child's life. Astonishingly, nine out of ten patients with ALL will be cured. But being cured takes as long as three years to achieve.
Any diversion to take your mind off of cancer for an hour or ten minutes is a welcomed one. Yesterday, five members of the Texas Stars stepped into that diversionary role and visited the CBCC.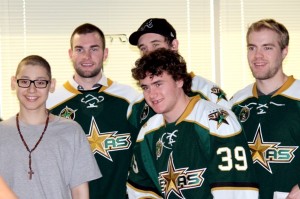 Having been writing about the CBCC since June for the Lymphoma Information Network, I was especially pleased to learn the Stars would be visiting the CBCC. While players visit Dell Children's hospital every year more than once, they had yet to visit the cancer center.
Athletes have a connection to community service, and hockey in North America has a strong connection to cancer (the NHL's Hockey Fights Cancer campaign), so in many senses the visit by Travis Morin, Jack Campbell, Curtis McKenzie, Brendan Ranford and William Wrenn was nothing novel. Of course, good luck telling that to the kids they met– like the teenager who was so thrilled that he handed his phone to a nurse for a photo with the players and then, with autographs and tickets to this Friday's game in hand, forgot to retrieve his phone when he left.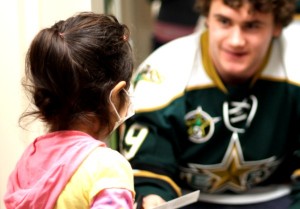 This is however still Texas, and still Austin, where the burnt orange University of Texas Longhorns jersey reigns. Some patients, like the little girl wearing the smock mask, surely had no clue who these big men were, or what their colorful jerseys represented. She seemed at most bewildered. The players seemed a bit awestruck themselves, perhaps taken aback by the sight of a child hardly three feet tall whose illness has so compromised her immune system that she needed to wear that mask. It was a meeting of contrasting lives: on one side, a fragile child fighting a life-threatening illness, and on the other, five powerful young men at the peak of physical fitness.
In light of the courage shown by these children as they face such stark and frightening diagnoses, it is no doubt somewhat obscene to commend the players for their own courage in volunteering to visit the CBCC, but I think it can be done without diminishing the priority or intensity of the former. After all, when a player signs up for such a visit, he doesn't imagine that his presence will spark miraculous and spontaneous cures in these kids. Not even the most philanthropically-driven athlete of all time, Muhammad Ali, has ever believed that he could have that Messianic effect. Whatever their motivations might be– a desire to give back to, or to be involved in, the community, a chance to make a few kids smile, or some other personal reason– the reality is that whether the kids they meet are thrilled or bewildered, their visit had the intended effect on the patients: it made them smile, and if only for a few minutes it diverted their attention away from their all-consuming illness. It is all anyone can hope for. Hockey players at hospitals do not trigger cytotoxic, anti-cancer events in cancer patients, nor does anyone think they might.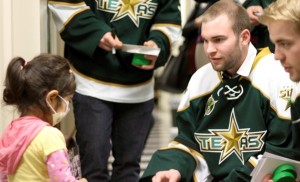 Yet if they created a few smiles on faces that had not smiled in weeks, then to borrow from Jonathan Swift they, like the person who has managed to grow two blades of grass where before only one had grown, have done humankind a greater service than the whole lot of politicians.
Meanwhile the players themselves can't leave the hospital without having been changed or affected. For Travis Morin, a father of two young children, the profound effects are likely a little different than those of Curtis McKenzie, who spent the previous four years at Miami Ohio University, or Brendan Ranford, who spent the previous five in Kamloops, British Columbia.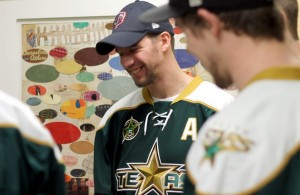 As professional athletes you could argue that they are guys with big egos on the verge of bigger egos, and that they saw the visit in part as self-serving, as a way to boost their image. But had I not been along, their trip would have received no more than a brief write-up at the Texas Stars website. And the truth is that it is jarring and unsettling to see kids with blood disorders, where treatment leaves them looking pail, thin, and androgynous.
Courage and Contribution
It takes great courage to fight such a horrific disease as leukemia, and most of us will be lucky enough to never know just how much courage it takes. It also takes courage to help those afflicted with disease. If you're an oncologist or a health care professional, you train for the skills and knowledge needed to do so. If you're a hockey player you train to play hockey; your therapeutic skills and medical knowledge are no doubt lacking. Those who answer the bell anyway, and volunteer to visit sick kids, are still helping in the one way they can. It doesn't make them heroes, but it's a greater contribution to their community than anything they will do on the ice.
Ross Bonander is a freelance health writer and book editor. He is the editor of 13 quotation collections– six of them hockey-related, including his most recent, Modern Hockey Quotations. His homepage is RossBonander.com.