On May 25, 1989, the Calgary Flames won their first Stanley Cup, winning the sixth game of their final series against the Montreal Canadiens. They became the first (and ended up being the only) team in NHL history to beat the Habs at the fabled Montreal Forum.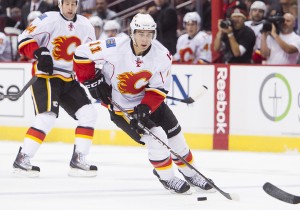 Then they failed to win a playoff series for the next 15 years.
The team's complete lack of follow-up to their 1989 success led some hockey buffs to surmise that a curse was placed upon the franchise by the "hockey gods." The real explanation was economic pressures caused by the plummeting Canadian dollar in the early 1990s, neophyte general manager Doug Risebrough learning on the job without the benefit of mentor Cliff Fletcher (who left to run the Toronto Maple Leafs), and subsequent panic moves as the franchise struggled both on the ice and financially.
The Flames returned to the Stanley Cup Final in 2004, beating three division winners – the Vancouver Canucks, Detroit Red Wings and San Jose Sharks – en route to the championship series. Committing fully to a hard-hitting, offensive-stifling style of play, the Flames took the Tampa Bay Lightning to seven games but fell short in their quest for their second Stanley Cup.
They have failed to win a playoff series for the past 10 years.
The reasons aren't economic – the 2004 series was followed by a lockout that resulted in a salary cap system, and the Flames 2004 run began a string of home sell-outs that continues to this date. In addition, the Flames were run by a succession of fairly successful hockey minds; first general manager Darryl Sutter, then Jay Feaster – who was GM for the Lightning when they won in '04.
Why haven't the Flames won a series in a decade? The big reason may be their drafting, and the inability to find players in the first round that make a difference at the NHL level.
Since 2004, the Flames have made a dozen selections in the first round of the NHL Draft. They are:
2004: F Kris Chucko – retired due to concussions
2005: D Matt Pelech – left organization as a free agent
2006: G Leland Irving – left organization as a free agent
2007: F Mikael Backlund – on Flames roster after bouncing between NHL and AHL for his first few seasons
2008: F Greg Nemisz – traded to Carolina for Kevin Westgarth (who recently left organization as a free agent) after bouncing between NHL and AHL for two seasons
2009: D Tim Erixon – refused to sign with team, traded to NY Rangers for Roman Horak and a pair of picks used to take Markus Granlund and Tyler Wotherspoon; Horak was traded to Edmonton for Ladislav Smid, Granlund and Wotherspoon remain in Flames farm system
2010: no pick; was traded to Phoenix for Olli Jokinen (who was then traded to the NY Rangers for Ales Kotalik and Chris Higgins, neither of which turned into meaningful assets)
2011: F Sven Baertschi – in Flames farm system after bouncing between NHL and AHL for last two seasons
2012: F Mark Jankowski – at Providence College, heading into junior season
2013 (1): F Sean Monahan – on Flames roster after making team as an 18-year-old
2013 (2): F Emile Poirier – likely headed to the Adirondack Flames of the AHL once he's recovered from off-season shoulder surgery
2013 (3): F Morgan Klimchuk – likely headed back for another season with Regina of the WHL
2014: F Sam Bennett – likely headed back for another season with Kingston of the OHL
In terms of NHL assets, the past decade of first round selections have given the Calgary Flames Mikael Backlund, Sean Monahan,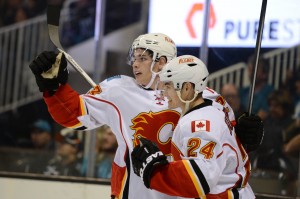 Ladislav Smid and minor leaguers Markus Granlund, Tyler Wotherspoon and Sven Baertschi. Emile Poirier had a great playoff run in the AHL but remains largely unproven, and the Flames have hopes that Jankowski, Klimchuk and Bennett will soon turn into productive pros. But as it stands, the trades the Flames have made to divest themselves of past first round assets have been more fruitful than the draft picks themselves.
As it stands, 12 first round selections have produced Mikael Backlund and Sean Monahan. That's it.
For Flames fans, there are a few reasons for hope, and they're all recent, as the team's gradual acceptance of its lot in life and subsequent rebuild have provided them with some of their highest picks in franchise history – 6th overall in 2013 and 4th overall in 2014. The departure of Darryl Sutter in 2010 coincided with stronger drafting overall – scuttlebutt is Sutter was quite hands-on with picks as a GM – and as a result, the Flames farm system is stocked with more home-grown picks than at any time in recent memory. Of the 41 players with pro deals for 2014-15, 17 of them are Flames draft picks (and that's excluding restricted free agents Joni Ortio and Lance Bouma).
Several of those players will become regular NHLers. But for the Flames to end their decade-and-counting playoff-winning draught, some of their high picks will need to turn into NHL stars and difference-makers.
In short: to win in the first round (of the playoffs), you need wins in the first round (of the draft).