The Calgary Flames' first-round draft pick in 1984, Gary Roberts, played 10 memorable seasons in the Stampede City. He finished his career with the Tampa Bay Lightning over two decades later. He shattered no NHL records and never won an individual award but he played in three All-Star Games. Roberts was also loved by fans in every city in which he played. If it wasn't his skills and accomplishments on the ice, what did he possess that drew so many to him? 
In a word, character. His work ethic, discipline, perseverance and courage endeared him to fans and teammates alike. It's what made him a heart and soul player in more than 1200 NHL games before he hung up his skates at 42 years old.
The Early Days With the Calgary Flames
"Badger" Bob Johnson, Roberts' first coach in Calgary, understood the young player's make-up from his first training camp in 1984, although Roberts only became aware of it after a 1991 encounter between the two. 
In an interview with the Spittin' Chiclets podcast, Roberts recounted how, at the wrap-up session at the end of camp, and in front of 70 other players, Johnson announced: "The worst conditioned player at the camp was my first-round draft pick." Roberts said he was humiliated, but acknowledged that he had failed every fitness test.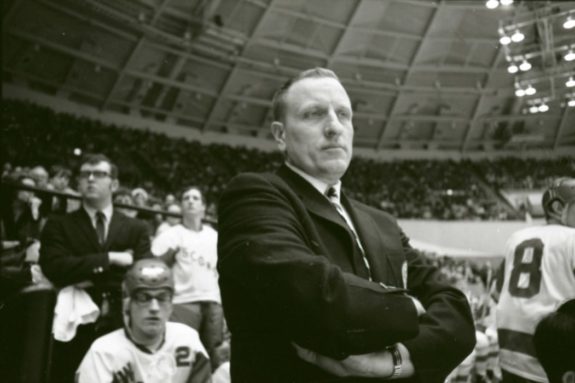 In November 1991, Roberts reluctantly went to Colorado Springs to see Johnson who was dying of brain cancer. As he said good-bye to his former coach, Johnson grabbed him by the arm, pulled him close and in a faint voice said, "Roberts, I knew you were going to make it." 
With tears in his eyes and a lump in his throat, Roberts realized that by calling him out at camp, Johnson was trying to make him understand that he needed to pay much more attention to his fitness if he was to have a long career in the NHL. 
It was a lesson he never forgot and nutrition and conditioning became his obsession. He may not have known it then but that passion and his character would become his salvation throughout his 21-year career in the NHL.  
More Than a Grinder
When asked what it takes to make it in the NHL, Carolina Hurricanes head coach Rod Brind'Amour replied, "Character." He went on to explain that "Skill is really easy to see . . . but there is a whole other part to it when it comes to understanding what a player is going to be five, six or seven years down the road."
Character will determine a player's work ethic, consistency, perseverance and whether they can bring their best to every shift of every game. It decides who has a long career and who lasts for a cup of coffee.
At 6-foot-2 and 215 pounds, Roberts was a grinder who played a tough physical game and wasn't afraid to fight. He was prepared to go to the net and was willing to stay there and take a beating.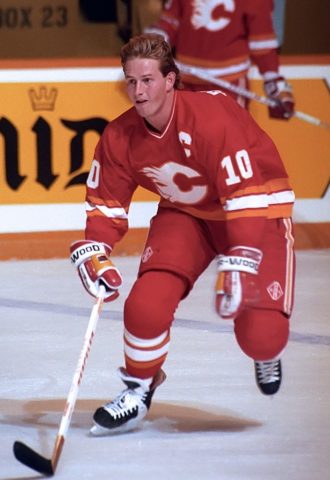 Because of that willingness, he was given the opportunity to play with players much better than himself. In 1989, the Stanley Cup champion Flames had him on a line with Swedish great Hakan Loob and his childhood friend Joe Nieuwendyk. As Roberts explained it on Spittin' Chiclets, "My job was to get the puck to Loob or Nieuwendyk and then charge to the net."
In the 1989-90 season, Roberts played on a line with Nieuwendyk and Sergei Makarov – the Soviet Red Army player who is regarded as Russia's Wayne Gretzky. Roberts continued to explain that he annoyed Makarov because he was always frantically calling for a pass, yelling, "Sergei! Sergei!" Eventually, Makarov pulled him aside and said, "Robs, why you always yell at me? I see you! Just go to net." He realized that what the Russian great was really trying to tell him was, "Shut up kid and go to the net for a tip-in."  
Playing with Makarov during the 1991-92 season, Roberts racked up 53 goals and 37 assists for a career-high 90 points. Roberts further recalled on the Spittin' Chiclets podcast, that Makarov probably assisted on 39 of those goals, and he potted most of them from within 10 feet of the net. 
While still a physical player, Roberts was becoming an offensive threat. After 1991-92, he registered 79 and 84 points, respectively, in the following two seasons. His point tallies in those three years were the best of his career.
Character Tested
In November 1991, the Toronto Maple Leafs' Bob Rouse pushed Roberts from behind as he was heading off the ice on a line change. He went headfirst into the boards and had to be carried off the ice. He had no sensation in his arms, which began five years of pain and nerve degradation in his arms and neck, during which time he played with a weakness in his right arm.
During the Flames' 1994 Quarter-Final series against the Vancouver Canucks, Roberts couldn't lift his arms over his neck. He recalled how head coach Dave King yelled down the bench at him to see if he could take a shift and sometimes he would have to ask the coach for a few minutes so that he could regain the feeling in his arms.
He played with a neck brace that became a target for cross-checks to his back and neck by Canucks defensemen. When he wasn't cross-checked, he was thrown into the goal post, and because he couldn't raise his arms, he had no way to defend himself. The Flames were eliminated in Game 7 of the series as Roberts tried to recuperate over the summer.
Roberts started the 1994-95 season, but he had searing pain in his neck and his arms dangled by his side. He played only eight games in that lock-out shortened season. Roberts remembered one physical exam when the team doctor asked him to hold his arms up. While he could get them up to shoulder level, he could not hold them there. He couldn't put his jersey on, tie his skates or cut his own food.
In early 1995, he was diagnosed with cervical foraminal stenosis-disc degeneration and bone spurs that caused severe nerve damage. His physical, grinding style of play had taken its toll and, as he explained, "I didn't have the right muscle mass in my upper body to withstand the kind of game I played and the abuse my body took."  
After surgery in March and October of 1995, Roberts was able to return to play in January of the 1995-96 season. He played 35 games that season scoring better than a point-per-game and winning the Bill Masterson Memorial Trophy for perseverance and dedication to the game.
As the 1996 Playoffs approached, Roberts promised himself that if his symptoms returned, he would retire. He got hit in a game against the Chicago Blackhawks in the regular season and both arms went numb. He missed the playoffs and decided to retire in June 1996 at 30 years old.
Roberts stepped away from the game, but he missed it terribly. He told Spittin' Chiclets that there was nothing worse than seeing his teammates playing hockey and realizing that he was no longer part of the game. He also didn't have enough money to retire. He tried a job in the sports apparel business but realized his heart wasn't in it and quit. He looked at himself in the mirror one day and realized he wasn't taking care of himself.
Later in 1996, the Flames' conditioning coach Lauren Goldenberg called him and suggested he see chiropractor Micheal Lahey in Colorado Springs known for a treatment called "active release therapy." Roberts agreed and spent a week with the chiropractor, strapped to a massage table much of the time, in tears from the excruciating pain the various muscle and joint manipulations caused. Lahey told Roberts that he just needed time to let his damaged nerves heal. But what he really gave Roberts was something even more valuable – hope.
Roberts returned to Calgary, stopped drinking, changed his diet and hired a strength coach. He also began acupuncture and massage therapy. For months he spent every day with his strength and conditioning coach. As his rehabilitation continued, his pain went away and his mobility returned.
As Roberts explained, he began to think a comeback was possible and rumours spread around the league that he would try. In the spring of 1997, during a playoff broadcast on Hockey Night in Canada, he watched as Don Cherry admonished him. Cherry said, "Gary if you don't try, you'll never know whether you could have." That was the moment Roberts said he decided to make his return to the NHL.
The Long Comeback Trail
In June 1997, Roberts underwent a medical examination with the Flames and passed the physical and fitness tests in impressive fashion. However, his MRI revealed that he was one hit away from being crippled for life. The Flames were not willing to take that chance and traded him to the Hurricanes.
The 'Canes conducted similar tests and were advised by their medical consultants that MRI examinations indicated that offering Roberts a contract would present a huge risk to the organization. Hurricanes general manager Jim Rutherford was told that the team "could sign him to a $2-million deal and he might only play two games."  
Rutherford told Roberts that if he was willing to take the risk, then the Hurricanes were too. He said, "I knew how determined and honest he was. Gary said he was going to be able to play, and I believed him." The team signed him to a three-year deal and Roberts laced up his skates for the start of the 1997-98 season.
Related: One for the Ages: Gary Roberts 1997-98 NHL Season
He was productive scoring over 20 goals in two of his three seasons in Carolina. He was also a mentor to young players. Rutherford said, "He has the ultimate determination to win," and he watched his players emulate Roberts' no-nonsense style and commitment to fitness. Roberts even convinced winger Jeff O'Neill, whom the 'Canes dubbed the McDonald's King, to hit the gym every day. "It's not an easy chore to be a Gary Roberts disciple," O'Neill says. "But he changed the dynamic of our locker room."
Roberts became a free agent at the end of the 1999-2000 season. The Maple Leafs signed him to a three-year, $8 million deal in mid-2000, and Roberts headed back to Canada to play in his hometown. For Toronto fans, he symbolized the grit at the core of the Maple Leafs' character. That season, Roberts played all 82 games and led the team in scoring with 29 goals. Fans adored him, and he became the face of the franchise.
It was not long, however, before his upper body began to reveal the toll that years of injuries and his punishing style of play had taken. During the 2002 Playoffs he swallowed painkillers and anti-inflammatories to see him through to the Eastern Conference Final against the Hurricanes. Rutherford said, "Gary was down there battling the whole time. We were sure he was hurt because he's always hurt. There's always a cost when you play the way Gary plays, but you never know how serious it is and he'll never tell."
In the 2002 offseason, Roberts had six surgeries. The joints connecting his shoulder blades to his collarbones were shaved down. The supraspinatus and bicep tendons were repaired. The labrum cartilage in the front and back was rebuilt. "I remember thinking there was no way I'd ever be able to hit anybody again," Roberts said.
But again he found the strength to go back to the gym, the chiropractors and weight training coaches to rebuild his upper body. In February 2003, he was back on the Maple Leafs' roster playing 14 games in which he scored five goals and eight points. At the end of the 2002-03 season, the Maple Leafs signed him to a one-year contract extension. In the 2003-04 season, he played 72 games and registered 28 goals.
The Mentor
Following the 2004-05 shutdown, Roberts and Nieuwendyk signed two-year deals with the Florida Panthers with the intention of ending their careers together. At the trade deadline in the 2006-07 season, Roberts was traded to the Pittsburgh Penguins. He was brought in to add leadership to a young Penguins team that had not made the playoffs in six years.
Roberts was happy to play a mentoring role, but with his trademark modesty, he questioned whether he was really needed. He recalled on the Spittin' Chiclets podcast, travelling on the team bus when it was announced that the next day would be an optional skate. Someone asked Sidney Crosby whether he was going to skate and Sid quietly nodded. Players whispered to each other, "Hey man, Sid's skatin' tomorrow." The next day the entire team was on the ice. 
However, the young members of the Penguins looked to Roberts as a steadying influence. Many remember watching him during the warm-up in the final game of their 2007 series against the Ottawa Senators – one that they lost in five games – joking with a few of the youngest players as if to remind them that they needed to relax, play their game and have fun.
Related: Stamkos Reached New Heights Training with Gary Roberts
In 2007-08, Roberts was injured and played only 38 games with the Penguins. He broke his left fibula early in the season and was given an ovation for skating off the ice unaided. Pittsburgh traded him to the Tampa Bay Lightning in 2008. At the trade deadline in March 2009, when the Lightning placed him on waivers and nobody picked him up, Roberts decided to retire.   
Roberts' High Performance Centre and Fitness Institute
Roberts' obsession with nutrition and physical fitness not only saw him through a 21-year career in the NHL, but it transformed him into one of the top training and fitness consultants in the sport. Following his retirement, he established the Gary Roberts High Performance Centre and Fitness Institute where he trains many junior players and a who's who of NHLers including Steve Stamkos, Connor McDavid and Phil Kessel.
Roberts has also been hired as a sports science and fitness consultant with the league's newest franchise, the Seattle Kraken and has previously served as a consultant on player development with the Dallas Stars. 
The Measure of Gary Roberts
As Rod Brind'Amour said, character matters. Plenty of players have skill. It's not as rare as many think, and skill alone is never enough to take a player to the NHL much less sustain a 21-year career. What's more, skills are fleeting. Time consumes them quickly, while bad fortune can snatch them away in an instant. Yet, character endures. How it plays out in the arena, as in life, makes those who behold it spellbound. It reveals all that is true and worthy in the human experience.
Roberts' character, and how it helped him overcome his many challenges, is what drew fans to him from the beginning of his NHL career in Calgary to its end in Tampa Bay. Looking back on his career and what he has achieved as a performance and fitness guru after moving on from the NHL, Roberts told the Spittin' Chiclets podcast that, "I wouldn't have changed anything that happened to me along the way. It has made me a better person, made me appreciate the game so much more and it has made me a better teacher today."
---
---