Sweden lost to Finland,3-2, in the quarter-final round at the 2021 World Junior Championships (WJC). Finland got their revenge on the Swedes after losing in the bronze medal game last year.
Sweden's run came to an end in what was their third defeat of the tournament. Their loss to Russia ended their 54-game preliminary round winning streak. Next, they lost 4-0 to the USA to finish third in Group B with a 2-0-1-1 record. 
Sweden started Saturday's game with a 2-0 lead. Lucas Raymond potted his second goal of the tournament to open the scoring, and Elmer Soderblom extended the lead with a power-play goal less than two minutes later. Henri Nikkanen scored Finland's first goal in the second period before captain Anton Lundell scored the tying goal on the power play. Roni Hirvonen then scored the game-winning goal with 25 seconds left in regulation. 
Lucas Raymond Stepped Up
Despite the results of the game, Raymond stepped up for Sweden when they needed him most. Raymond had two points in Saturday's game. First, he scored an amazing goal to give Sweden the lead. Next, he set up Soderblom's power-play goal.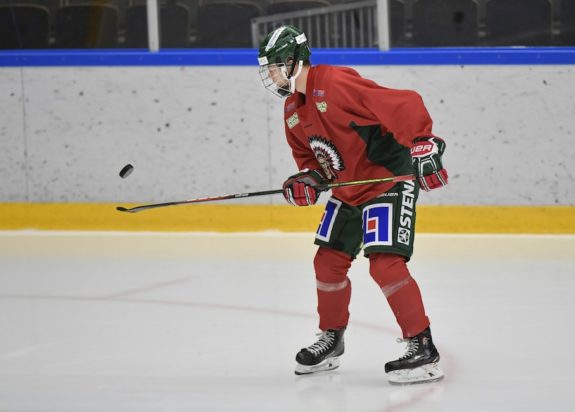 Raymond struggled to convert during the preliminary round of the 2021 WJC. He entered the game against Finland with one goal and three points in four games. Raymond also had 21 shots on goal throughout those four games, which gave him a shooting percentage of 4.8%. He started to perform at the perfect time for Sweden, but his production was too little, too late. 
Soderblom's Skill
The Detroit Red Wings had four prospects on Team Sweden, and two of them stepped up against Finland. Soderblom scored a between the legs goal for the second time at the 2021 WJC. He previously scored a similar goal against the Czech Republic earlier in the tournament. Raymond assisted on the goal, as the two Red Wings' prospects connected to extend Sweden's lead to 2-0. 
Soderblom stands at 6-foot-8 and weighs 238 pounds but has shown impressive skill while playing for Sweden. He can protect the puck with his size and has the skill to finish and score goals. Soderblom finished the 2021 WJC with two goals and four points in five games. 
Finland's Comeback
Finland mounted a comeback after going down 2-0 in the first period. Finland came in second in Group A, with a 3-0-0-1 record, their only loss coming against Canada. Their captain, Lundell, has been a factor in their success so far. He finished the preliminary round with three goals and six points in four games, scoring the game-tying goal on the power play. 
Toronto Maple Leafs' prospect and Lundell's winger Hirvonen was the hero for Finland. With 25 seconds remaining in the thrilling game, he came up clutch to help his country move on to the semi-final round. Finland will play the United States next round. 
Alnefelt's Performance
Hugo Alnefelt had a tough performance against the United States and did not impress against Finland. Alnefelt allowed two early goals from bad angles against the United States and was replaced by Jesper Wallstedt to start the third period. Wallstedt is the highest-ranked goaltender in TSN's Bob McKenzie's 2021 draft rankings. He stopped all 10 shots he faced and was expected to take over the net against Finland.
The decision to start Alnefelt over Wallstedt is questionable. The Tampa Bay Lightning draft pick's performance wasn't terrible as he stopped 28 of the 31 shots he faced and finished with a .900 save percentage (SV%), but Wallstedt proved to be the better goalie throughout the preliminary round. Alnefelt particularly did not look good on the game-winning goal as he struggled to track the puck.
Holtz's Tournament Struggles
Alex Holtz, along with Raymond, was expected to lead Sweden throughout the tournament. Raymond stepped up against Finland, but Holtz struggled. Entering Saturday's game, the New Jersey Devils' 2020 first-round pick had one goal and three points in four games with a 4.8 shooting percentage.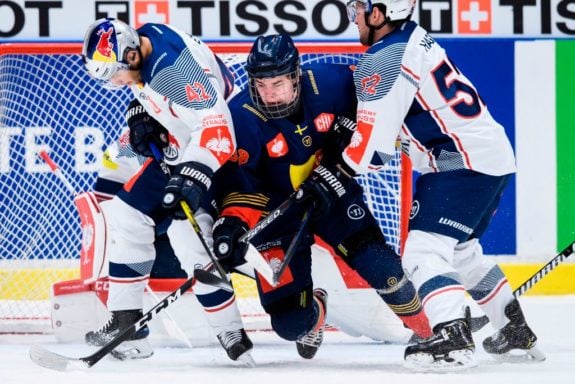 Unlike Raymond, Holtz continued to struggle to finish against Finland. He had five shots on goal, giving him a total of 26 shots on net with just one goal to show for it. Holtz's disappointing tournament is a reason Sweden lost earlier than expected. 
Sweden's Disappointing Tournament 
Sweden entered the tournament shorthanded due to COVID-19. Sweden lost most of their coaching staff and four forwards because they tested positive for COVID-19. Karl Henriksson, who centred Holtz and Raymond in previous tournaments, tested positive. Captain Philip Broberg played throughout the 2021 WJC with an injury and missed the second game against Austria.
Sweden's top players struggled, and injuries hurt them at the 2021 WJC. They will have to wait for the 2022 WJC to win their first gold medal since 2012. 
All the 2021 World Junior Championship Team Information:
Austria — Team Preview — Roster
Canada — Team Preview — Roster
Czech Republic — Team Preview — Roster
Finland — Team Preview — Roster
Germany — Team Preview — Roster
Russia — Team Preview — Roster
Slovakia — Team Preview — Roster
Sweden — Team Preview — Roster
Switzerland — Team Preview — Roster
USA — Team Preview — Roster
Selection Camp Invites by NHL Team
Draft Eligible Players to Watch
One Player to Watch for Each World Junior Team
7 Predictions for the 2021 World Junior Championship