Roni Hirvonen showed the game awareness that made him the 59th overall pick by the Toronto Maple Leafs. With just 25 seconds left in a tied quarter-final game against Sweden, the 18-year-old Finnish centre stayed with the play and used a big wraparound to score. The goal would hold up to be the winner, sending Finland to the semifinal.
It's his first goal of the tournament, but don't let that fool you – Hirvonen has been a big part of Finland's effort. Down 2-1 in the third period, Hirvonen planted himself in front of the net during a power-play opportunity. When the shot came in, he timed his jump perfectly, and the puck was in the back of the net. That kind of effort doesn't make the scoresheet, but it is crucial to his team's success.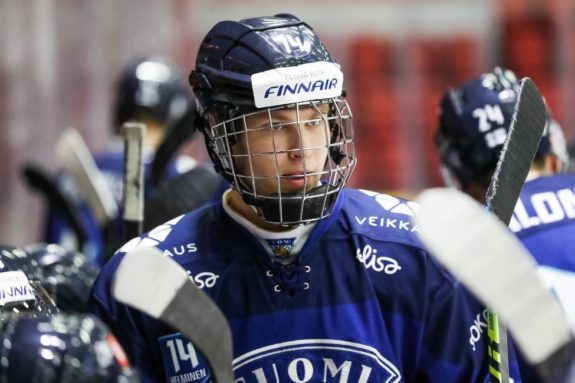 Heading into the game, the 5-foot-9, 172-pound centre had four assists and countless plays to generate opportunities. His size was questioned when he was drafted by Toronto, but his vision, speed, and stick-handling cannot be questioned after a promising performance.
Other Finland Leafs' Prospects Struggle
However, the other two Leafs' prospects who play for Finland had forgettable games. Mikko Kokkonen, Toronto's third-round pick in 2019, was a minus-two in the first period. He had the closest view of both Sweden goals, including being left slack-jawed after Elmer Soderblom's between the legs highlight-reel goal.
Topi Niemela, Toronto's 64th overall pick in the 2020 draft, made a major mental mistake. With his team down 2-0 and Sweden buzzing, he crossed checked a player dangerously close to the boards. He was lucky to only be assessed a two-minute minor penalty and avoided a 10-minute penalty as well. Also fortunate for him, his Finland teammates killed off the penalty, but Sweden was very close to adding another goal. Finland won 3-2.
Amirov Makes Noise but Doesn't Score
Toronto also had three prospects playing for Team Russia during the quarter-final. However, only one of them was on the ice during the game against Germany. Mikhail Abramov was serving a one-game suspension for slew-footing. The Leafs' fourth-round pick in the 2019 draft started the tournament from the press box, but got some ice time due to injuries, while Toronto's 106th overall pick in the 2020 draft, Artur Akhtyamov, served as the backup goalie for Russia.
The one Leafs' prospect who was on the ice for Russia was Rodion Amirov. This kid grabbed a lot of attention with his Auston Matthews-like goal celly. Many were expecting a big game from the first-round draft pick, 15th overall by Toronto. Germany has put forth a valiant effort in the tournament but has been severely short-handed due to COVID-19. Canada took advantage of the situation early in the tournament, scoring 16 against Germany. The stage was set for Russia to do some damage and some young Russians to pad their stats.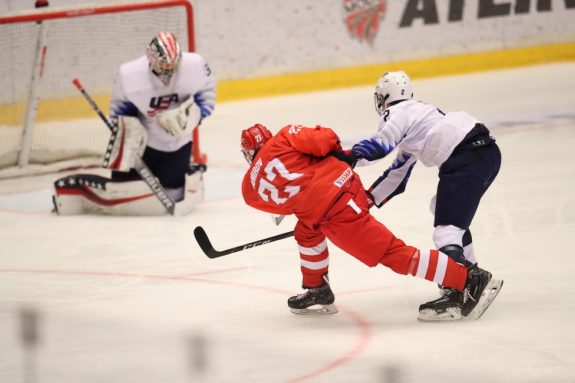 You knew it every time Amirov had a shift. He continually taps his stick on the ice calling for the puck while rarely passing it. He missed on a nice setup in the second period, drawing criticism from the commentators. Craig Button, who was calling the game, noted if Amirov is going to play with Mitch Marner, John Tavares, William Nylander and Auston Matthews, he has to finish plays like that. Russia's high powered offence was held in check, managing just two goals and no points for Amirov. It was a 2-1 Russia win.
While Hiroven was the only bright spot for the six Leafs prospects on quarter-final Saturday, all of the players advanced to the semifinal round. This gives them another chance to impress the team that drafted them and a passionate fanbase looking for its future stars.
All the 2021 World Junior Championship Team Information:
Austria — Team Preview — Roster
Canada — Team Preview — Roster
Czech Republic — Team Preview — Roster
Finland — Team Preview — Roster
Germany — Team Preview — Roster
Russia — Team Preview — Roster
Slovakia — Team Preview — Roster
Sweden — Team Preview — Roster
Switzerland — Team Preview — Roster
USA — Team Preview — Roster
Selection Camp Invites by NHL Team
Draft Eligible Players to Watch
One Player to Watch for Each World Junior Team
7 Predictions for the 2021 World Junior Championship
---
---

Kevin Armstrong is an award-winning journalist with more than two decades of experience. He's been rink side for World Juniors, Memorial Cups, Calder Cups and Stanley Cups. Like many Canadian kids, his earliest memories include hockey. Kevin has spent countless hours in arenas throughout the country watching all levels of the game.