When the Toronto Maple Leafs made the 15th overall selection in the 2020 draft, I immediately Googled Rodion Amirov, and read THW's Prospect Profile. But now Leafs Nation knows exactly who this kid is after an impressive showing to start the World Juniors. It seems he knows them, too. After the Russian scored a beauty against Sweden, he gave Toronto a sign, and it was heard loud and clear.
Not only did he imitate Auston Matthews's celly, but he also did it in the same situation. The 19-year-old had a goal waved off, just like Matthews did in the 2017-18 season against the Colorado Avalanche. The disallowed goal seemed to fire up Matthews just like it fired up Amirov. Not only were they more determined to right the wrong, but it also amplified the goal celebration. Amirov made the good goal motion, pointing to the net like Matthews; he also made noise with his teammates all the way back to the bench.
Intended or not, Leafs Nation took the goal motion as a special shout out to Toronto. Twitter lit up with comments, and within minutes there were videos on YouTube editing the Matthews and Amirov goals together. Pretty impressive for a prospect playing for Russia, who won't get close to NHL ice for a season or two, to get the fanbase excited. One simple motion. It could not have been made more evident as somehow that signal is tied to Matthews.
It is Matthews' Celly
Sure, some will say the celly doesn't belong to Matthews, but even the competition has linked it to him. You may recall at the All-Star game when the Buffalo Sabres Jack Eichel did the good goal sign to thank linemate Matthews for the setup.
Kapanen for Amirov & Hallander
It's important to remember how the Maple Leafs got Amirov. They sent Kasperi Kapanen to the Pittsburgh Penguins as part of a six-player deal. Toronto got Evan Rodrigues, who was not re-signed by Toronto and subsequently signed with Pittsburgh, David Warsofsky, who has been put on waivers, Filip Hallander, a developing prospect in a crowded forward group. The trade also included Pittsburgh's 15th overall pick in the draft.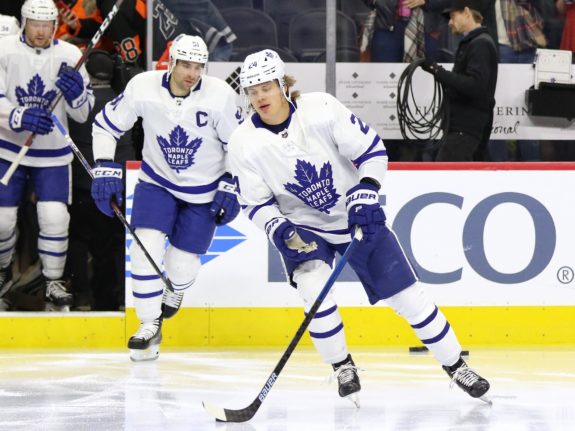 So, Toronto got rid of a speedy, solid third-line winger (who got time in the top six) for nothing in the near term. We knew general manager Kyle Dubas was making some money available while dealing with a very tight salary cap. Still, the die was cast. That draft pick will always be compared to Kapanen, who will now play on the Penguins' top line with Sidney Crosby.
Development Is on Track
There are skeptics, of course. Amirov doesn't have big numbers in the Kontinental Hockey League, with 8 points in 27 games. He is six feet tall but a slim 168 pounds. Surely Toronto will put some weight on him, and countryman Ilya Mikheyev will feed him some soup.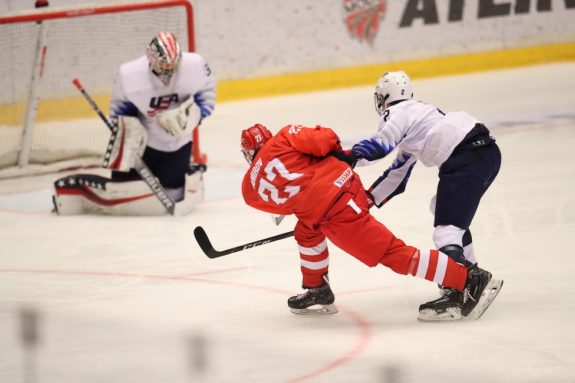 While he is playing well at the World Juniors with two goals and four assists in the four round-robin games, he is not dominating – yet. Amirov's play is certainly noticeable playing on Russia's top line with Marat Khusnutdinov, the 37th overall pick by the Minnesota Wild. Both players will be looking to bolster their stats when they play Germany in the quarterfinal. Germany was destroyed 16-2 by Canada in their opening game of the tournament.
You've done it, kid; you've got the attention of Leafs Nation – both good and bad. Now what he does with that spotlight is up to him. However, if you are going to play in Toronto, you might as well get used to the attention now.
All the 2021 World Junior Championship Team Information:
Austria — Team Preview — Roster
Canada — Team Preview — Roster
Czech Republic — Team Preview — Roster
Finland — Team Preview — Roster
Germany — Team Preview — Roster
Russia — Team Preview — Roster
Slovakia — Team Preview — Roster
Sweden — Team Preview — Roster
Switzerland — Team Preview — Roster
USA — Team Preview — Roster
Selection Camp Invites by NHL Team
Draft Eligible Players to Watch
One Player to Watch for Each World Junior Team
7 Predictions for the 2021 World Junior Championship
---
---

Kevin Armstrong is an award-winning journalist with more than two decades of experience. He's been rink side for World Juniors, Memorial Cups, Calder Cups and Stanley Cups. Like many Canadian kids, his earliest memories include hockey. Kevin has spent countless hours in arenas throughout the country watching all levels of the game.