With the 59th Pick in the 2020 NHL Entry Draft the Toronto Maple Leafs Have Selected Roni Hirvonen From the Porin Ässät of the Finnish Liiga
About Roni Hirvonen
Similar to projected lottery pick Marco Rossi, Roni Hirvonen is an undersized center who uses his high-end skill and vision to impact the game. However, unlike Rossi, Hirvonen lacks the lower-body strength needed to neutralize some of the issues that could prevent the diminutive forward from developing into an impact player in the NHL.
Related: Our Free NHL Draft Guide
Combining truly exceptional puck-handling skill with great vision and hockey sense, Hirvonen is a dangerous player with the puck on his stick. He doesn't have an elite shot, and his skating isn't great, but he's willing to go to the dirty areas of the ice and plays a solid, energetic two-way game. While he may ultimately move to the wing, the only things that should stop Hirvonen from making it as an everyday NHL player would be a failure to develop his lower-body strength and improve his skating.
THW Prospect Profile Excerpt
At 5-foot-9, 163 pounds, Hirvonen is on the small side for your prototypical NHL center, but his puck control, smooth hands and vision are what make him an exciting prospect. He's a relatively average skater who lacks explosiveness, which may come as a surprise considering his size. But, he does have agile feet and a quick upper body that allows him to maneuver and dangle with ease – and that actually makes him one of the better puck handlers in this draft.
It bodes well for Hirvonen that he earned decent ice time for an 18-year-old center playing in a men's league – he often saw north of 15 minutes per game. He spent much of the season in Ässät's top-six, playing with seasoned wingers and being deployed on the power play as well. With that in mind, his stat line of 16 points in 52 games could be better, but it's still impressive for a young, undersized prospect in his first professional season against men.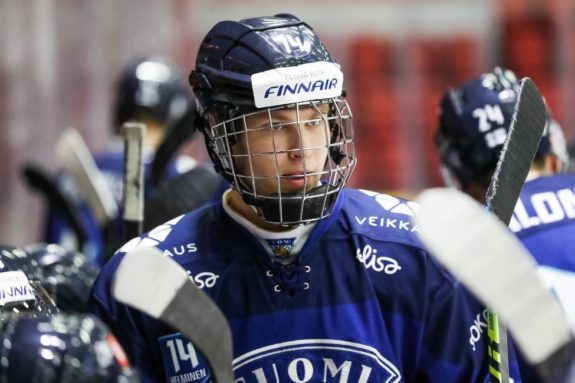 He has the sharp offensive instincts to set up his teammates and scores most of his goals battling in front of the net. However, he often gets out-muscled by bigger defensemen in one-on-one battles. His skating lacks explosiveness and power, and his shot could also use some work. It may take several years for Hirvonen to be viable at the NHL level, but with the proper conditioning training, he could become a serious threat.
He's a high-intensity player who likes to have the puck on his stick. When he doesn't have the puck, he'll force his way to the front of the net where he battles for rebounds and tip-ins. Despite being undersized, he has no hesitation to drive the net, and he excels in the role of net-front presence.
How This Affects the Maple Leafs' Plans
Hirvonen is probably a few years away from sticking in the NHL, which may be seen by some as an issue in an organization like Toronto that is clearly in win-now mode. However, as the Leafs core continues to age and other players price themselves out of Toronto's plans, a young player like Hirvonen could be a huge asset. A high-motor player with a high hockey IQ and the skills to match, Hirvonen has also earned praise for having a complete game. If he can develop his skating to the point where it's not a major liability, he could develop into a solid depth piece for Toronto down the line.
---
---