Heading into the 2013-14 season, the Calgary Flames were subject to low expectations. Considering the team had jettisoned arguably their three best players via trade or retirement and featured a roster with a lot of new faces, it's not shocking that many fans and pundits pegged the Flames to finish near the bottom of the NHL standings.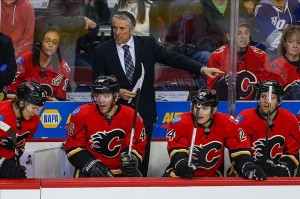 The integration of the teams newcomers and young players was expected to take some time and with a core group still fairly new to playing with each other, the expectation was that the Flames would need some time to gel. With the team entering into an admitted rebuilding phase, the thought was that the club would face some bumps in the road early-on as the group got used to each other and to head coach Bob Hartley's systems.
To say that their season-opening three games was surprising is a bit an understatement. At the first intermission of Calgary's visit to Washington, with the Flames up 3-0, TSN analyst James Duthie jokingly proclaimed it the "fastest rebuild ever!" After the game, he took to Twitter to clarify TSN's pre-season predictions.
As we said in our season predictions, Flames will be dominant this year. #ifyouplayitbackwards

— James Duthie (@tsnjamesduthie) October 3, 2013
On the whole, the Flames went 1-0-2 over the opening week: losing 5-4 in a shootout in Washington, beating Columbus 4-3 and losing 5-4 in overtime against the Vancouver Canucks. Flames winger Lance Bouma noted that points in three consecutive games, particularly against three talented teams, is an encouraging sign for the club's new direction.
"It just shows that the hard work pays off," said Bouma. "We're not a team that's going to out-skill a team. We're going to have to work hard every night and I think that's what we've done for most of the games that we've played so far and we're going to have to continue that to have success."
If you had said last week the Flames issue would be holding leads, I would have laughed in your face, maybe even accidentally spit a little.

— Darren Haynes (@DarrenHaynes_CP) October 7, 2013
The Flames have led in each of their three games this season, but lost two of three games, albeit in extra time. They lost in Washington because of penalty trouble, they lost against the Canucks due to too many turnovers. Despite these hiccups, Flames head coach Bob Hartley explained that he's generally happy with the way his team has played.
"If it was because of a lack of commitment or a lack of work, I'd be very worried. But it's either a lack of experience or right now a lack of execution, and that's my part. I'll take their responsibilities. We need to keep moving forward with those players, keep pushing them, keep motivating them…" said Hartley. "I think that we're capable of being a blue collar team that will be playing better and better."
Hartley attributed some of the cohesion in the group to the up-tempo training camp – Bouma agreed that the intensity of camp set the team up well for the beginning of the season. In addition, the fact that there was no NHL lockout, that the beginning of the season was a certainty and that the coaching staff could work with the players throughout the off-season, likely contributed a role. Hartley noted of this season: "It was not like a first date."
Through three games, the Flames have four points. The team is remarkably consistent for a group featuring so many new faces, including an 18-year-old center that was just drafted in Sean Monahan. That said, the rebuild most definitely is not over. The team, despite the encouraging results, has a few holes in its play and some rough spots to smooth out.
"We have work to do," said Hartley. "We're not celebrating and we're not happy of where we're at. We should have six points, we're not gonna get away from this and, we're disappointed but at the same time, we're not living in the past. Today's another day and there's nothing unfortunately we can do about the results. We can only improve our process and that's what we're trying to do."
The NHL regular season schedule was released on Friday. Check out our partners at TiqIQ for the best deals on Calgary Flames tickets for all 2013-14 games.
Ryan Pike has covered the Calgary Flames and the NHL Draft extensively since 2010 as a Senior Writer for The Hockey Writers and Senior Contributing Editor of FlamesNation.ca. A member of the Professional Hockey Writers Association, he lives in Calgary.