With the Calgary Flames now having played a quarter of their 82-game schedule, it's becoming more clear what kind of team they are, and what they're capable of. Although it's still early, it's safe to say the Flames are a playoff team. How far they may be able to go in the playoffs, though, will have to wait until April.
As is the case with all teams, there are areas of the game to be encouraged about, as well as areas to be concerned about. Luckily for the Flames, the positives have outweighed the negatives so far this season, leading to an overall solid start to the campaign.
Mighty Mike Smith
To say Mike Smith has been good for the Flames so far in his tenure would be an understatement. The 35-year-old has been the most valuable player on the team through the first quarter of the season, guiding them to 11 of their 12 wins. On multiple occasions, it's even safe to say the Flames wouldn't have won the game if Smith wasn't between the pipes.
As of Nov. 23, he boasts a 2.51 GAA and a .925 save percentage, his best numbers in those categories since the 2011-12 season. He's faced a whopping 616 shots in the same timeframe, and has turned aside 570 of them, second only to Frederik Andersen in both shots-faced and saves. Smith's always been known to play his best when he faces a high volume of shots, and he's certainly proved that to be true so far.
"I don't think we'd be in the position we're in today without him," said Flames forward Johnny Gaudreau in a Calgary Sun article. "For those first 10 or 15 games, I don't think we were playing our best hockey and he found a way to get us a couple of huge wins – more than a couple huge wins – in that time span. So I don't think we'd be in the position where we're at today if it wasn't for him."
Related: Flames Future Bright Between the Pipes
Eddie Lack Underwhelming So Far
Sure, it's been a very small sample size of seeing Eddie Lack in action this season, but for the time he has between the pipes, it hasn't been pretty. In the four games he's appeared in, he owns a 5.29 GAA and a .813 save percentage.
I don't see #Flames winning too many games with Eddie Lack in net. Last time he played Steady was in 2014/15.

— Harpreet Pandher (@HarpPandher) November 16, 2017
With what Lack has shown so far, a lengthy injury to Smith could be disastrous for the Flames. It also makes it tougher for Glen Gulutzan to rest his number one goaltender when his confidence level in the backup is so low.
Lack has no doubt had success throughout his career, even playing behind worse teams defensively than the Flames, so the cause of his early struggles is a bit of a mystery. Perhaps it's just a matter of needing more ice time, or a matter of confidence, which would come with more ice time, a practice that would also give Smith some much needed rest. But no matter which way you look at it, the backup goaltender situation needs to be addressed sooner rather than later, even if it means looking elsewhere for help.
Top Line Terrorizing the Opposition
A big question mark entering the season was who would be playing alongside Gaudreau and Sean Monahan. Troy Brouwer had his shot, Jaromir Jagr had a brief chance, and Curtis Lazar was also given an opportunity. Then, there's Michael Ferland. Since he joined Monahan and Gaudreau on the top line, the trio has been unstoppable.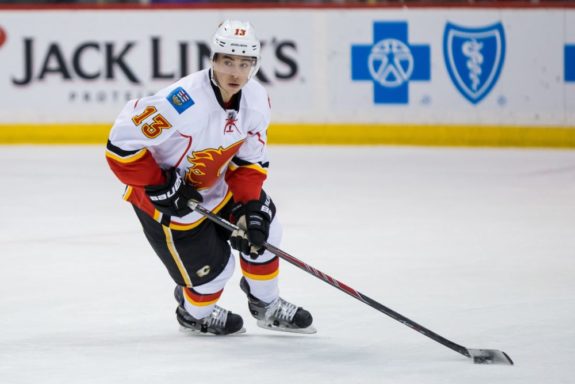 With Gaudreau at 31 points (10 goals, 21 assists), Monahan at 22 points (12 goals, 10 assists), and Ferland at 12 points (eight goals, four assists), all three are on pace to smash their current career-high numbers. But, more importantly, the Flames appear to have finally found the solution to their first line right wing dilemma — a solution they've been seeking ever since the departure of Jiri Hudler. Although they may not seem as lethal, on paper, as other top lines like Steven Stamkos, Nikita Kucherov and Vladislav Namestnikov or Jaden Schwartz, Brayden Schenn and Vladimir Tarasenko, they're undoubtedly right up there with them.
"They're our top guys," said Flames forward Jaromir Jagr in a Sportsnet article. "They play unbelievable. The way they play every night is the reason why we have the record we have."
Related: Is Johnny Gaudreau Elite?
Mark Jankowski's Time to Shine
In the eyes of many Flames fans, Mark Jankowski's addition to the Flames roster was one that should've happened before the season began, instead of him having to wait for an injury to Jagr to open up a roster spot. Regardless, he's with the big club now, and isn't going anywhere.
Not only has Jankowski been offensively effective himself, he's also a big reason why Sam Bennett's game has been revived from the sluggish start he was having.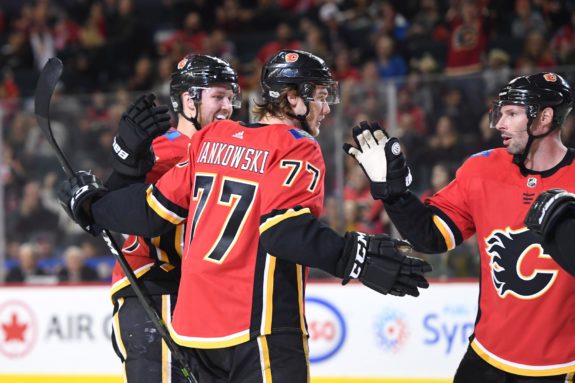 Since receiving the call-up from the Stockton Heat on Oct. 24, Jankowski has tallied four points (three goals, one assist) while centring a line between Bennett and Jagr for the majority of his 13 games. His arrival also allowed Bennett to be pushed over to the wing, a position he appears much more comfortable at. Given the positive impression Jankowski has made so far, and the chemistry he's developing with Jagr and Bennett, expect him to be a mainstay with the Flames going forward.
Related: Can Jankowski Ignite the Flames?
"I was there the day he was drafted, and we said it was going to be awhile. And it has been awhile," said Flames assistant general manager Craig Conroy in a Calgary Sun article. "We're just happy that he's up, that he's playing in the NHL. He's doing what we thought. A long time coming, and now it's here."