What a game.
There were plenty of fireworks, bursts of offense and genuine emotion between two teams that have no history of a rivalry. No, not Superbowl LI, but a fantastic contest between the Calgary Flames and New York Rangers in a matinee before the big one.
Matinee games are often a challenge for teams that rarely play in them, so for the Flames heading into Madison Square Garden to play an afternoon tilt against one of the league's best was not going to be easy. While they came up short, there were a lot of positives to draw from the game, and – following a couple of big wins last week – this loss is one that the team can swallow.
Finding Their Groove Again
Despite the loss on Sunday afternoon, the Flames capped off a very tough week by winning two of three, including a crucial win on Wednesday against the Minnesota Wild.
Beyond the results, certain players who have been struggling are now becoming un-stuck. Sam Bennett is starting to find his way again, Kris Versteeg has been doing everything well of late (aside from tying down his jersey), and Michael Ferland quietly has two goals and three points over the past four games.
Versteeg ejected for not tying down his jersey pic.twitter.com/4FuQiywMsY

— steph (@myregularface) February 5, 2017
Scoring depth has been an issue for the Flames all season, so it's going to be up to Ferland, Versteeg, Bennett and others to step up, and perhaps even play over their heads if Calgary wants to be playing in late-April. With the team's bye week coming up, it will be interesting to see if those players can continue to perform after the break and down the stretch.
[irp]
Not Everyone Gets a Passing Grade
This horse has been beaten to death all season, but Dennis Wideman is no longer good enough to play the minutes he's being given by coach Glen Gulutzan. It was obvious in every one of the Flames' contests last week.
It does not take an expert to see that Wideman is struggling in nearly all facets of the game, and yet he still averages over 20 minutes per game. Over the course of the year, in fact, Wideman is third on the team in average ice time – even ahead of Dougie Hamilton.

The speed of the game has unfortunately passed the veteran d-man by, as he is consistently behind the play, out of position and losing races to the puck.
This makes you wonder what else someone like Brett Kulak has to do to earn a shot at playing top-four minutes alongside TJ Brodie. Wideman has proven time and again that he isn't able to handle those minutes anymore, so why not give someone else a chance?
Does Wideman Have Any Trade Value? https://t.co/mcR089JgiE #THW #NHLFlames pic.twitter.com/pzgljO5Qn4

— Dean Plunkett 🏴‍☠️ (@DeanPlunkettTHW) February 6, 2017
Beyond this, moving Wideman down to the third pairing and seeing what he can do in that role would be worthwhile, as he may be worth re-signing next season on a cheap deal to bolster the bottom pairing.
Quiet Week Ahead
Following a tough contest on Tuesday night in Pittsburgh against the Penguins, the Flames will begin their five-day bye week starting Wednesday that lasts through the weekend.
For some time now, calculating the Flames' true playoff positioning has been an exercise in figuring out what other teams might do with their games in hand. Now comes the week of reckoning, where other teams will catch up in games played and the road ahead will clear up a bit.
Trailing the Edmonton Oilers by nine points for third in the Pacific Division, it looks as though the Flames won't be in that conversation, and must now concentrate on the six-horse race for the two wild-card spots in the Western Conference.
[irp]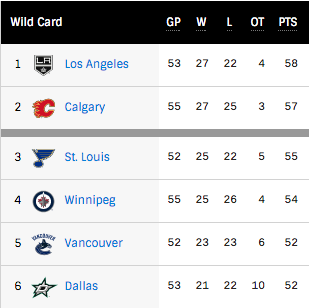 Sitting near the Flames are the LA Kings and Dallas Stars, who each hold two games in hand, while the St. Louis Blues and Vancouver Canucks each hold three. Also in the mix are the Winnipeg Jets, although they have played the same 55 games as Calgary.
The Flames are holding onto the final playoff spot with a two-point lead over the Blues. The last game before the bye week will go a long way to determining the Flames' position coming out of the break. A big win against the Penguins tomorrow night might be enough to see them holding onto a playoff spot when they return to action next Monday.