Dennis Wideman certainly still has some offensive gas left in the tank, but it has become more and more clear over the past year and a half that the 33-year-old blueliner is nearing the end of the road and is no longer capable of playing the minutes he once could.
With a deal worth $5.25 million per season expiring at the end of this year, the top priority for Calgary Flames' management over the coming months must be to shore up the team's top four and find some help for TJ Brodie on the second pairing. While Brodie has certainly struggled this year, he has also been responsible for carrying players like Wideman and Deryk Engelland through tough minutes on most nights.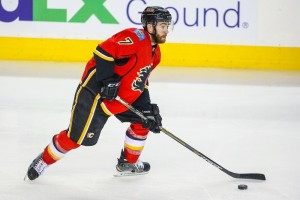 While Calgary has a few promising prospects coming up on the back end, none of them are ready for top four minutes, and the Flames might need to bring in a more proven NHL commodity in order to take the next step. Calgary also has the space and resources to do so, as the Flames have only nine forwards, three defensemen and zero goaltenders under contract beyond this season, along with $22.4 million in cap space (per CapFriendly.com).
This leaves two questions: Who should the team target, and would it be best to bring this help in via trade or free agency?
Buy Now, or Wait?
Prior to the season, there were plenty of young, capable, defensemen allegedly on the trade block from various teams. From the much publicized Travis Hamonic trade request to Jacob Trouba's holdout, and Cam Fowler being the likely casualty of the Anaheim Ducks' cap issues, there were plenty of quality young players apparently available for the right price.
Since then, Travis Hamonic has rescinded his request, Jacob Trouba signed a two-year deal, and Cam Fowler no longer appears to be on the block, as the Ducks managed to work out their cap issues by placing Simon Despres and Nate Thompson on long-term injured reserve. Taking that into consideration, along with the extremely steep prices those general managers were asking for in return, it might be best to instead look ahead to the free agent class this off season.
Impending Free Agents
Cody Franson
Franson is wrapping up the second of a two-year deal that sees the Buffalo Sabres paying him just over $3 million per season. This deal came after signing three consecutive one-year deals with the Toronto Maple Leafs when Franson headed into each summer as a seemingly prime candidate for a long-term deal.
While the hype around Franson isn't as rabid as it once was, this is in all likelihood due more to where he is than how he is playing.
Franson has been performing well in Buffalo over the past season and a half, despite the lack of talent around him. With advanced numbers that show him holding his own as a clear top four option both offensively and defensively, Franson is able to eat up reliable minutes and still chip in on offense.
The Sabres, meanwhile, have depth on the blue line, some good young pieces coming up, and a need to supplement their forward group more. Franson may be looking for a new home come July 1st, and – after years of short-term deals, and prior interest from the Flames – Calgary may be able to land the 29-year old on a value deal over a medium term.
Brendan Smith
Smith has drawn his fair share of criticism from Detroit Red Wings fans and media, as the former first-rounder has yet to quite live up to the offensive potential he flashed at Wisconsin, where he was a finalist for the Hobey Baker award in 2010. It might sting that much more for some in Detroit knowing that PK Subban was taken 16 picks after Smith in the 2007 draft.
With that said, Brendan Smith has consistently maintained a high level of play with the Wings, despite not lighting the lamp as often as some would like.
In signing Brendan Smith, the Flames would be bringing in a player with a lot of upside potential, heading into his prime as a defenseman, and certainly capable of stepping into a spot on Brodie's right side (while Smith shoots left, he is capable of playing on both sides). While not as offensively proven as Franson, Smith is two years younger (27), will likely come with a lower price tag and would join a defensive group already ripe with offensive talent.
So often, teams give up on talented NHL players simply because they don't quite meet the lofty expectations given to them on draft day. Treliving may have the opportunity to take advantage of this with Smith, either on July 1 or perhaps even in a low-cost trade should the Wings continue to fall out of the playoff race.
Ultimately, things may change, and should the Flames find themselves as buyers, there may be some more options available via trade before the deadline. But, considering the lofty price tags most GMs were asking earlier in the season for top-four defensemen, it might be a better idea for the Flames to wait it out and try to upgrade their top four via free agency this summer.
In the meantime, Dennis Wideman will just have to do alongside TJ Brodie, or this could also be an excellent opportunity to give a player like Brett Kulak a bigger chance with the NHL club. Once the summer comes, though, Treliving needs to do something to balance out and bolster the defensive core of this team.
Calgary-based writer covering all things Flames. Follow me on Twitter @glenneberth