Brenden Dillon has solidified a home in the San Jose Sharks bottom pairing since arriving from the Dallas Stars and especially this year. San Jose jettisoned Roman Polak, who spent 24 regular season and 24 playoff games on Dillon's right side, and brought in underrated David Schlemko to add some more puck-moving ability to the Sharks final defensive pairing. Over the summer, the Surry, British Columbia native worked hard on his skating and reviewing video of top NHL defenseman that play on their off-side. The extra work this summer resulted in greatly improved play for the Sharks defender.
Partners Change, Dillon Remains
Dillon has been a Swiss-army knife on the blueline for the Sharks. He's locked down a spot and played up the lineup as well.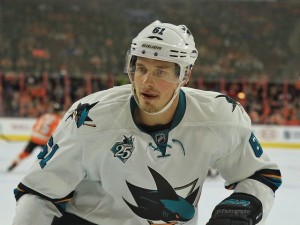 Since Marc-Edouard Vlasic went on the injured-reserve list, the 6'4, 230-pound Dillon has played in the middle pair with Justin Braun. He has spent most of the season with newcomer David Schlemko but also seen time with Dylan DeMelo with whom he skated with over 40 games last season as well. No matter who his defensive partner is, Dillon says communication is key.
"Personally, I think it's just before the game whoever I do happen to be with, to communicate with them and make sure we're on the same page," Dillon said when asked about his rotating partner list during the current season. "It's one good thing about this coaching staff for sure. They make sure all 20 guys that are in the lineup know what's expected of us and know what the expectation and system is."

"When I am playing Schlemko, there are certain things I know he has tendencies of, and DeMelo the same. For our whole defensive core during the course of the game whether it's a penalty or a power play, sometimes guys get switched up. You just have to do the best with what's given to you," Dillon said.
"I think for DeMelo and me, he's going to bring a steady game, just getting pucks out. For me when he's coming in, I know that's what expected of him, and he doesn't try to change too much. For Schlemko, it turns a little bit of more an offensive, higher risk output. For me you just kind of tweak that in your mind."
Skating A Key Improvement
One area of the game that Dillon worked on before the season was his footwork and overall skating ability. The improvement to his game in all three zones of the ice has seen a more positionally sound Dillon compared to last year. It was an area that he put the work in and now both he and the Sharks are benefiting from the increased mobility of the physical defenseman.
Don't mess with @BDillon04.#SJSharks pic.twitter.com/b2wJgNOB82

— San Jose Sharks (@SanJoseSharks) December 24, 2016
"This summer I really tried to focus on my skating. I think that's helped my game leaps and bounds. Everyone from the coaching staff to my teammates to other guys that have been commenting on it. For confidence as well, when you know you can join the play when you know you can skate. Whether it's bringing the puck out of our zone or getting to the offensive zone to create some more offense, it makes the game a little bit easier. Trying to combining that with what's been staples to my game of being physical and being able to add that other dimension of being able to skate the puck and be a more mobile player has definitely helped."
Advanced NHL career statistics
Corsi (EV)
Season
Age
Team
Lg
GP
TOI
CF
CA
CF%
CF% rel
2011-12
21
DAL
NHL
1
15.2
20
19
51.3
4.1
2012-13
22
DAL
NHL
48
882.9
822
807
50.5
2.7
2013-14
23
DAL
NHL
80
1472.7
1401
1406
49.9
-1.3
2014-15
24
TOT
NHL
80
1437.8
1444
1374
51.2
0.7
2014-15
24
DAL
NHL
20
369.1
361
345
51.1
1.7
2014-15
24
SJS
NHL
60
1068.7
1083
1029
51.3
0.4
2015-16
25
SJS
NHL
76
1181.7
1074
1099
49.4
-2.9
2016-17
26
SJS
NHL
37
551.8
525
480
52.2
1.4
4 yrs
DAL
NHL
149
2739.8
2604
2577
50.3
0.5
3 yrs
SJS
NHL
173
2802.2
2682
2608
50.7
-0.8
Career
NHL
402
6979.8
6730
6559
50.6
-0.2
Natural Side Matters…A Bit
The left-handed Dillon also adjusts his game based on which side his partner shoots as well. Dillon spoke at length about the nuances of different defensive partners and some of the offseason work he did to prepare for Schelmko's arrival on the Sharks blueline.
"I think the biggest thing when you're going 'D to D' if it's on the offensive blue line or the neutral zone just knowing if your passing to this side or that side. There's definitely benefits to both. There're some coaches that it has to be lefty-righty. For me and [Schlemko] it was kind of 'if I get out there on the right side I'll just stay there. I think coming into this year when we had signed 'Schlemmer' and that was probably who was going to be my partner, I just tried to look at some video of guys that play the off-side," said Dillon.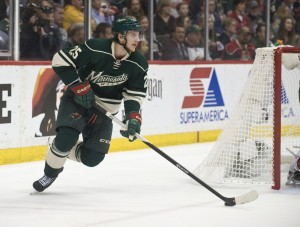 "Guys like in Minnesota's Jonas Brodin played with [Ryan] Suter a lot. Niklas Hjarmalrson plays the offside a lot. You talk to some of those guys, and it's obviously when your rotating left-side, right-side a lot during a game it can get a little bit much. Once you know what you're going to be into during that game, it's 'Ok, this is what my mental mindset will be' and what to expect."
When asked if he thought handedness matters on the blueline, Dillon said there are mild advantages but nothing he has not encountered in his seven-year NHL career.
"A little bit, there's pluses and minus to both. I think when you're coming back defensively, and a guy has a step on your right side being a lefty, the stick is a foot or two further in front. Hopefully, you don't put yourself in that situation, but if you're on the left side, you have to reach across your body to get stick-on-stick. For me, I'm comfortable playing either side."
"Skating is everything. I think skating is whether it's getting back in the defensive zone or the offensive zone it's helped me improve. I feel I've gotten up in the rush more this year. At the end of the day, It helps all facets of the game. Mentally for me, getting my feet going, it's helped me in all facets."
Blueline Getting Crowded
The improved game exhibited by Dillon could not have come at a better time. The Sharks carry seven capable defenders that DeBoer is confident in. Down on the San Jose Barracuda, Tim Heed was called up for the first time and Mirco Mueller has stepped in with the sting of injuries among the San Jose defensemen.
As the NHL moves to a transition-based game, the improved mobility helps Dillon keep a spot locked down and gives the Sharks another shot at a successful season. And as we've outlined above, his versatility is showing to be a major asset as well.
Covering all manner of hockey on the West Coast, including the San Jose Sharks, San Jose Barracuda, Stockton Heat, WHL, and random prospect news and notes with random SM-Liiga coverage tossed in as well.