The Calgary Flames were one of the busier teams in the NHL on draft day. Not only did they make a blockbuster trade to acquire one of the best up and coming defenceman in the league, but they also made several 'steals' in the 2015 NHL Draft.
By the end of the day, the Calgary Flames had made themselves a much better team, and one that appears very promising for the future.
---
Dougie Hamilton Trade
Calgary trades the 15th, 45th and 52nd overall picks to Boston for Dougie Hamilton.
The Flames made an incredible trade for a likely top pairing defenceman within the next few years, if not already. GM Brad Treliving managed to make the deal without sacrificing a huge part of their future as well. Calgary traded a mere three draft picks, a first rounder and two seconds. With those picks, Boston selected Zachary Senyshyn, Jakob Forsbacka Karlsson, and Jeremy Lauzon. None of those players look like future superstars but, obviously, it's far too early to know for sure.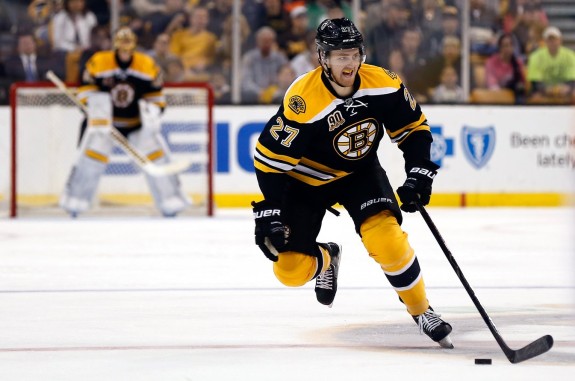 In return, Calgary got Dougie Hamilton, a future franchise defenceman who picked up 10 goals and 42 points in 72 games last season at only 22 years old. He could potentially be a 60 point player with tremendous upside in his own end as well. He's terrific with his 6'5 frame, using it to separate the player from the puck. He can also be used to quarterback a power play with great success.
Along with T.J. Brodie and Mark Giordano, Calgary now has one of the best defensive cores in the NHL. This trade certainly turns the Flames from a playoff contender, into a division contender.
---
2015 Draft Picks
The Calgary Flames owned the 53rd, 60th, 136th, 166th and 196th overall selections.
53rd Overall – Rasmus Andersson
The Malmo, Sweden native scored 12 goals and 64 points in 67 games for the Barrie Colts this season, his first in North America. The offensive defenceman is not the smoothest skater, but gets the job done in reaching promising speeds. He is very strong down low and is able to win most of the puck battles he ensues in. He has a great work ethic and makes phenomenal breakout passes. He could work on making safer decisions in his own end, but all-in-all, a fantastic prospect in the second round.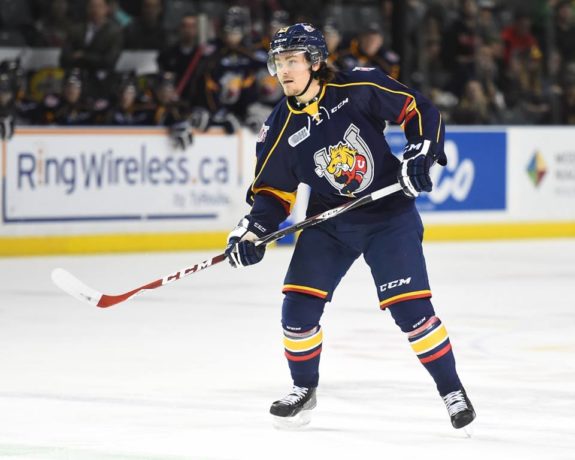 60th Overall – Oliver Kylington
Kylington was a top five prospect for the draft before the season began, but fell to the bottom of the first round in final rankings. In the real deal, he fell all the way to 60th overall, right in the Calgary Flames lap. A very smart defenceman with tremendous hockey sense, Kylington is a strong skater as well. He is a two-way defender who has great vision of the ice and makes safe plays. He has a good shot from the point that finds it's way through screens. Has the potential to quarterback a power play too. Kylington is a terrific pickup at the end of the second round.
136th Overall – Pavel Karnaukhov
Karnaukhov scored 20 goals and 42 points in 69 games for the Calgary Hitmen in his first season in North America. He is definitely a bit of a project prospect who will certainly improve with time in the WHL. If he develops well, he could become a solid power forward who picks up some dirty goals in front of the net. He needs work defensively and would benefit from having a stronger snap shot.
166th Overall – Andrew Mangiapane
Mangiapane had an incredible season with the Barrie Colts, scoring 43 goals and 104 points in 68 games. He slid a fair bit, as he was projected to be a late 3rd to early 4th round pick. Although he is smaller, at 5'10 and 161 pounds, he is an excellent skater with great top speeds. He's got great offensive instincts with good hockey sense, but could use work in his own end and also get stronger. He's a highly talented player who could turn out to be one of the steals of the 2015 NHL Draft.
196th Overall – Riley Bruce
Riley Bruce is a daunting defensive defenceman, standing at 6'6. There's not much to say about his offensive game, as he doesn't have much of one. He's smart in his own end, using his long stick to poke away pucks and also his large frame to rub players out of the play. He definitely has room for improvement in his skating and passing. Overall, not a bad pick in the seventh round, but will take may years to hear from him.
---
2015 Draft Day Grade: A-
The only thing limiting the Calgary Flames from getting an A+, is a first round pick. Of course, the Dougie Hamilton trade was 100% worth it, but the Flames didn't get to pick until 53rd overall in one of the best drafts in a decade. But, they made the picks they had count. The Flames made multiple picks that could go down as huge steals in the end. Getting Kylington at 60th is an incredible acquisition, as Calgary continues to bolster its defence for the future. Overall, a fantastic day for the Calgary Flames that could not have gone much better.
How do you think the 2015 NHL Draft went for the Calgary Flames? Let us know in the comments below!
Contributor for the Toronto Maple Leafs and Prospects. Scout with the Oakville Blades of the OJHL. For questions, concerns, or comments, contact me at devinslawson123@hotmail.com or on twitter @SlawsonTHW.