As the days of the calendar fly past and February approaches, the Calgary Flames have seen some tough stretches in their schedule. Heck, they were shut out six times in the span of three weeks. But amidst the growing pains of a team in a rebuild, there have been a handful of reasons for fans to be optimistic.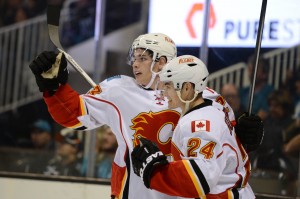 And most of those reasons are below the age of 24.
Flames head coach Bob Hartley explained that the emphasis on younger players during the team's rebuilding process is no coincidence.
"Was this a process we feel we needed to go through? Yes it is," said Hartley. "That's why you see us keep going with a [Joe] Colborne, keep going with a Monahan, keep going with a Bouma, keep going with the Brodies, and those guys. We feel they were ready for the NHL, but obviously at this level they need to keep learning, keep experiencing and the best way is to put them in situations."
Three young Flames have stood out from the pack.
SEAN MONAHAN
Just 19 years of age, Monahan had some rough patches this season – notably a stretch right after he came back from a broken foot. That said, his injury and that tough stretch were sandwiched between some surprisingly strong hockey for a teenager. Sure, he's had a handful of four-game scoring droughts here and there – his longest outside of a six-game stretch right after he came back from his injury – but he's also leading the Flames in goals.
Yes, a 19-year-old kid who plays on the team's third line (and missed seven games with an injury) leads the Calgary Flames in goal-scoring.
Monahan's been handled with kid gloves by the Flames coaching staff – fairly generous match-ups and sheltered minutes, especially early on – but he's also emerged as one of the team's most reliable forwards come crunch time, especially on the shootout where he has three game-winners (behind only Anze Kopitar and Joffrey Lupul league-wide). His power-play ice-time has also been complemented with him joining the penalty-killing rotation. The goal, as related by Calgary's coaches, is to help Monahan learn the centre position as well as he can learn it.
If he can continue to shore up his defensive game (and win a few more face-offs), Monahan's already off to a great start in Calgary.
LANCE BOUMA
Originally thought to be a solid addition of youth to the team's checking line, Bouma has been pressed into service in the team's top nine with the injuries to Mike Cammalleri and Curtis Glencross this season. Due to these changes in the Flames line-up, Bouma's actually played more minutes with Matt Stajan as his centre than with any other forward.
Since Cammalleri has been out of the line-up with a concussion, Bouma's played seven games on the Flames' de facto second line with Matt Stajan (and a rotation of wingers, usually David Jones). He's played in the neighbourhood of 15 minutes per night – a jump from his usual 9 or 10 minutes per night – and added two goals and an assist. He's also added power-play time to his usual responsibilities as a shot-blocker on the team's penalty-kill, where he serves a specific role on the extra-man unit.
"We want to create better screens in front of the net," said Hartley. "I'm not happy, and players are well-aware of this, of  our net presence. We have lots of guys that are at the net, they're on the outside of the net, and goalies are too good."
"I think it was basically he said, 'You're not out there for your skill,'" shared Bouma of his PP assignment "Just go out there and get in front of the net and make sure you make it hard on the goalie to see the puck."
Bouma mentioned that the coaching staff discussed one ex-Flame that he could try to aspire towards playing like – Stephane Yelle, a former Hartley charge in Colorado and a huge part of Calgary's 2004 Stanley Cup Finals run. Just 23 years old and a pending restricted free agent, Bouma is definitely progressing and could be an important component of Flames teams in years to come.
T.J. BRODIE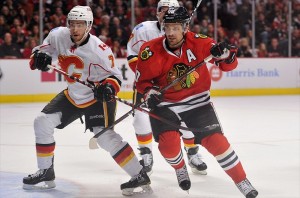 At 20, T.J. Brodie played three NHL games and was below-average. He was sent down to the AHL for seasoning.
At 21, T.J. Brodie played 54 NHL games and was pretty good. His game had a few holes, but with the right partner, he could be shielded and generate offense.
At 22, T.J. Brodie began the season in the AHL due to the NHL's lockout. When the NHL season finally began, he started as a healthy scratch and quietly emerged as the team's best defenseman. His minutes massively increased after Jay Bouwmeester was traded to St. Louis and his play failed to drop off.
This season, as a 23-year-old in his first season out of his entry-level years, he's maintained a high level of play and been relied upon to generate offense from the back-end with his tremendous outlet passes.
"T.J. doesn't know how good he is," noted Hartley after an off-day practice. "That's gonna grow with maturity, with experience. He's still a very young player for us."
Brodie's still a work in progress defensively, and the coaching staff has smartly paired him with Mark Giordano – allowing some lee-way for pinching into the offensive end from time-to-time. That said, Brodie and Giordano have faced the toughest defensive minutes of any pairing on the team and survived, and Brodie has come a heck of a long way from the player he was when he first dipped his toe into the NHL pool. Once tentative and shaky, he's now got the skills and the confidence to dive into the deep end.