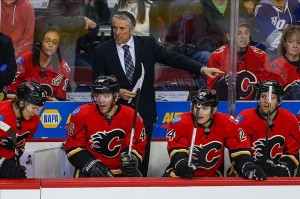 The Calgary Flames officially put a lid on the 2013 hockey season with exit medicals and locker clean-out day at the Scotiabank Saddledome on Sunday and a media availability with general manager Jay Feaster on Monday.
Despite the team's overall on-ice performance this season, the tone was not sombre. The reason for some optimism was likely the team's more consistent play after the trade deadline. Granted, the pressure was off and the proverbial "other shoe" had dropped via the departures of Jarome Iginla and Jay Bouwmeester, but it seems that everyone was energized by the team playing as well as they did after the April 3 trade deadline.
Here are some selected quotes from the final official days of the Calgary Flames season.
—
"I still want to play. I came back this year for one reason, it was to play hockey, and hopefully to get enough to open some eyes, like you said, and find another contract for next year. Hopefully it'll be here. Right now, I have no idea, so we'll wait and see." – veteran forward Steve Begin, who won a roster spot on a try-out at camp after missing an entire season due to injury.
"I think we did a good job getting a lot of young guys looks in games. But I think the team's in a good position right now in the summer. We have some cap space. We have owners who are obviously always willing to spend right to the cap here in Calgary. We're fortunate as players to be here because it's an organization that wants to win, so I think if you look at it and look at the cap coming down, there's gonna be some guys available around the league and I think our team's in a good position." – defenseman and alternate captain Mark Giordano, on the results of the latter portion of the regular season.
"There's always guys that have played in the league for a few years. There's young guys that come up and take their spots, so I know that you can't take it for granted no matter what the situation, I've got to work hard and earn and a spot and play well and do my job." – third-year pro T.J. Brodie, on how he stays hungry after cementing his spot in the Flames line-up this season.
"It was frustrating. Personally, and from a team standpoint, when you don't achieve your goals it's obviously frustrating as well. That's probably one good word to sum it up." – veteran defender Cory Sarich, on a season in which his team missed the playoffs and he missed several games as a healthy scratch.
"I was playing pretty good the first 20-25 games of the year and then the distractions came about and mentally [I] got a bit affected by it. That's on me. You have to be a professional. You have to play your best every night, but I have some good years of hockey left ahead of me and I hope I can be a key contributor in this organization." – veteran winger Alex Tanguay, on his up-and-down season.
"You can have a loose atmosphere and yet still be focused and still be professional. But I feel like at the end of the year, when there's no pressure, when you're not worried about competing for a playoff spot, you're just going out there and you're playing your game and competing, I think that's when we were at our best. It's tough to simulate that, because you want to be focused, but I think often-times you can find yourselves over-complicating things by thinking too much and maybe placing too much pressure on yourself instead of just enjoying it." – defender Chris Butler, on the team's success down the stretch.
"I want to stay here and they've shown that they believe in me and they want to keep me here, so I don't think that will be a problem. I think that they should be not dragged out for too long." – forward Mikael Backlund, on his thoughts on his impending restricted free agency and contract negotiations.
"Too many years in a row we've missed the playoffs. They're gonna do some work this summer so this is the last time in awhile, hopefully, and then go from there." – winger Curtis Glencross, on his thoughts on the season.
"To win in the NHL is really hard. If you look at how many big games were played in the last couple of days, just to be in the playoffs is really tough. To win the Stanley Cup is unbelievably tough. At the same time, it all begins with commitment and hard work." – head coach Bob Hartley, on the keys to success in the NHL.
"Every night there's twenty thousand people in the building. Every night there's dozens of media people covering this hockey club. It is bigger than religion in Calgary. We have an ownership group that is committed to spending to the salary cap. We have an ownership group that is committed to providing us with whatever resources we need to be successful. And again, I think it's a pretty great market to play hockey in." – general manager Jay Feaster, on how you sell free agents on playing for the Calgary Flames.
"It isn't that, 'oh, you have to make the playoffs next year,' but it better be that every time our guys put on a sweater – whether it's veterans or young players – every time you pull on a sweater, it better be with the expectation that we're gonna win. That needs to be the mentality, that needs to be the approach." – Feaster, on the expectations for a rebuilding hockey club.
Ryan Pike has covered the Calgary Flames and the NHL Draft extensively since 2010 as a Senior Writer for The Hockey Writers and Senior Contributing Editor of FlamesNation.ca. A member of the Professional Hockey Writers Association, he lives in Calgary.