With the 2018 trade deadline fast-approaching, there's no question the Calgary Flames should be looking to add a piece or two. A number of solid players are rumored to be available including Evander Kane, Max Pacioretty, Mike Green, Patrick Maroon and Radim Vrbata.
Although any of these players would make a nice addition, it's unlikely to see them in a Flames uniform following the Feb. 26 deadline. But, there's one player who should certainly be high on the Flames' priority list, and that's Rick Nash. The Flames are in desperate need of a third line winger who can provide consistent scoring, and Nash fits the bill.
Rick Nash: By the Numbers
There's no question Nash is past his prime days for scoring. He won't be putting up anymore 65-point seasons the way he did with the Columbus Blue Jackets. Currently this season with the New York Rangers, Nash is sitting with 28 points (18 goals, 10 assists) in 60 games, on pace to finish with 38 points.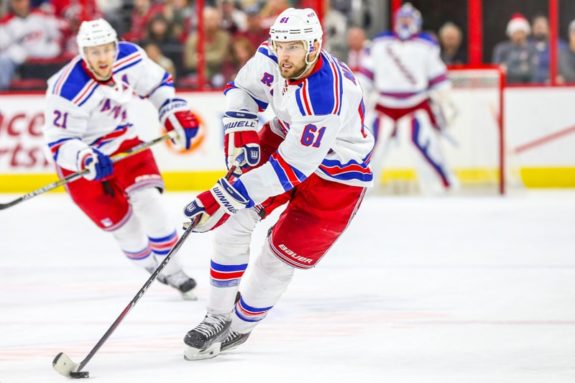 Although the point total may not stand out, the 18 goals proves he can still find the back of the net, which is something the Flames need from their third line. Last season, Nash registered 23 goals in 67 games, plus an impressive 42-goal output in 2014-15.
As of Feb. 23, the current third line regulars are Sam Bennett, Mark Jankowski and Garnet Hathaway and their totals are 23 points (9 goals, 14 assists) in 62 games, 18 points (11 goals, 7 assists) in 53 games, and 10 points (two goals, eight assists) in 39 games respectively.
If the Flames were to land Nash, he would bring an instant scoring boost to the bottom six and would likely see power play time with the second unit, which would also become more dangerous. Not only will his offensive touch be much-welcomed, but he also brings another big body to the lineup, which is an attribute not to be overlooked come playoff time.
What Will the Rangers Want?
There will likely be many teams in the running for Nash, and it will come down to which trade offer the Rangers like best. Although it's unlikely Flames general manager Brad Treliving will part with any of the young defensive prospects such as Rasmus Andersson or Oliver Kylington, that may be what it takes.
It's been rumored by Bob McKenzie the Rangers are looking to get a first round pick, a top prospect, and an additional player. If that is indeed the case, it effectively rules out the Flames as they simply can't afford to give up a first round pick.
However, words are not set in stone, so there's certainly a package the Flames could put together to land Nash, while avoiding giving up an early draft pick. With the depth at defense the Flames possess, a player like TJ Brodie tossed into a package with a fourth or fifth round draft pick may be enough to complete a deal.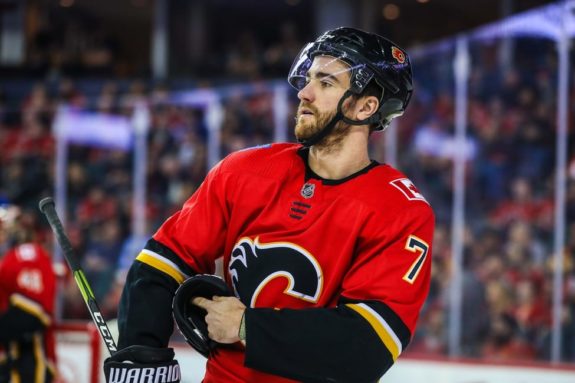 Of course, Nash's $7.8 million cap hit isn't exactly an optimal situation for the Flames, or any team, to take on, which the Rangers are aware of. No matter which team the Rangers end up dealing Nash to, they will likely be forced to retain a portion of his salary.
If the Flames end up being the winners of the Nash sweepstakes, the deal may look something like this: TJ Brodie, OR Sam Bennett, OR, Jon Gillies and a 2018 fourth round pick for Rick Nash with 50 per cent of his salary retained. The Rangers may also be interested in a younger prospect (Glenn Gawdin, Morgan Klimchuk, Emile Poirier) as opposed to a Brodie-type player.
There are many different scenarios in which this deal could be completed, but from the Flames' perspective, none of them will involve an early-round pick.
Nash's Future with Flames
If Nash does end up joining the Flames for their potential playoff run, his future with the club likely rely heavily on his performance in the games he plays. He's due to become an unrestricted free agent following this season and, if re-signed, will come with a much lower price tag than his current $7.8 million.
At 33-years old, Nash won't be receiving a long-term deal, but if he proves to be a solid fit in the Flames system, a two or three-year deal isn't out of the question. In the end, if the Nash experiment happens and succeeds, a two or three-year deal worth $6-9 million may be well worth it.
This entire scenario is merely speculation, as the Flames would need to be on Nash's trade list for the transaction to happen. Only time will tell if Nash's future is indeed in Calgary.
I've been writing for over three years and have work published by the Calgary Herald, National Lacrosse League, Hard Knocks Fighting and The Weal at SAIT. Although I've covered many different topics as a journalist, sports writing remains my main passion and strength.